A Happy Quid Pro Quo?
YSR govt sanctioned 13,000 acres to Vadarevu and Nizampatnam Port and Industrial Corridor as an SEZ. Promoter Nimmagadda Prasad, lodged in Chanchalguda jail, invested Rs 450 cr in Jagathi Publications, Rs 27 crore on Sakshi office building.
Hetero Pharma Co granted 75 acres; invested Rs 4.5 crore in Jagathi Publications
India Cements granted 10 lakh gallons of river water for its Nalgonda factory; invested Rs 40 crore in Jagathi
Penna Pratap Reddy of Penna Cements signed a lease for mining bauxite in Vizag, with norms relaxed; invested Rs 45 crore in Jagathi
Aurobindo Pharma granted 75 acres in Polepalli SEZ; invested Rs 10 crore in Jagathi
Indu Projects given 250 acres in Lepakshi Knowledge Hub; invested Rs 70 crore in Jagathi Publications
Ramky Group sold land granted in Vizag Pharma SEZ; invested Rs 8 crore in Jagathi
RR Global gets Obulapuram iron ore transport lease; invested Rs 49 crore in Jagathi Publications, Rs 30 crore in Indira Television
PVP real estate group is said to have invested Rs 147 crore in Jagathi Publications in return for land on the outskirts of Hyderabad
Apart from all this, some 22 shell companies like Gateway Computers, Moon Enterprises, Bay Inland Finance and others are said to have invested Rs 64.69 crore in Jagathi Publications; these companies were found to have no operations.
***
He is Qaidi No. 6093. Jaganmohan Reddy, Kadapa MP and YSR Congress chief, is the first MP in Andhra Pradesh to be arrested on corruption charges. But his supporters are gung-ho, counting on a sympathy wave to favour the party in the byelections to the 18 assembly seats and one Lok Sabha seat, Tirupati. And force-fitting a logic-defying numerological connection, they say six, zero, nine and three add up to 18, therefore a clean sweep for the YSR Congress is indicated in the assembly seats.
Jagan knew his arrest was coming, and appeared quite the man in control: on his first day in Chanchalguda jail, he seemed cheerful, ate prison food, read the newspapers, even played some badminton. Outside, his mother Vijayalakshmi and sister Sharmila hit the campaign trail, squarely accusing Sonia Gandhi for his arrest by the CBI a fortnight before the byelections. "My husband had worked towards making Rahul Gandhi the PM, and this is what they do to my son!" Vijayalakshmi says at public meetings, tears streaming. For good measure, she even raises doubts about YSR's death in a 2009 chopper crash. Sharmila's body language is reflective of YSR's. The crowds roar when mother and sister demand a defeat for both the TDP and the Congress. In the face of such an emotional pitch, Congress leaders wonder if, after the Telangana self-goal, the party has scripted another debacle.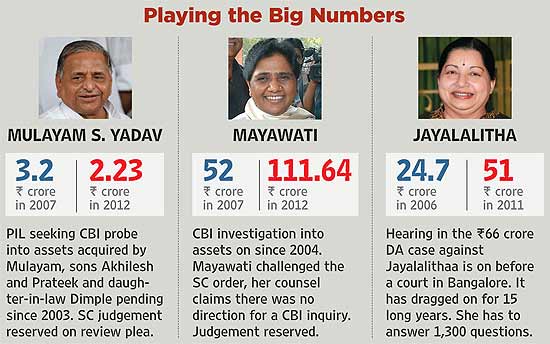 The thrust of the CBI's three chargesheets against Jagan is that, in exchange for favours from granted by the then YSR government, many big businesses invested hundreds of crores in companies linked to Jagan (see box). Some of these were mere shells—or "suitcase" companies, in local parlance. The investments were made by buying the companies' shares at high premiums, sometimes through chains of transactions. Other means were also followed. All this, the CBI alleges, was bribe money: some Rs 1,200 crore was routed to the companies, and Jagan himself became richer by Rs 300 crore. Some of the money was allegedly channeled through Mauritius and Luxembourg, so the Enforcement Directorate will also be investigating, and Jagan will face charges of money-laundering and FEMA violations. He could well end up with a long prison term.
Jagan and his party have understood it's going to be a long haul so he is being careful to retain control. Congress and TDP MLAs willing to hop over have been asked to bide time till 2013 so that the influential among them don't take root. He also wants to ensure that, when the next assembly elections are held, tickets are given to potential winners rather than routinely repeating sitting MLAs.
The TDP, and the Congress of course, are gloating over the arrest. trs chief K. Chandrasekhara Rao says the CBI should also arrest YSR's aide K.V.P. Ramachandra Rao, while Jayprakash Narayan of the Loksatta Party says Jagan's corruption had dealt a blow to Telugu pride. But YSR Congress spokesperson Ambati Rambabu defends his leader, saying being arrested doesn't make Jagan a criminal. "Even the Congress thinks Jagan is extraordinary and feels threatened by him," he says. "That's why, before his arrest, they imposed ban orders, rounded up 30,000 party workers and kept the police force on its toes."
While the Congress may focus on Jagan's wrongdoings, it cannot shake off the fact that YSR was a Congress chief minister, in fact one of its most successful. Also, that six Congress ministers who dealt with some controversial government orders related to the same inquiry Jagan is facing are in the dock. Former excise minister Mopidevi Venkata Ramana is in jail, home minister Sabitha Reddy and roads and buildings minister Dharmana Prasad Rao have been called for CBI questioning. Says Telkapalli Ravi, a political analyst, "Congress leader P. Shankar Rao's PIL against Jagan—which started it all—has lit a fire that's slowly destroying the Congress."
Lagadapati Rajagopal, the Congress MP from Vijayawada, however, believes Jagan will never get the public support he's hoping for because his corruption stands exposed. "People know that Congress is the real currency and YSR Congress is fake. Jagan claimed that one crore hands would rise in protest if he were jailed. I haven't seen a fraction of that in my campaign padayatra," he says. And Kodela Sivaprasad of the TDP wants the many others involved with Jagan investigated, their illegal properties seized, auctioned and the money used for the state's development. He says Jagan's arrest is not the end but the beginning of the story. For now, the story seems to be going the Jagan way.