Subodh Gupta's trajectory from a struggling, unknown graduate of the Patna College of Arts & Crafts to a major solo exhibition 20 years later at Hauser & Wirth in Piccadilly and Old Bond Street, one of the most influential art partnerships in the world, is something of a feat in the Indian art world.
The 45-year-old artist's iconic, often monumental-sized, sculptures of welded stainless steel utensils are attention-grabbing in an ironic way, and coveted by the likes of Charles Saatchi, Francois Pinault and Jack Cohen; but in London at the opening of his month-long show that runs through October, the artist who has been dubbed as the 'Damien Hirst of Delhi' showed that he is a crowd-puller at another level.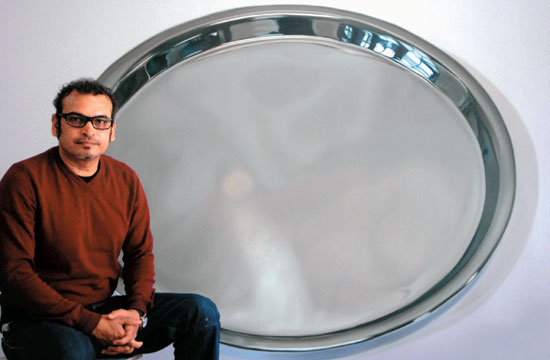 Migrant insecurities are a main preoccupation of Subodh Gupta's art. In London, though, he is enjoying taking sly digs at western artists.
M.F. Husain turned up, twirling his paintbrush and applauding London's Indian summer of art; Gauri Khan waxed eloquent and hoped that a Subodh Gupta sculpture will soon adorn their home in Mumbai; and London mayor Boris Johnson chained his bicycle to the railings and posed with his helmet against a four-foot bronze of Gupta's take on Marcel Duchamp's rude send-up of the Mona Lisa. (In 1919, Duchamp had doodled a moustache and goatee on a trashy Mona Lisa postcard and, in an audacious act of turning great art into readymade art, titled it L.H.O.O.Q which uttered in rapid French slang means "She has a hot ass".) British contemporary artists were represented by Tracey Emin and Antony Gormley; afterwards, gallerists, curators and collectors such as Peter Nagy, Amin Jaffer and Amrita Jhaveri came to a post-preview party for 300 in the crumbling, candle-lit splendour of the old Sierra Leone embassy in Portland Place to fete Gupta and his British-born artist wife Bharti Kher.
Anish's installations are audacious in scale, innovation and materials, forming a bridge between art and architecture.
London's recession-hit art market is giving a big outing to its Indian connections. Across the street from Subodh Gupta, the Royal Academy's major attraction this season is a massive exhibition devoted to sculptor Anish Kapoor. The Bombay-born, Doon School-educated Kapoor, who is 55, attended top art colleges in Britain after moving to London in the early 1970s, but is altogether a different kettle of fish from Subodh Gupta. Already a major international figure, his installations are audacious in scale, innovation and materials, forming a bridge between art and architecture. Kapoor's piece de resistance, installed in the courtyard of Burlington House, is a 70-foot column of highly polished steel spheres called Tall Tree and the Eye. Visitors encircle the glittering totem, look inside, touch it, and see myriad reflections of themselves and others, the surrounding 19th-century courtyard, buildings and the sky. Like his other gigantic reflecting sculptures, Sky Mirror and Cloud Gate installed in New York and Chicago, Kapoor's Tall Tree is art for public spaces: wondrous for spectators and magical object for children. Inside the ticketed show, several more mysteries are revealed: for instance, a cannon that blasts a 20-pound shell periodically, splattering the Royal Academy's hallowed halls and archways with a mixture of Vaseline, red pigment and wax.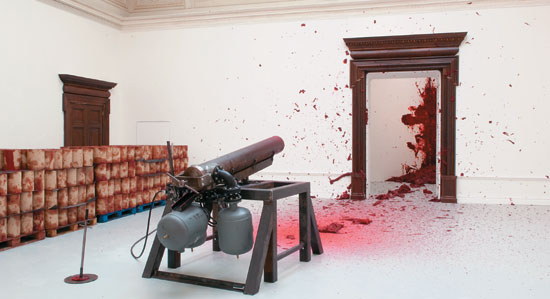 They shoot pictures, don't they? Kapoor's Shooting into the Corner at the Royal Academy
Kapoor's creation of gleaming globes, both an engineering and artistic marvel, was cast in New Zealand where they had the appropriate technology. Subodh Gupta, who showed three large stainless steel thalis, seven feet each in diameter, had to produce them in New York to avoid joints. Lakshmi Mittal forged a global empire out of steel; and artists with Indian roots have followed suit in the time-honoured tradition of restless creative spirits in the wake of merchant barons. (Indeed Gupta's itinerary, which takes in exhibits at the Brisbane and Taipei biennales, a book release in Moulin, France, and a performance in Abu Dhabi before the end of the year, with major shows coming up in Ukraine, Seoul and Scotland in 2010, could leave Mittal a little breathless.)
In the main hall of the Lutyens-designed building in Piccadilly, once a bank and now an art gallery, Gupta filled his thalis with oil, coins of the world, cast-off footwear and shiny pots and pans. With titles like A Penny for Belief 2 and I Believe You, they are metaphors for ritual and indigence in a tradition-bound society. He calls his exhibition Aam Aadmi (Common Man) but the political catchphrase comes loaded with innuendo in a sculpture of a crate of nine mangoes that are, in fact, cast in solid bronze but exquisitely painted to resemble the real fruit.
Gupta calls himself "the idol thief". "I steal from the drama of everyday life—from the kitchens, temples, streets and other Indian realities that we may want to remember or erase," he told me recently in his impressive studio in Gurgaon, a bustling hive of activity. The son of a railway guard who arrived penniless in Delhi in 1988 to make his assault on the art world, he produced conventional canvases for some years. It was only in the late 1990s that he found his metier with a return to his roots—with mocking mud-splattered self-portraits titled Bihari and sculpture from welded ritual and domestic utensils like lotas, buckets and tiffin carriers.
These began to sprout from modes of transport like cycles, rickshaws and two-wheelers or grew into the 12-foot high skull, Very Hungry God, displayed outside Francois Pinault's Palazzo Grassi on the Grand Canal in Venice last year. Gupta's art voices the insecurities of dislocation, migration and aspiration but in London, its sly digs at western artists like Duchamp and the controversial American artist Jeff Koons chart the realm of globalisation and reinvention. After acquiring copyright permission from Koons of his mass-marketed mail-order sculpture of a porcelain puppy, Gupta in a gesture that both subverts and solidifies Koon's "unlimited edition" artwork, piles up 50 cardboard "Puppy" cartons by casting them in aluminium.
Iwan Wirth of Hauser & Wirth—who represents 40 top artists round the world, including Louise Bourgeois, the estates of Henry Moore and Eva Hesse—says the market for Subodh Gupta's work remains undimmed. But the warmest accolade of his London show came from economist Meghnad Desai, who said: "When an artist from the non-metro elite makes such an impression, it is time to celebrate. This is not India in London, this is Bharat."