"A writer is the eye that sheds the first tear if the country's social fabric is disturbed. A writer can only survive when he or she breathes fresh air." That was Urdu poet Wasim Barelvi, one of the 42 writers who have returned their Sahitya Akademi awards or resigned from its offices so far. Never in India's history have so many writers come together to protest against a government and the silence of the lambs. Writing, by nature, is a solitary activity. It comes from an intensely private space. It would have taken a profound shock to a shared ethos, trauma even, for a disparate band of literary practitioners from all over the country to intervene in the public sphere—and with such passionate rage at that. It's only extreme provocation that could have goaded them to shed their usual shyness of the public and collectively take on the role of conscience-keepers of the nation. A tipping point has clearly been reached.
Hindi writers Manglesh Dabral and Rajesh Joshi are clear-eyed in their description of what they see as a climate of fear and intimidation. "From writing to food habits, and sections of the ruling party spewing venom against Muslims, a dangerous atmosphere is being created in the country," says Dabral. Joshi adds: "There have been attempts to curb free speech earlier, but such trends have become more pronounced under this government." The writer who knows all about bans on free speech took it to a global platform. Salman Rushdie, speaking on the eve of the Frankfurt Book Fair which he inaugurated last Thursday, remarked: "Ordinary freedoms are being curtailed, these writers are showing tremendous courage. These are alarming times for free expression in India. Narendra Modi's silence is emboldening thuggish behaviour."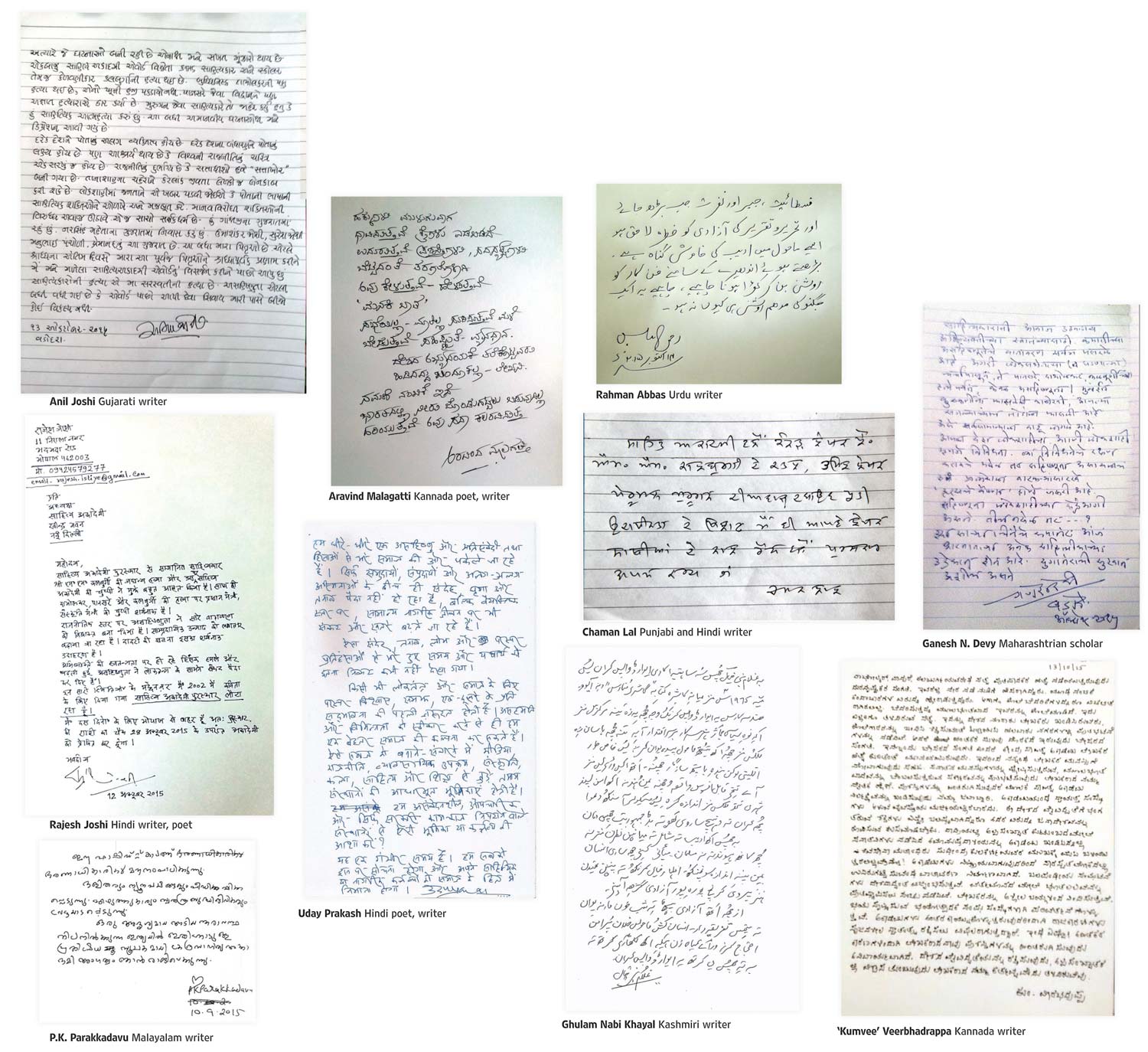 "Returning these awards is misplacing the anger; it's too symbolic. Writers have failed to create social awareness. We can't expect the organisation to take a stand on the political situation."
That thuggish behaviour was in stark evidence in Mumbai where author, part-time politician and head of the Observer Research Foundation Sudheendra Kulkarni had his face blackened by Shiv Sena workers for organising a book launch for Khurshid Mahmud Kasuri, former Pakistan foreign minister. Kulkarni's face and body blackened by ink was flashed by media outlets all across the world. The worse had come to pass earlier, the ghastly and communally motivated mob killing of Mohammed Akhlaq Saifi, in the Bisara village of Dadri in Uttar Pradesh on September 30, one more name to be stamped on the signposts which point to a darkening road ahead.
Dadri too made international headlines, coming as a rude antithesis to Narendra Modi's carefully cultivated image as a statesman-like figure in search of global recognition. It also provided the trigger for the flood of protests by writers led by Nayantara Sahgal and Shashi Deshpande. Even with prior incursions into the liberal, democratic space of cohabitation created for modern India by its Constitution, Dadri managed to touch a raw nerve with its near-casual diabolism. Even the government's concern for its image abroad scarcely seemed to matter to the hard-core Hindutva right wing stormtroopers on the loose. One columnist called it another 'Babri moment'.
The comparison with the Babri Masjid demolition by right-wing fanatics and overseen by BJP leaders was not out of place. The murders and attacks on liberal writers like Kannada writer and rationalist M.M. Kalburgi in August, the lynchmob hysteria over beef, the attacks on Muslims, forced cancellations of events by Pakistani singers and statements by government figures (including Union culture minister Mahesh Sharma calling the Dadri killing "an accident"), all point to one inescapable conclusion: that Hindu triumphalism is taking on distorted dimensions based on the premise that the overwhelming mandate in the last elections gives the party, or sections of it, the right to recalibrate the idea of India.
"We may express our anguish, but who is listening? The authorities are turning a deaf ear to all protests."
The question this raises is perhaps the one every citizen wants an answer to: why does Modi, normally the most voluble of men who is hyperactive on social media, maintain such a long and pregnant silence between such incidents. It took him two weeks to mention the Dadri killing and then he diluted the message by blaming the Opposition and 'pseudo-secularists' for raising the communal stakes. His statement came in a pre-arranged newspaper interview rather than spontaneously. Even his earlier message about communal harmony during a Bihar election rally took its cue from President Pranab Mukh­erjee. The irony, as noted jurist Fali S. Nariman points out, "It is the PM's silence that forced the President to speak out."
Of greater concern to Modi is the increasing willingness of people to speak out, breaking a spell of wariness that had ruled till now. It's not just a narrow group of writers who are voicing open cri­ticism of his government and, more crucially, of him. Neutral jurists like Nariman have been joined by res­pected film directors like Govind Nihalani. "I see dark clouds on the cultu­ral horizon," he says. "If this trend continues, it can only result in the fast deterioration of the social and cultural fabric of society. The only hope we have is that the powers- that-be act with determination to stem the tide." That last line is echoed by many, even his fans, who still hope the PM does something to reassure his citizens that he's aware of the dangers.

Minority retort Calcutta Muslims protest Akhlaq's killing in Dadri. (Photograph by Sandipaan Chatterjee)
Indeed, it seems inexplicable, even suicidal, that he would be inviting foreign investors with one hand while waving on Mahesh Sharma and his blinkered, bigoted brethren with the other. Yet, each time there is a Dadri or a Kalburgi, his prolonged silence only gives the fringe elements of the Sangh parivar added encouragement. As globally recognised author Amitav Ghosh said, "The government is tacitly enabling the attacks (on writers)." Surely Modi must know that this is now a widespread belief.
"One is seeing a pattern but it's all fragmented. But this is a wake-up call; we can't wish away a situation."
Veteran BJP leader L.K. Advani, who was present when the Babri Masjid came down, is clearly worried. "Such incidents (the attack on his former aide Kulkarni) show a growing intolerance towards views that are different from one's own." Equally, Modi cannot be ignorant of the fact that the outrage felt by the award-returning writers is shared by many across India who are alarmed at the direction the country is headed in. From communal riots to church vandalisation, from a ghar wapasi campaign to a ban on the sale of meat, every move by the Hindutva brigade negates the idea of India as a multilingual, multicultural and multi-religious secular republic.
Actor Naseeruddin Shah, who was at the Kasuri book launch event and is now the target of trolls, says, "The hate-mongers are having a field day." Indeed, many are talking of the 'Talibanisation' of India. Here's one example. Instead of being alarmed at the number of writers who are returning their awards to protest against the growing cultural and communal intolerance, culture minister Sharma tells writers to "stop writing". In effect, he is saying that writers do not matter. Union finance minister Arun Jaitley made matters worse when he slammed the writers for what he called 'manufactured protests' and 'a paper rebellion' and accused them of being Congress supporters. It's a chillingly familiar narrative. Either you are with us or you are against us. 'Us', in their eyes, is shorthand for the government, the country, patriotism, nationalism and having the right cultural attributes—that is, hard-core Hindutva values.
As Malayali writer and Sahitya Akademi award-winner Sarah Joseph says, "There is no freedom for people to eat what they like, or love a person of their choice." Clearly, for the government and its allies and affiliates, writers are soft targets. The initial reaction by BJP spokespersons that this was an 'elitist' protest was demolished by the sheer numbers, and just how many states, languages and classes these writers represented. Then it was argued that these writers were obscure and unknown, and therefore irrelevant. Again, this line of ad hominem argument exposed the defenders of the Modi faith and their belief that the idea of India is contained within their saffron-coloured bubble.
"Since Modi came to power, many militant right-wing organisations are acting like the Sena."
Taken together, these 42 writers represent a rainbow-hued literary force with a large pan-India resonance. The strength of their collective protest represents a milestone that only those with a banal understanding of politics will ignore. In Washington, at an event celebrating creativity, President Barack Obama remarked: "It is our writers and artists who hold up a mirror to our society, reminding us of our common purpose and our collective obligations." In India, the anger, outrage, disappointment and even fear expressed by writers stems from a common expectation—that Modi would, as he initially promised, rise above party and ideology and indoctrination to take a holistic, inclusive approach, as mandated by his high office.
That promise is fading fast and the questions are to do with which direction he is taking the country in. In fact, having consistently singled out his predecessor, Manmohan Singh, for his prolonged silence, the biter is being bit. Last week, Modi defended his silence by saying that these events were the responsibility of the states, which is a shocking line for a globe-conquering prime minister to take. In an open letter Carnatic vocalist and author T.M. Krishna wrote to Modi last week, he said, "Today many in this country and elsewhere see you as an American presidential-style PM and you too seem to wear that notion with great style. That being so, you must respond like the American president does whenever there is any violence that is connected to race, ethnicity, religion or directly as a result of American laws and policy, irrespective of where it took place, who were the targets or the number of people affected. The citizens may not agree with him (Barack Obama), but at least they hear his thoughts. From you we hear only generalities."

Ghar wapasi Christians 'returning' to Hindu fold in Hasayan, UP. (Photograph by Reuters, From Outlook Issue 26 October 2015) )
Shashi Deshpande called the PM's statement "wishy-washy" and "evasive". "Unfortunate is a word you use for someone tripping on the pavement, not for incidents like Dadri," she said. Others cite the fact that Modi seems to make no effort at all to rein in his errant ministers and party leaders who make such divisive and imbecilic statements, from Mahesh Sharma to Sangeet Som, Giriraj Singh, Sakshi Maharaj, Sadhvi Niranjan Jyoti and Yogi Adityanath. In fact, Pakistani poet Fahmida Riaz has just penned a poem titled 'Tum bilkul hum jaise nikle' (You turned out to be just like us)—drawing parallels between how the two countries are mired in a politics of religion.
"There's a fear psychosis. Reminds me of the words, 'I'd rather die on my feet than live on my knees'."
Much of the anger and angst among writers has also to do with the Sahitya Akademi, which was set up by Jawaharlal Nehru, and which comes under the Mahesh Sharma-led Union culture ministry. The writers are aghast that the Akademi, supposedly an autonomous body, did not condemn Kalburgi's killing when the same organisation had passed a resolution against the ban on Salman Rushdie's controversial book, Satanic Verses, and dared to stand up to the then government. The Akademi, with its stated commitment to "promoting Indian literature throughout the world", is India's premier institution of letters.
The president of the Akademi was the late U.R. Ananthamurthy, and many of its council members were and are leading names in India's literary firmament. Writers from across the country have reacted simultaneously in slamming the institution for not condemning the killing of Kalburgi. There was no conspiracy, as is being made out to be. Five of the authors who returned their awards received them from the Vajpayee government, while one, Punjabi writer Jaswinder, was honoured during Modi's first few months as prime minister. Uday Prakash reacted in early September and since then, others have joined in from different states, most of them after the barbaric Dadri incident.
Some write in English, others in Hindi and the rest in regional languages while in age they range from thirty to ninety. Malayalam writer K. Satchida­nandan, as a member of the executive council, had drafted a resolution exp­ressing anguish over the killing but did not receive a reply, let alone an active response. Disillusioned by the "failure" of the Akademi to "stand by the writers and uphold the freedom of expression guaranteed by the Consti­tution", Satchida­nandan, who has quit all positions in the Akademi in protest, said in his letter, "I am sorry to say that you think this is a political issue while to writers like me it is an issue of our basic freedom to live, think and write. Annihilation should never be allowed to replace argument that is the very essence of democracy."
"The fascist right have one set of rules for themselves and another for anyone who is not with them."
The writers' protest started as a statement against the Akademi for not performing its duty as the custodian of the world of letters freedom and has now, by its very spontaneity and ethical core, snowballed into a larger thing, becoming a universal voice against the threats to India's secular structure. Hindi writer Uday Prakash says the current wave of intolerance has "crossed the limits". Gujarati writer Anil Joshi's anger is to do with those who control the Akademi's affairs. "Who is this culture minister to tell us what we should write? These people are killing Saraswati. Those who want to destroy India's diversity and plurality so that their newly acquired power does not slip away are bound to be defeated." Kashmiri writer Ghulam Nabi Khayal expresses a more existential fear: "The present dispensation is throwing Muslims to the wolves."
There are, of course, writers and artists who still support the government and the Akademi. Actor Anupam Kher is one. "Why should we release somebody's book who has been saying the nastiest things about India? Isn't Pakistani terror a reality?" Hindi writer Mridula Garg supports the writer's protests but believes that by equating the Akademi with the government, it is weakening the organisation. Others like Bengali poet Subodh Sarkar feel that "merely returning awards will not stop the attack on free thinking". Despite this strain—ranging from lack of endorsement to ambivalence or indifference—the government and its allies should be worried.
The written word is arguably the most powerful and most influential tool humanity has ever created. Theatre and ad guru Alyque Padamsee reminds us that India is the last liberal outpost in Asia, while political commentator Shiv Visvanathan reminds us of another truism: "Intolerance is not occasional, it is the total environment." This year, two writers have been killed—Govind Pansare and Kalburgi. The Tamil writer, Perumal Murugan, announced the death of author Perumal Murugan on Facebook after threats over his books Maathoru­pagan and Pookkuzhi forced him to move out of his hometown. Malayalam scholar M.M. Basheer was forced to withdraw his sixth column on the Ramayana for Mathrubhoomi after consistent abuse by Kerala's Hanuman Sena.
That is a level of intolerance India has not seen before. If the Modi government continues to do nothing to stop this madness, it is asking for trouble. In just two weeks, the voices of protest against his government's stand and the rising tide of intolerance has snowballed well beyond the 42 writers who quit their posts or returned their awards. This is not the kind of atmosphere where Modi's pet schemes, Make in India, Digital India and Smart Cities, all those fancy catchlines he loves to come up with, are going to succeed. Modi has a simple choice: to decide between a developed India or a divided India.
***
The Umpire Strikes Back
How the BJP has responded to the writers' call for a return to tolerance
"The easiest way is to manufacture a crisis and manufacture a paper rebellion against the government in the wake of a manufactured crisis."

Arun Jaitley
Finance and I&B minister

"A number of big incidents happened in the country earlier also but at that time people did not return awards. During Emergency these kinds of voices were not heard."

Ravi Shankar Prasad
IT minister

"It appears to be a pre-planned move by several writers and poets to return their Sahitya Akademi awards."

Satyapal Singh
BJP MP

"The Dadri incident and protest against Ghulam Ali are unfortunate and undesirable. The opposition is accusing the BJP of being communal. By doing so, isn't the Opposition responsible for this politics of polarisation?"

Narendra Modi
Prime Minister

"To expect the PM to answer and to push him to say things and to bemoan that this country is going to the dogs etc is to deny the seriousness of the issue."

Nirmala Sitharaman
Commerce minister

"Writers should be concerned with their pen only. Otherwise, awards will not be given to them."

Vijay Goel
BJP member of Parliament
"Their (writers') honesty needs to be checked. The kind of incidents they have cited to return awards have happened in the past also. Why didn't they resign then?"
Bhaiyyaji Joshi
RSS functionary
---
By Dilip Bobb with Bula Devi in New Delhi, Prachi Pinglay-Plumber in Mumbai and Minu Ittyipe in Kerala