But should you fail to keep your kingdom And, like your father before you come Where though accuses and feeling mocks, Believe your pain...

- W.H. Auden, Alonso to Ferdinand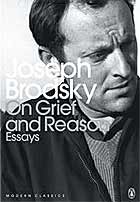 Known under several aliases—anguish, ennui, tedium, doldrums, humdrum, the blahs, apathy, listlessness, stolidity, lethargy, languor, accidie, etc—boredom is a complex phenomenon and by and large a product of repetition. It would seem, then, that the best remedy against it would be constant inventiveness and originality. That is what you, young and newfangled, would hope for. Alas, life won't supply you with that option, for life's main medium is precisely repetition.
One may argue, of course, that repeated attempts at originality and inventiveness are the vehicle of progress and—in the same...