In the run-up to the Lok Sabha elections, the buzz around the so-called 'Gujarat model' was such that without really knowing what it stood for, everyone wanted it. 'Minimum Government, Maximum Governance' is as close as one could get in terms of concrete proposals. However, when one looks at the achievements of Gujarat, the buzz turns to a whimper (see table).
Brushed aside as a 'small hilly state', Himachal Pradesh may not be seen as a 'model' but its achievements are impressive. It's the result of strong public intervention, which suggests that contrary to popular perception, minimum government will not take us very far.
In our surveys on government interventions in education, health, food security, employment etc, Himachal has consistently done well. In the PROBE surveys (1996 and 2006), Himachal emerged as a leader: along with high literacy rates there was little evidence of gender discrimination in education. The India Human Development Survey (2004-5) tested government school students on their skills in reading, writing and subtraction. Himachali children ranked first, fourth and second respectively. Studying NREGA (in 2007), we found active involvement of panchayati raj institutions in its implementation, high participation by women and little evidence of corruption.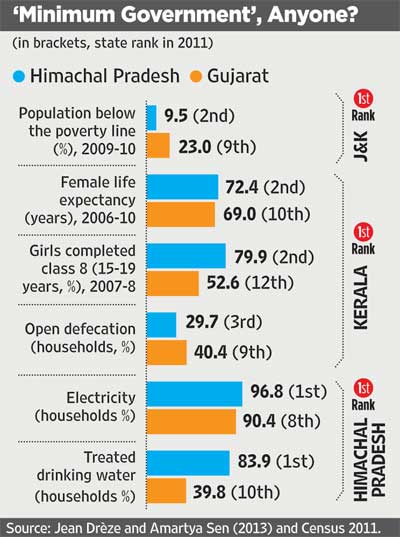 In the Public Distribution System (PDS survey 2011), HP was ranked first among nine states. A 'universal not uniform' PDS meant that APL and BPL cardholders are entitled to the same commodities but the former pay a bit more. Finally, 'leakages' were lower in HP—entitled households got their full quota. In the PEEP survey 2013 that covered five schemes in ten states, HP was second only to Tamil Nadu. Recent visits to public health facilities in Jubbal (Shimla) and Rajgarh (Sirmaur) revealed a functional system, with doctors and other support staff largely in place.
So, what makes the system work? A key to Himachal's success has been the presence of public support. As soon as it attained statehood in 1970, education and roads were accorded the highest priority.
The role of public transport in making the system work goes unnoticed: in our surveys we have been pleasantly surprised that (unlike many other states) teachers, doctors and health workers report for work regularly and punctually. The reach of public bus services in HP is mind-boggling, especially compared with several 'plains states' (including Bihar, Jharkhand, Chhattisgarh, Orissa and to a lesser extent UP and MP). In contrast, Himachal Road Transport Corporation reaches the remotest villages.
Social distance is another piece of this puzzle. A carpenter from Muzaffarnagar (UP) who recently worked at the HP chief minister's office was surprised at how ordinary people were able to meet him. I was similarly surprised when, on my many bus journeys in HP, I meet government doctors, pharmacists and teachers. This affects daily interactions between functionaries and people as well as the work culture.
These factors—education, lack of social distance and a healthy work culture—have resulted in a society with a culture of mutual cooperation. On roads less served by public transport, private cars offer rides; donations are common, be it an ambulance given by a taxi union to the local primary health centre or toys, books, sacks of carrots and potatoes for anganwadi children.
I am not suggesting that Himachal is a model in all respects. Disturbing instances of caste discrimination have been reported: scheduled caste helpers or cooks are not allowed to cook because Brahmin parents grumble. The rising popularity of private schooling (20 per cent of children in the 8-14 age group in 2004-5) is also puzzling in a state whose achievements are based on public education. To the extent that it is weakening the public system, the rise of private schooling is something to reflect upon.
Himachal Pradesh is at the crossroads: should it consolidate and improve publicly provided services or will it be mesmerised by hollow slogans? In fact, this is a choice we all need to make.
---
(Reetika Khera is a development economist from IIT Delhi)