Businessman Robert Vadhera is unlikely to figure anywhere among the country's 1,000 most eligible bachelors. Priyanka Gandhi's 28-year-old beau is short, fair, rather stocky and only moderately well-to-do. An unremarkable young man, until he begins to speak—extremely charming, soft-spoken and poised, without the slightest hint of pretension. Mr Nice Guy in person.
He is reluctant to talk about Priyanka or, indeed, to speak at all. "I don't mean to be rude or impolite, but I'd rather you didn't mention the subject (of Priyanka). It's a private thing," he says. Coaxed into talking about himself, Robert answers questions in faintly accented but impeccable English, a legacy of several years at the capital's British School.
Advertisement opens in new window
In his small office-cum-factory in a seedy by-lane of an urban village, he juggles incoming faxes and phone-calls with outgoing peons, the epitome of a young entrepreneur. As usual, he arrives in office at 10.30 am in his white Gypsy, with a driver at the wheel. Hefty security personnel armed with walkie-talkies hover around the premises, ready to eject unwelcome visitors. "No photographs, please," he tells a persistent lens-man, who is immediately hauled away.
Robert says he helped in his father's brass export business until he turned 23, then struck out on his own, starting Artex, a costume jewellery export firm. It happened quite by accident. "About five years ago, some friends got me some orders and I started from there," he recalls. Artex exports to the US and Europe, where the demand for costume jewellery in black metal, bone, wood and plastic is high. Robert says business is good and the projections for the future excellent, but refuses to divulge his turnover. Artex is clearly a small-scale unit, yet to find a place in Delhi's exporters' directory.
Robert is a canny businessman although he chose not to go to college, says his cousin. "I took my O and A levels at the British School and that's as good as a college degree," maintains Robert. Former schoolmates can't see him turning into a corporate shark, though. "He's so innocent and transparently honest," commented one. An average student and not an outstanding sportsman, he was nevertheless very popular at school. "The girls really liked him and he had a lot of friends, but didn't get involved with anyone," recalls a school friend. She watched him grow into "a bit of a Puppy, but a really cool guy with no hang-ups".
Advertisement opens in new window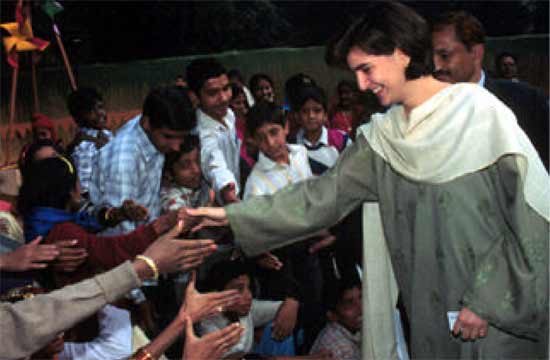 Priyanka Gandhi
Robert was born in Moradabad, where his grandfather, Hukumat Rai Vadhera, settled in 1954 (Priyanka's grandfather was then prime minister). The family ran a sports goods business in Sialkot until Partition, then shifted to Bangalore and subsequently to the brass town. The Vadhera's firm, Mysore Electroplating, did very well until the mid-'80s. By then, the family had acquired considerable property. Robert's father, Rajinder Vadhera, was able to relocate his family to New Friend's Colony in Delhi and send his children to the British School.
It was all downhill thereafter, especially when the family business split up in 1988. Rajinder Vadhera is now a partner in a medium-scale export unit, Solid Brass, in Moradabad. He runs the firm from a rundown office in a commercial colony. "They're small fry, with an average turnover of less than Rs 2-2.5 crore," comments one of Morada-bad's big exporters.
Rajinder Vadhera occupies half of a crumbling mansion in Moradabad's Civil Lines. Robert's elder brother, Richard, also lives there with his wife and children and has done up his portion of the house. Robert's mother, Maureen, lives in Delhi with her two younger children while his father divides his time between the two cities. Although the board outside his office proclaims "Artex Solid Brass", Robert is emphatic that he has no interest in his father's business.
Advertisement opens in new window
He spends most of his time in Delhi, visiting Moradabad occasionally. Last month, he attended his niece's birthday party on the lawns of his ancestral home. "He danced non-stop," says his cousin. Robert has a passion for western pop music and dancing and is a regular at Delhi's Oasis discotheque, where he's been spotted with Priyanka. "I've never formally learnt to dance, just picked it up," says Robert. He is fond of Hollywood movies and doesn't have any vices.
The Vadhera family is broad-minded, says his uncle, Suraj Vadhera. Robert's mother is Anglo-Indian and his eldest brother has married a Muslim. The family has Hindu as well as anglicised names. Robert's mother is "Mohini", his brother Richard is "Ravi" and his sister Michelle is "Minu". "Only Robert remains plain Robert," observes Suman Vadhera, his aunt.
Robert's paternal grandmother lives in Greater Kailash in Delhi, with the youngest of her four sons. Her youngest daughter-in-law, Satinder Vadhera, stands guard at the door saying: "We are fed up with the press." Despite the unwelcome publicity, the family is looking forward to two weddings in February (of Robert and his cousin) and hopes they will help them forget a recent tragedy—two of Robert's cousins were killed in an accident and his aunt died soon after. In their memory, the family started the Sanjay-Manu charitable school and dispensary at their small farmhouse on the Delhi-Moradabad road.
Advertisement opens in new window
If the family is at all known in Moradabad's business circles, it is only because of Robert's late grandfather. "They don't figure in the upper echelons of Moradabad society any more. No one had heard of them until recently, when news of Robert's impending marriage to Priyanka was published," said an exporter. Moradabad was surprised. "We haven't stopped wondering what Priyanka could possibly see in the boy. There is nothing exceptional about him or the family," exclaims a family friend.
Indeed, 'unassuming' and 'middle-class' is how the Intelligence Bureau's report to Rajiv Gandhi described the family six years ago, when Robert first began frequenting the Gandhi home. The IB made a fresh inquiry, reportedly at the SPG's behest, a year ago. Priyanka, who visits Robert's home and office almost daily, had acquired the habit of sending the SPG back halfway. The IB reassured the SPG that the family was all right.
Robert has been extremely discreet about their relationship. Relatives first heard about it when he introduced them to her at his sister's wedding to a stockbroker in Delhi. Michelle, who is older than Robert, teaches aerobics at Itkahs, a fitness centre in New Friend's Colony. They were immediately charmed by her: "She was so simple and affectionate. She reminded me of Indiraji," says Suman Vadhera. Family friends say they have been teasing Robert about the relationship for three years now. Likewise, Rahul Gandhi's friends have been ribbing him about his jija for several years.
Advertisement opens in new window
Priyanka and Robert are said to have met at a party seven years ago and taken an instant liking for each other. They seem to have little in common apart from a mutual love of design. Robert apparently helped Priyanka design furniture for 10, Janpath—she wanted rosewood and mahogany; he preferred a jet black finish (Robert prevailed). She helped design her mother's book on her late father and also gives her fiance a hand in his business. The two are fond of animals; Robert has a huge boxer whose ferocity is a byword in the family.
What, then, does Priyanka Gandhi see in this unremarkable scion of an 'upper middle-class' Punjabi family? "Basically, he is a completely decent, solid and secure human being and that's a rarity," says a friend. Robert clearly wants Priyanka for herself, he adds, pointing out that he has never spoken about her or attempted to use the connection to further his business interests. Friends also point out that Priyanka is following in the best traditions of her family; both her father and grandmother married commoners.
Sources say that while Rajiv Gandhi did not discourage Priyanka's friendship with Robert, Sonia had reservations. Rajinder Vadhera had met Rajiv some 10 years ago, when receiving a trophy for billiards. Then, he had not the faintest inkling that they might end up being samdhis.
Advertisement opens in new window
Sources say marriage plans were drawn up six to eight months ago, but Sonia held out until recently. Although the precise date is yet to be fixed, the marriage will be in February. A simple wedding, strictly for the family and close friends, is on the cards. As for where the couple will live and future security arrangements, nobody's talking. While intelligence agencies have already conducted security exercises for Sonia's impending visit to Moradabad, she has not yet indicated any desire to go there. Speculation is rife that she will become politically active after Priyanka's marriage.
Meanwhile, Robert's family has been instructed by 10, Janpath not to speak to the press. The admonition came after his father was quoted as ruling out a political future for his bahu. "People have been to Moradabad and written all kinds of things," says an exasperated Robert.
As securitymen begin to look restless—Priyanka is expected at Robert's office shortly—you pop in a last question. Is Robert as good a dancer as he is made out to be? For the first time, his harried expression disappears and a big grin illuminates his face: "Yes, I am. I love to dance."