invites you to take part in the search for
The Greatest Indian After Gandhi
Three-way voting process
Our 26-member jury has finalised the 50 top nominees from a list of 100
Readers and viewers can vote online at thegreatestindian.in till June 25
From July 1 to 31, a nationwide opinion poll will be held to choose the top ten
The name of the Greatest Indian after Gandhi will be announced on August 15
***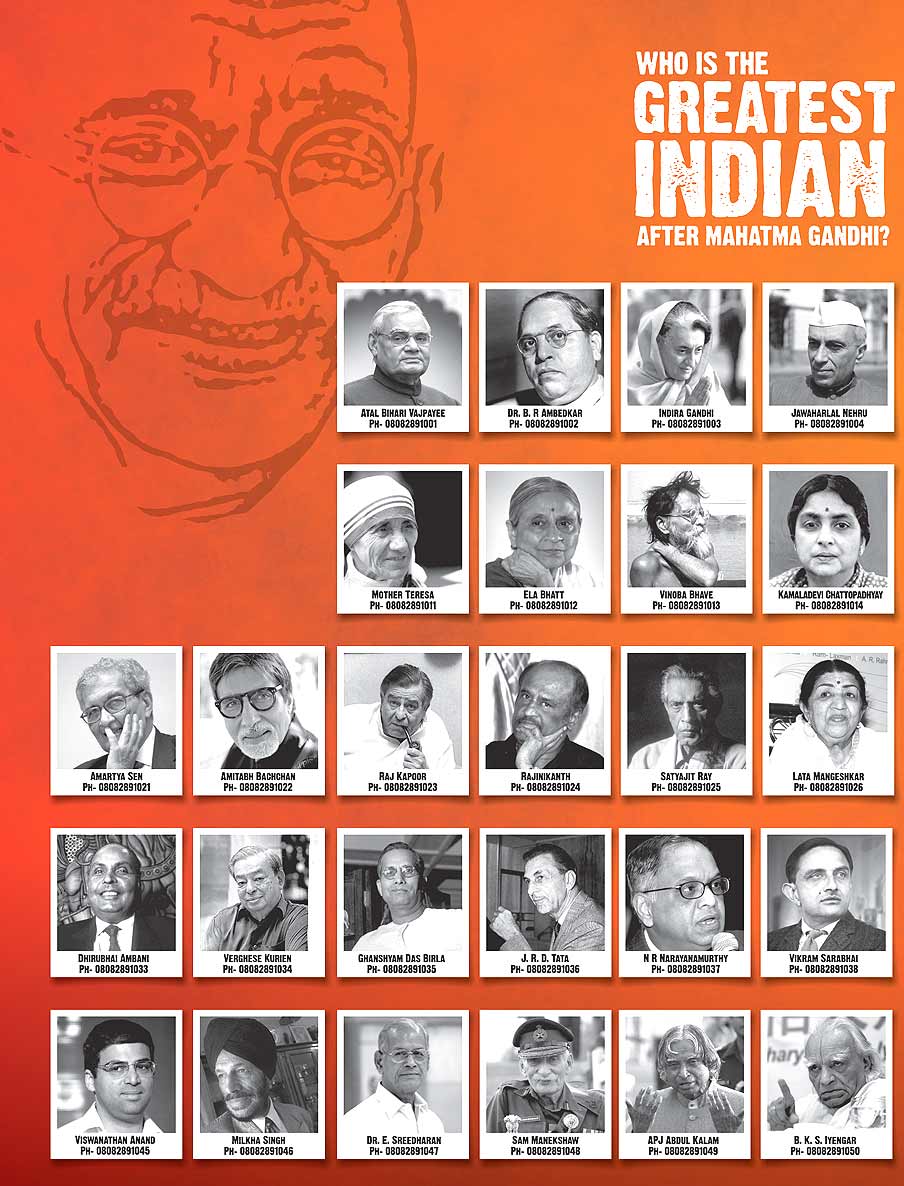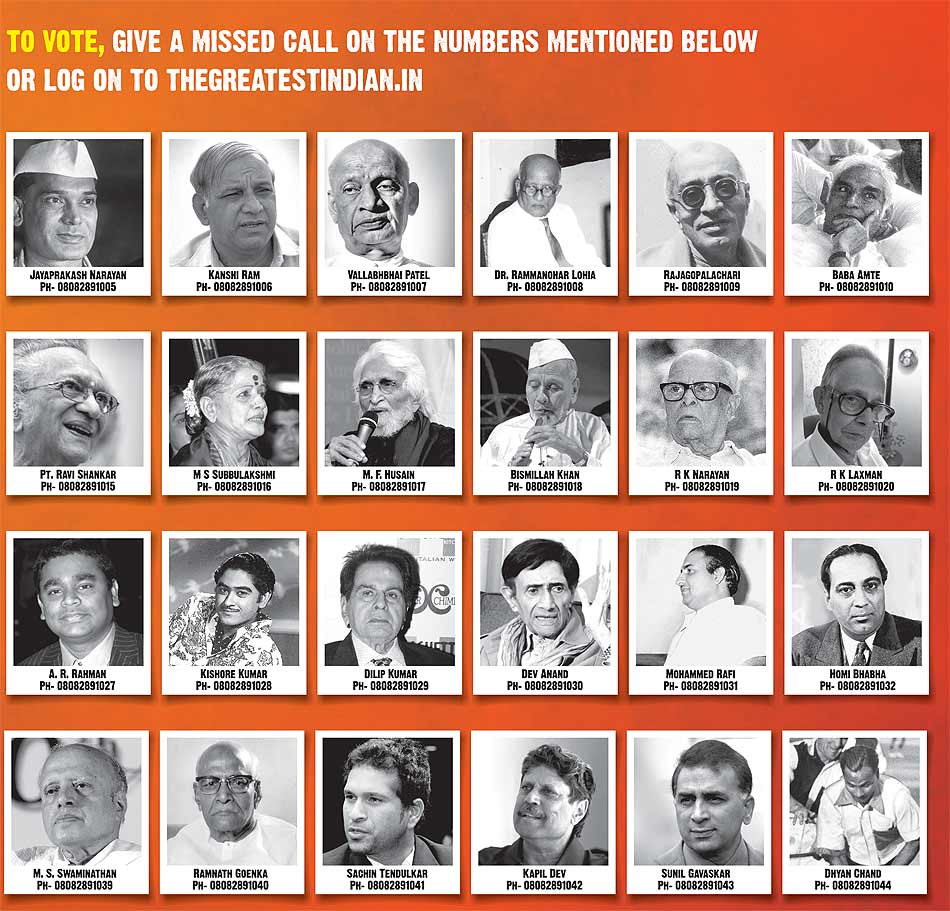 Selected response from the readers:
Netaji Bose: The greatest mistake
Chandrashekhar Kutty, Bangalore: Kamaraj should have found a place on the list of the greatest Indians after Gandhi.
Puneet Kakkar, Mohali: I'm surprised to find Bhagat Singh and Subhash Bose missing from the list. But then, I realised it's a list of people placed lower than Gandhi, not above.
Raul Malhotra, Mumbai: Not including the name of Netaji Bose is your greatest mistake.
Gopinath, Bangalore: The list is incomplete without the name of the great Sir M. Visvesvaraya.
Priyadarshi, Bangalore: Narasimha Rao should have been there. How many people have been able to lift millions of Indians out of poverty?
Rahul Pakala, Hyderabad: Where is Anna Hazare?
Sardar Patel: Unifier
Ashok Lal, Mumbai: There is a portrait of Sardar Vallabhbhai Patel on the stairs at North Block. It is a portrait that radiates calm, assurance, power, resolve—qualities the home minister needed in the troubled times during which Patel held the post.
Madhukant Shah, Ahmedabad: Sardar Vallabhbhai Patel was the greatest Indian after Gandhi.
Rajan C Mathew, Bhilai: I think an Indian who has provided unquestionable leadership to improve the lives of millions of Indians while maintaining integrity and character should be chosen the greatest Indian after Gandhi. Baba Amte, J.R.D. Tata and Varghese Kurien should be the frontrunners on the list.
Sandilya, Chennai: India still remains a united country largely because of Sardar Vallabhbhai Patel and his decisive policies, unfettered by ideological hubris. This unassuming son of India would have made a better PM than Nehru.
Maha, New Jersey: I think Rajnikanth should win this hands down!
Sachin, Rajni: Really?
Shruti, Pune: This survey is meaningless and uncalled for; calling one of the nominees the greatest of all is an insult to the others. If even one of the nominees had not done his/her bit, India would not be what it is today. Your title should have been 'Aapka Favourite Indian'. All the nominees were great human beings and I respect them all. Unlike other countries, India is both diverse and sensitive. The title of the survey could disturb some sections of society. The media ought to be more careful while conducting such surveys.
Sachin, Noida: The presence of Tendulkar, Rajnikanth and such others is a disgrace to the list. There must be something seriously wrong with a country if the list of its greatest is packed with entertainers and artists.
Nongthombam Biren, Imphal: How does one compare Sachin Tendulkar, who has earned crores playing cricket, with Indira Gandhi, who sacrificed her life for the unity and integrity of India?