The Row
1951: For 35 years and through six promotions, May 10, 1951, was recorded as the year of birth of General V.K. Singh. His birth and matriculation certificates, his service records, his IMA ID card and NDA records all reflect 1951 birth.
1950: An entry in the UPSC form to apply for the NDA in 1965, written in Gen Singh's hand, shows his date of birth as May 10, 1950. The IMA dossier shows his year of birth as 1950. His last three promotions were based on 1950 being his year of birth.
The Scenarios
General V.K. Singh resigns on his own or is asked to go by the government to pre-empt a court battle. Can prove embarrassing and open a can of worms.
Supreme Court validates 1950 as year of birth, government sacks Gen Singh immediately to prevent issue from snowballing further. Problem: there are others senior to Lt Gen Bikram Singh, who is next in line. They are Lt Gen S.R Ghosh and Lt Gen V.K. Ahluwalia.
SC validates 1950 as year of birth, government tells Gen Singh to go on leave. Vice chief Lt Gen S.K. Singh is given temporary charge. Lt Gen Bikram Singh takes over in June, by which time Ghosh and Ahluwalia would be out of the race
SC validates 1951 as year of birth, government allows Gen Singh to stay on till May. Gen Singh relinquishes office as promised and publicly stated. Lt Gen Bikram Singh takes over.
SC validates 1951 as year of birth, Gen Singh sticks on till March 2013 despite his promise. Problem: Rubbishes his "honour" claim.
For Lt Gen Bikram Singh to assume charge as chief, no one else must be appointed chief before May. Reason: once appointed, a chief serves a three-year tenure or till when he reaches 62 years of age, whichever is earlier. Lt Gen Bikram Singh retires in July.
***
Whether army chief Gen V.K. Singh was born in 1950 or 1951 is a swirling controversy that has finally reached the doors of the apex court for resolution. The army chief's unprecedented step of approaching the Supreme Court for redressal has put the government in a bind, even as the million-strong army watches the unfolding drama in dismay. The issue agitating military circles though is not so much about Gen Singh getting or not getting another year in office. It is the larger question of how the manipulation of promotions and seniority at higher levels has led to unfortunate consequences in the reputed institution the army is seen as.
The question many ask is about the sanctity of the line of succession and the advisability of drawing one up. Gen V.K. Singh's successor, if he retires in May this year, will be Lt Gen Bikram Singh. In the swirl of allegations, a recurrent theme is that of a strong lobby within army HQ that wants someone from a minority community to get a shot at becoming the chief. Those in the know say the matter first surfaced in 2006, when Gen V.K. Singh received a letter from the Military Secretary (MS) informing him that while the MS branch has 1950 as his year of birth, the Adjutant General (AG) branch has it as 1951.
Gen J.J. Singh was the army chief then, and those who served at army HQ then say it was in 2006 that a line of succession was drawn up on the basis of a "seniority list" of officers. It is pertinent to note that earlier, when Gen J.J. Singh was in the running to become chief, there was speculation that if the post of Chief of Defence Staff (CDS) was created, and then chief Gen N.C. Vij was given that post, it would be Lt Gen Shammy Mehta and not J.J. Singh who would be army chief for the next three years. The Sikh lobby in Punjab was activated and began lobbying for J.J. Singh. Minorities Commission chairman Tarlochan Singh wrote to defence minister George Fernandes in January 2004: "It is for the first time in 50 years that a Sikh officer has a chance of becoming the army chief." It so happened that the post of CDS was not created and Lt Gen Mehta retired. When contacted, the adc to J.J. Singh, who is now the governor of Arunachal Pradesh, responded by saying "His Excellency has a packed schedule" and could not respond.
Something similar has been at work now, and the controversy over Gen V.K. Singh's date of birth is the last hurdle. Consider this: Maj Gen Ravi Arora (retd), who topped the 1972 batch (the same batch as Lt Gen Bikram Singh) with a gold medal and was doing well, was in February 2005 rejected by the promotion board for promotion from brigadier to major general. Though the normal period for making representations against a promotion board decision is 90 days, a hurried board meeting was held as early as April that year to consider those who had made representations against the previous board decision. Even so, Arora's representation was kept pending. He lodged a statutory complaint in May that year, and the defence ministry in 2006 gave him full redressal. But he was again rejected by the next promotion board, held in July 2006, along with four officers of the 1972 batch who were being considered.
Curiously, in November 2006, yet another promotion board meeting was held, and even though Arora had not made a representation, he was approved for promotion to major general. But in the process, his seniority was counted down by a year and he was now considered to be with the 1973 batch. As an officer dealing with the matter at that time told Outlook, "Clearly, Arora was approved because, by now, he was not a threat to Bikram Singh, who had been brought into the line of succession."
If Gen V.K. Singh's year of birth is taken as 1951 and he retires in 2013, then his successor, according to seniority, should be Lt Gen K.T. Parnaik, presently heading the Northern Command in Udhampur. Those who believe that the date of birth anomaly is manufactured say it became an opportunity for those operating in army HQ at that time to shorten Gen V.K. Singh's tenure to enable their favourite to take over. This, it is alleged, is why the issue suddenly reared up in 2006. Gen V.K. Singh wrote back to the MS branch in May 2006 that, since the AG branch has the correct date of birth, the MS branch too should correct it accordingly.
In September 2007, Gen Deepak Kapoor was the army chief and the animosity between him and Gen V.K Singh is well known. It is alleged that the role played by Singh in bringing to book the accused in the Sukhna land scam in 33 Corps was not liked by Gen Kapoor. Reason: Kapoor's military secretary, Lt Gen Avadesh Prakash, handpicked by him to hold this important appointment, was indicted by a court of inquiry only because of Gen V.K. Singh's tough stand. Says Maj Gen N.B. Singh (retd), who served at army HQ around that time, "As chief, Gen Kapoor used to publicly make derogatory remarks against V.K. Singh, then commanding the Eastern Command in Calcutta."
In January 2008, V.K. Singh, as a lieutenant general commanding army's 2 Corps, was to take over as army commander, a crucial appointment that would enable him to become army chief. He was informed by the MS branch that his year of birth will be taken as 1950 and that the AG branch was being asked to make the change in its records. Singh's reply was that he had not sought a change of his year of birth, as it is 1951 according to the matriculation certificate given by him to the AG branch. He, however, wrote that army HQ could do "anything which is required to be done in the larger interest of the organisation". Within a span of a few hours, he got a missive from K. Purshottam, the deputy MS, saying his letter was "not in conformity with the response asked". He was asked to confirm acceptance of his date of birth as 1950 or "action deemed appropriate will be taken". Singh again replied (see box) that "whatever decision taken in organisational interest is acceptable to me".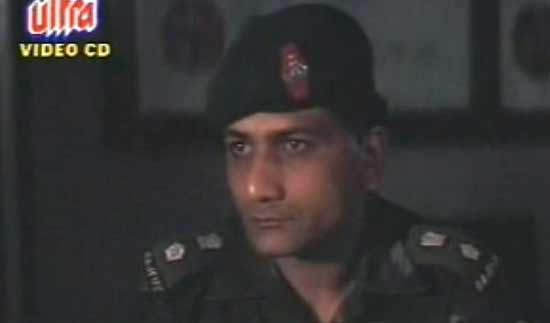 Gen V.K. Singh, seen above in the film Prahaar, in which he plays himself, says his sense of honour made him move SC.
Quite evidently, Singh was pressurised to accept 1950 at a crucial time in his career, when the stakes were high. But even his detractors, who are enraged at the manner in which he has "besmirched the reputation of the armed forces", feel he should not have buckled down. "He who claims to be upright should have stood up to this bulldozing and made his stand clear. By acquiesceing, he has exposed himself to the charge that when the stakes were high, he backed down and now that he is chief and has a chance to remain so for another year, he backtracks," says an officer.
Gen V.K. Singh's statutory complaint to the government was rejected earlier this month and it is after this that he has filed the petition in the Supreme Court. As things escalated, the view gained ground that the defence ministry, headed by A.K. Antony, has not been proactive enough to resolve the matter. Outlook also has access to a January 14 letter written by Subramanian Swamy to the prime minister after meeting the defence minister. He writes: "From what he told me, it appears that the resolution of the matter is not in his hands." Further, "I have been told authoritatively but orally about the opinion of the Attorney General of India, but his opinion is based on a question that was posed in a rigged manner against the rightful claim of Gen V.K. Singh."
Contrary to the anguish which some retired generals have expressed at these developments, most senior serving and retired officers are actually hopeful that this episode might just serve a positive purpose—that it could be the catalyst needed to initiate introspection into the manipulation and interference in appointments at higher levels that has bedevilled the army in recent years.