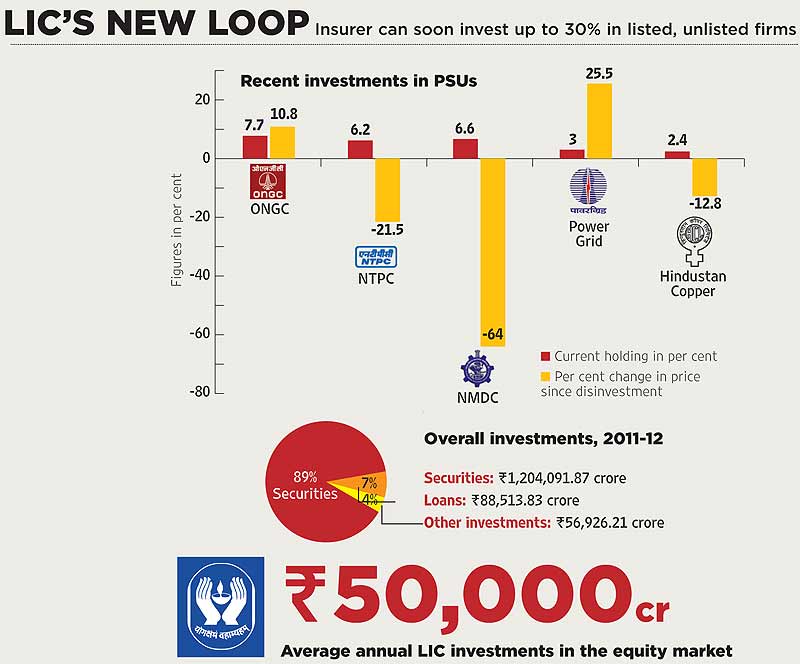 Pros
Will allow greater leeway to increase investments in better stocks
LIC should be able generate better returns for policyholders
Should allow LIC to exit investments in unlisted firms
Cons
GoI will continue using LIC as last minute saviour for disinvestments
Increased risk for LIC's already large investments in individual firms, PSUs
Government's agenda undermines policyholder interest, regulator
***
As millions of Indians know well, the Life Insurance Corporation (LIC) is in the business of insuring lives and, for most, generating safe returns. But of late, it's also being viewed as a last-resort bailout for the government's disinvestment programme. Which has raised a disturbing question: can the government's plans to allow LIC to invest up to 30 per cent in any single listed or unlisted entity end up putting the state-owned behemoth at risk? Industry experts and the insurance regulator agree that the notification, expected soon, will expose LIC to a greater amount of concentrated risk.
That should worry millions of policyholders. The finance ministry's decision, in fact, goes against every recommendation that the insurance regulator has made. The IRDA has vehemently opposed the government's decision on LIC, only to finally lose the battle. The government pushed this decision to the extent that it asked the Union law ministry to clarify which law stands—the Insurance Act of 1999 or the LIC Act of 1956. "IRDA is of the view that it has complete oversight over the LIC with regard to both market conduct and prudential regulations," a miffed regulator noted at a recent RBI meet.
"The government may be legally correct but there is no logical reason for there to be a difference between the caps for LIC and other insurers," says former Pension Regulator and current chairman, fpsb India, D. Swarup. "Increasing the exposure and risk like this makes no sense." As things stand, insurance firms can invest only up to 10 per cent in any single listed or unlisted entity—a limit set by IRDA to curb risk.
"There is no logical reason for there to be a difference in the caps for LIC and other sources. It makes no sense."


D. Swarup, Chairman, FPSB India
Now it's no secret that with the government's disinvestment target being Rs 30,000 crore and the financial year-end in sight, LIC is being used to bail out recent government disinvestment offers or to increase stakes in PSU banks to capitalise them. But is LIC only in existence to act as a saviour to the government? "Why are we calling it disinvestment, when one government company is selling a stake to another government company? Isn't the idea of disinvestment to allow greater public participation in these government-owned companies?" argues a former finance ministry official.
LIC has pumped in approximately Rs 13,000 crore into disinvestments since 2012. This has recently included the disinvestments of ONGC, NTPC, NMDC—these cases alone have caused mark-to-market losses of over Rs 5,000 crore. Then there's the Rs 8,000 crore invested in the preferential allotments of Bank of Baroda, Punjab National Bank and so on.
Given that LIC already owns over 10 per cent in at least 78 companies (thanks to its sleight of hand in treating investments from LIC's various funds separately), the concerns are justified. Many industry observers strongly feel the finance ministry's stand on the issue jeopardises LIC stability and policyholder funds.
When contacted, this is what a senior LIC official had to say: "We make long-term investments based on stocks we see potential in. Counting notional losses based on daily price movements doesn't matter because of our investment strategy." That's the official line. But a former top LIC official Outlook spoke to admitted that often the corporation isn't given a choice in these matters. "The question to ask is whether LIC would have chosen to make those investments on its own. Considering that none of the other diis or fiis showed any interest in these stocks and that LIC had to step in...well, it tells the whole story," he says.
Of course, the policyholder has no reason to feel worried—the LIC is 'backed' by the government. But how will the corporation continue to remain low-risk with this kind of exposure and given the number of policyholders it has?
"The government is running out of ideas in order to meet targets. Returns will get marginalised further."


Dhirendra Kumar, ValueResearch
Industry sources say the move reminds them of the US-64 debacle in 2001 when thousands of investors lost money and the government had to come out with a rescue package. After all, if LIC chooses to invest up to 25 per cent in a company (beyond that the Takeover Code comes into play—SEBI still has to clarify this issue), it becomes a substantial owner. "It is not LIC's job to be the owner of companies and banks. This kind of investment carries an inherent risk with it and given the size of investible funds LIC has, this isn't a prudent measure," points out IRDA chairman J. Hari Narayan.
Market analysts point out that given the kind of exposure LIC has to the Indian capital market, any adverse movement could damage the markets manifold. "Imagine LIC owning a large chunk of a bank or company—if it decides to exit, it puts the company at risk. If LIC has a concentrated risk in a sector, and something goes wrong with the sector, it could substantially erode policyholder returns and so on," says a leading analyst. To this adds Dhirendra Kumar of ValueResearch, "The government is running out of ideas in order to meet its targets. Diversity is a very basic principle of investments, this move goes against that. Returns will get marginalised further."
Of course, there are some defenders of the finance ministry's move. Like ex-LIC chairman S.B. Mathur, who argues that "LIC needs to have headroom to invest in good companies instead of being forced to move down the line to second-rung companies, given the size of investible funds". Reacting to this view, a life insurance industry veteran says that then private sector insurance companies should also be allowed the same leeway proportionately, even though their investible funds may be smaller.
Then there is the whole issue of regulator autonomy. When the insurance sector was opened, it was decided by the government and policymakers that LIC would come under the purview of the insurance regulator. By forcing the issue through a legal argument, the government has managed to undermine the regulator's authority, say industry sources. "Every time a conflict brews between a regulator and the finance ministry, there is a question of who prevails. This in itself undermines the idea of independent regulators. IRDA must be allowed to take the decisions for all the players in the sector and they should apply uniformly to all," says D. Swarup.
It goes without saying that LIC should be allowed to make its own decisions regarding investments. But the finance ministry thinks otherwise. Will LIC be able to get back to the business of insuring lives rather than bailing out the government? For now, that seems a tall order.