Cons Of Joining US-Led Coalition Against ISIS
Joining US-led coalition is politically sensitive for government; India has worked only under the UN banner
The rise of ISIS is a complex issue, linked to rivalry of regional powers
Around 40 Indian workers are held captive by ISIS, joining coalition may jeopardise their lives
Pros
Unlike in the past, many countries have joined the coalition
The Iraqi government is also busy fighting ISIS and may be happy to see India in the coalition
Cooperation in Iraq could embolden India to seek US help closer home, especially in the Af-Pak area
Iraq is a supplier of oil; thousands of Indians work in West Asia; nullifying the ISIS threat is in India's interest
***
History, they say, has a way of repeating itself; so do, perhaps, certain demands that are politically volatile and potentially controversial. More than 10 years after an abortive attempt was made to lead India to join a US-initiated armed coalition in Iraq, a renewed attempt is afloat to convince New Delhi to do so this time.
Unlike 2003, however, when the George W. Bush presidency sought India's support in its attempt to invade Iraq to topple Saddam Hussein; this time the demand is to join an American-led coalition to fight the terror outfit the Islamic State of Iraq and Syria (ISIS). Called by some as the Islamic State and by Arab detractors as Daesh, the outfit has shot into international infamy by beheading western journalists in its captivity and overrunning large swathes of territory in Iraq and Syria. It set off alarm bells in world capitals when it declared a caliphate in areas under its control some months back. Its ruthless run of military success, backed by its acts of cruelty against those considered outside its pale, has catapulted the ISIS over Al Qaeda as an imminent threat.
"As the world's attention focused on Ukraine and Gaza, ISIS captured a third of Syria, in addition to the quarter of Iraq it had seized in June. The frontiers of the new caliphate declared by ISIS on June 29 are larger than Great Britain and inhabited by...six million people, a population larger than that of Denmark, Finland and Ireland," writes author and commentator Patrick Cockburn.
"India is not to supply an expeditionary force to fight battles on behalf of imperialist powers who created the problem."
There is no evidence that formally the US has asked India to join its anti-ISIS coalition, but the issue has gained enough traction to encourage comments in the media. The fact that it resu­r­fa­ced at a time when Prime Minister Nar­endra Modi was in the US and in the midst of his engagement with the Barack Obama administration to revitalise Indo-­US bilateral ties, has given it significance.
Neither side is willing to give details of what was discussed on this sensitive issue but evidence suggests it was on the agenda. "India and the US pledged to consult closely on global crises, especially unfolding events in Syria and Iraq," said the joint statement issued after the September 30 Modi-Obama meeting. By way of explanation, it pointed out that, "The two leaders committed to exchange information about nationals returning from these conflict zones, and to seek cooperation in protecting and responding to the needs of civilians stranded in the middle of these conflicts."
MEA officials say that close consultation does not mean joining the coalition against the ISIS, which they insist is still a 'big no'. They argue that the US and India mean to share intelligence to combat terrorism and that is not specific to any particular group.
The cautious approach adopted by South Block is understandable. Not only is the issue a controversial one—India has avoided joining an international armed coalition, barring those under the UN banner—it is also fraught with dire consequences for New Delhi. In 2003, the NDA government led by Atal Behari Vajpayee, showed deft political sense in staying away from joining a US coalition against Saddam in Iraq. Vajpayee had even enlisted the support of Communist party leaders and street protests organised by them across India to tell the Americans why India couldn't comply with such a wish. This was a stand taken by the Vajpayee government even when it badly needed US support in the face of the international condemnation following the May 1998 nuclear tests.
"The Modi-Obama statement has a substantive agenda on joint counter-terrorism; this will be an area of increased partnership."
Unlike in 2003, when there was a split down the US's western allies over invading Iraq, the situation is different now. A legitimate Iraqi government is fighting the ISIS, aided by a coalition of nearly 50 countries, including, crucially, some Arab nations, which have joined force against the terror outfit and their narrow, sectarian brand of Islam. With 40 Indian workers under ISIS captivity, the choice for New Delhi continues to be extremely difficult. Moreover, though Iraq is important for India, the terror problem it faces emanates from the AfPak area and it wants the US to focus there. But there is still a strong opinion against joining a coalition led by the Americans.
"I am totally opposed to any Indian military participation in West Asia. India is no longer an expeditionary force to fight the battles on behalf of imperialist powers whose ambitions and interventions have created and then exacerbated the problems in the first place," says former Indian diplomat Talmiz Ahmad, who has served as ambassador in several countries in the region.
According to him, western military intervention in Iraq and the partisan regimes it propped up in the post-Saddam period, along with the role pla­yed by the Gulf Cooperaion Council mem­bers to check Iran's influence in the region, contributed primarily to the proliferation of jehadi elements in Iraq and Syria. "Military force, particularly air power by itself, can never degrade and ultimately destroy jehadi forces," says Ahmad. He argued that until a political effort is made to address the core issues of authoritarianism, corruption and inc­o­mpetence inherent in several regimes in the region, nothing will change.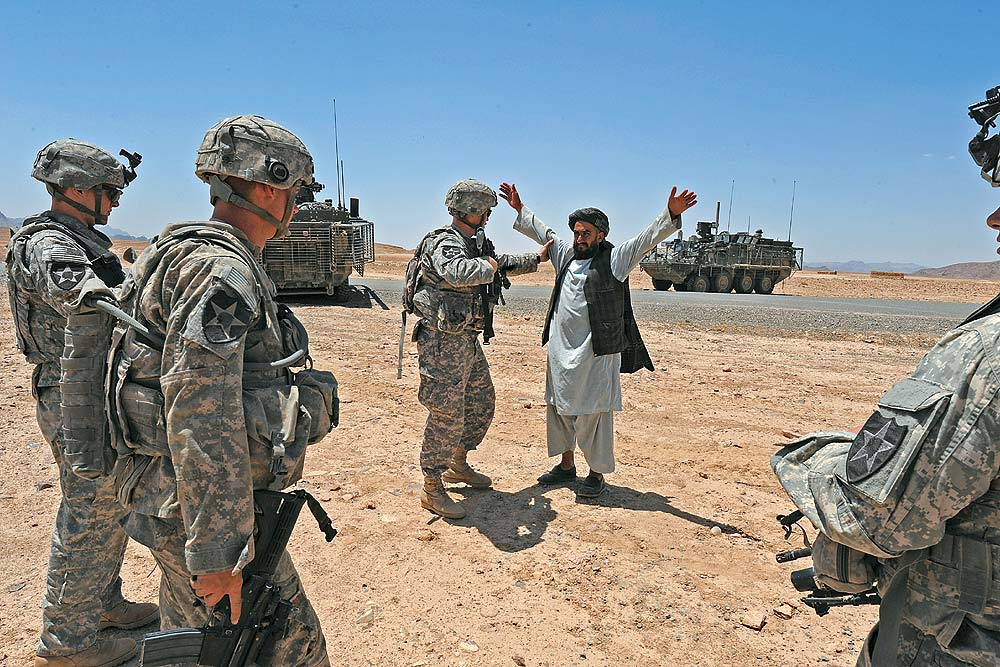 Photograph by AFP, From Outlook 13 Octoberr 2014
By way of finding a resolution, Ahmad suggests that India should try to get in touch with major Asian powers like China, Japan and South Korea to mediate between the rivals in the Gulf. Since all of them are major consumers of oil and gas and have high stakes in peace in the region, their collective clout can work better in bringing Iran and Saudi Arabia to the negotiating table and end their rivalry—the major cause of instability in the Gulf.
Close consultation on the ISIS threat, say MEA officials, doesn't mean joining the US-led coalition. That, they say, is still a 'big no'.
For some others, however, it is the unreliability of the US that goes against the logic of joining an alliance led by it. "Notwithstanding that the Islamic State is a threat to regional and global security, our answer to joining a US coalition should be an unambiguous no," says Jayant Prasad, former Indian ambassador to Afgha­nistan. Prasad, who was head of MEA's desk dealing with the US, points out that the US has "not been consistent in its approach to terrorism". He adds, "Sometimes, it has waged the wrong war, with the wrong partners, the result of which can never be right."
But deputy director, South Asia, of America's Stimson Centre, Joshua White, argues that it is the different government systems and not their dissimilar approach to terrorism that caused past problems in cooperation between India and the United States. "India sees counter-terrorism primarily through the lens of domestic politics and wants to avoid the perception of formal alliances, whereas in the American system, the military has a substantial role in undertaking counter-terrorism activities," says White.
However, White has hopes about future India-US cooperation on this crucial issue after Modi's visit. "The good news is that Washington and New Delhi are learning to work tog­ether to advance their common int­erests. The Modi-Obama joint sta­­­­­te­­ment suggests a substantive age­­nda on counter-­terrorism, and I expect that this will be an area of increased bilateral partnership," he says.
Words of optimism, ringed with the ideal of a 'good war' against evil, and spoken solemnly by leaders of nations, have had a long history of being sullied when put in action in a complex situation. Success in the anti-ISIS fight is vital for a region wracked with violence. It cannot be let to fail.