An ordinary afternoon was interrupted by the insistent ringing of my office phone in Hong Kong. A squeaky voice with a distinct Cambodian accent asked me to pass on a message to "Monsieur Taiyaar". Please tell him, he said, "Uncle will see him." My heart jumped. My colleague Nate Tha­yer's quest to locate and interview Pol Pot, a treacherous multi-year pursuit of a violent dictator, seemed to be closing.
My problem now was how to find Nate. Ever since the July 1997 coup attempt in Phnom Penh, he had become elusive, appearing without warning through a phone call or sending files from unknown locations. Messages left with contacts in many different places finally reached him and he called me from a borrowed satellite phone from northwestern Cam­bodia. His plan was to set out for the Thai border hitching a ride on a Cambodian armoured car, or even better, renting an elephant. I strongly discouraged him from doing that, so he flew back to Phnom Penh to catch a flight to Bangkok. His appointment with 'Uncle' was going to be in a clearing in Anlong Veng, which he could reach from Thailand. We prepared in total secrecy to run the interview of the decade, dispatching a senior editor to Bangkok and arranging for a courier to fly back to Hong Kong with photos of the meeting.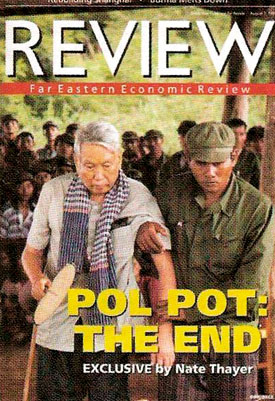 Far Eastern Economic Review, August 2, 1997 Nate Thayer's report on the Pol Pot trial; a few issues later, he interviewed him
On October 22, 1997, the
Far Eastern Economic Review
yet again made history with a tremendous scoop—the first-ever interview with the man responsible for the deaths of over a million people. It made headlines the world over and won Nate Thayer numerous awards. This feat placed Nate, a stocky, intense young American with a shaven head, in the pantheon of great reporters and editors who had turned the 51-year-old magazine into a must-read publication. Veteran diplomat Richard Holbrook called the
Review
the 'Bible of Asia' and counted on his airmailed copy to send sharply worded missives to American embassies in Asia, berating them for missing critical developments that the
Review
had uncovered.
The emergence of the magazine popularly known as FEER coincided with the economic rise of Asia, the continent it covered like nobody else. A Czech journalist, Eric Halpern, had the vision to launch the magazine in 1946 to document news stories from Asia, much of which was still under colonial rule. (I had the opportunity to meet Halpern decades later when he sauntered into the magazine's Hong Kong office wearing shorts and flip-flops over a bandaged toe. He mentioned nonchalantly that he had been bitten by a scorpion.) China scholar Dick Wilson as editor brought new political economic gravitas to the magazine, which was then taken to its pinnacle of success by the brilliant diplomat-turned-journalist Derek Davies. Originally launched as essen­tially a business journal, the Review was transformed under Davies' 25 years of stewardship into a magazine that recorded, analysed and commented on political, economic, social and cultural life across the whole continent. In addition to his incisive analytical skills, Davies brought to the journal a corrosive wit which made his weekly Travellers' Tale column the most read page in the magazine. Perhaps the most remarkable gift that Davies brought to the magazine was his ability to spot talent. In addition to 15 bureaus, the Review tapped the information network of dozens of stringers (of which I was one, first in Calcutta and then later from Paris), and freelance contributors.

Rank And File Pol Pot leads his dreaded Khmer Rouge cadre through the jungles of Cambodia
In an Asia ruled mostly by authoritarian regi­mes and military dictatorships, an English language magazine printed in Hong Kong that fearlessly told the world about political and business life was a nove­lty—and sustaining it a challenge. It was this freedom to explore and report without restraint about the Cold War struggle, the Korean war, the Vietnam war, assorted coups d'etats and insurgencies that enticed hundreds of smart, curious and adventurous young men and women. They were ready to live a rough life, learn local languages and communicate their discoveries and insights to English language readers. Their first port of call to pitch a story was often the cramped offices of the Review, ending sometimes with an invitation to a beer at the Foreign Correspondents' Club. The way I was inducted into its ranks is typical of many who joined the Review during this heady period.


Apr 28, '75 A north Vietnamese shell explodes on Newport bridge near Saigon, as soldiers and newsmen run for cover
"No story is worth your life," I was told a few days before the fall of Saigon. But my decision to stay put let me see the last act of the Vietnam war drama.
A chance meeting in 1969 in Calcutta with a Review writer earned me an invitation to write for the magazine that I waited eagerly to read every week from my perch as a researcher on Southeast Asia in Jadavpur University. I was astonished to find my unsolicited analysis of the Cambodian coup that I had mailed to the Review published as the magazine's lead story. On learning that I had never even been to Cambodia, a shocked Davies sent me an air ticket. Some funds advanced by the then Hindustan Standard editor Aveek Sarkar helped me und­ertake my first trip to Southeast Asia. Four years later, while I was working on a dissertation about Cambodia at Sorbonne University, Davies invited me to open the Far Eastern Economic Review's Indochina bureau in Saigon. Within 10 months of my arrival, I was staring at the barrel of a North Vietnamese tank about to crash through the gates of the presidential palace. "No story is worth your life," Davies messaged, urging me to leave Saigon days before the end. My decision to stay put, though, allowed me to witness the last act of the Vietnam War's drama. My piece Last Word from Saigon broke the news of the end of the Vietnam war to the world. I was back in Saigon in 2000, as the then editor of the Review, covering the historic ret­urn of America as President Clinton landed in Saigon, now ren­amed Ho Chi Minh City.
Many reporters who shot to fame working at major international newspapers cut their teeth with freelance articles for the Review written under the supervision of a clutch of sharp editors assembled by Davies. While young energetic recruits brought in a stream of exclusive stories—from corporate shenanigans to military plots and corruption—veteran Review reporters emerged from weeks of investigation with ground-breaking analytical pieces. Thanks to their memorable reportage, thoughtful analyses and amazing scoops, some Review writers—to name but a very few, T.J.S. George, Tarzie Vittachi, Harvey Stockwin, David Bonavia, Leo Goodstadt, Denzil Peiris, Philip Bowring, David Jenkins, Ahmed Rashid, Bertil Lintner, Anthony Rowley, Susumu Awanohara, Rodney Tasker, Shim Jae Hoon, Ian Buruma, Melinda Liu, John McBeth, Margot Cohen and Murray Hiebert—became household names of Asian journalism. Quirky Singaporean cartoonist Morgan Chua's sharp cartoons showed week after week that Asia's emperors had no clothes. His inimitable style gave the Review a special identity, as did the humour of his frequent muse, editor Davies. Colourful characters who populated the magazine were kept in order by indomitable secretaries, the last of them, Lily Kan, still works to keep the eccentric Review bunch connected in cyberspace.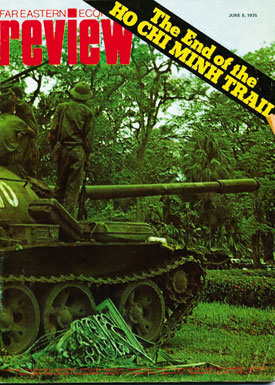 FEER, Jun 6, 1975 Though Saigon fell on May 1, this was the earliest the author could get his story to his employers
What distinguished the Review most from other famous international publications was the way it gained its recognition as the most reliable publication of the region. The Review took special pride not so much in the awards it won but in the number of its reporters who were thrown into jail, expelled from a country, denied entry and had issues of the magazine banned or pages blacked out. Among those jailed in recent decades were our correspondents Sala­mat Ali in Pakistan, Ho Kwon Ping in Singapore, Murray Hiebert in Malaysia. Numerous correspondents have been expelled from other Asian countries, including India, which expelled Law­rence Liftschulz in 1976. Countries like Singapore, Malaysia and Indonesia even developed a cottage industry blacking out pages of the magazine when not banning it altogether.
The heroic days of the Review ended, however, not by the fiat of an authoritarian regime but by the decision of Dow Jones and its newest owner Rupert Murdoch. In 2004, three years after I had left the magazine to join Yale University, the magazine's entire staff was laid off and the publication was turned into an opinion monthly championing an unfettered free market. But the market obviously did not like that change: in 2009, even the rump magazine was shut down and along with it went one of the brightest beacons of Asian journalism. In a requiem for the Review, Helene Cooper of The New York Times summed up her appreciation with these words: "For someone who grew up dreaming about swashbuckling journalists reporting from far-flung places, there was no greater model than The Far Eastern Economic Review, a weekly founded in Shanghai in 1946 and put out by a raffish staff of adventurers. To me, the Review's reporters embodied what journalism was about."
---
Nayan Chanda is the former editor of Asian Wall Street Journal Weekly and the Far Eastern Economic Review, he is currently editor-in-chief of YaleGlobal Online