An event narrated from different perspectives usually produces multiple versions, often as many as there are narrators, who differ substantially from each other in their recapitulation. It is difficult to disentangle fact from fiction and exaggeration in the roiling saga of Dominique Strauss-Kahn, who resigned as International Monetary Fund chief last week. But this is what we know with absolute certainty—a 32-year-old maid working in New York's Sofitel Hotel accused Strauss-Kahn, known as DSK, of emerging naked from the bathroom, dragging her down the hallway of the $3,000-a-night suite, compelling her to perform oral sex on him and then trying to lock her in the room. Nothing was caught on the surveillance camera other than showing him leaving in a rush, seemingly reasonable for a man due to board a Paris-bound flight. But it was odd of DSK to have left behind his mobile in the room. Who forgets his handset in these days of telephony babble?
DSK denied the charges levelled by the maid—of a criminal sexual act, attempted rape and unlawful imprisonment. His lawyer, Benjamin Brafman, assured that the forensic evidence "will not be consistent with a forcible encounter". Jeffrey Shapiro, who is representing the maid, an immigrant from the poor West African country of Guinea, countered, saying there was "nothing consensual about what took place in that hotel room".
Whose account are we to believe—the maid's or DSK's? The answer seems to depend on the personality, even political preferences, of the reader/viewer of this global story. The French promptly accused President Nicolas Sarkozy of laying a honey-trap for DSK, exploiting his weakness for women, in the hopes of edging him out as a possible candidate in next year's presidential election. There were reports that DSK was to soon announce his candidacy, bolstered by opinion polls that showed he would not just win the Socialist Party nomination, but even walk into Elysee presidential palace, enjoying as he did a lead of 20 percentage points over Sarkozy. The popular mood was reflected in an opinion poll, conducted just three days after his infamous arrest—as many as 57 per cent of the French thought DSK had been set up.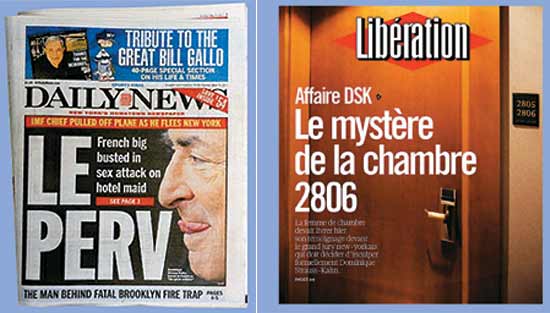 | | | |
| --- | --- | --- |
| Piroska Nagy The IMF economist had an affair with DSK. She said it was consensual, but that she felt coerced. | | Tristan Banon The journalist said she was molested and attacked by DSK when she was interviewing him. |
---
The honey-trap theory was reiterated by a young leader of the French Socialist Party. He told Outlook, "I'm told that he had been under surveillance by the American authorities for nearly one year. Probably because of his reputation as a compulsive womaniser. He had been using this particular hotel over the last year. Also, if you look at the timing of the incident, it has come when DSK seemed invincible in the opinion polls and would have perhaps announced his candidacy within a few weeks. So, if all this is coincidental, then there are just too many coincidences." Adding heft to the conspiracy theory was the French philosopher Bernard-Henri Levy, who wrote in a blog, "I do not know...how a chambermaid could enter on her own the room of one of the most watched people on the planet, against the normal practice in most big New York hotels, which provide for 'cleaning brigades' of at least two people."
The World Policy Institute's Mira Kamdar, who divides her time between New York and Paris, says most French are giving DSK the benefit of the doubt. "This event has hit like a bomb in France," Kamdar told Outlook. "The French are not used to seeing highly respected political leaders in handcuffs. The photographs confirm the 'cowboy' image of an inherently violent country where decorum has no purchase."
There's near unanimity, though, about DSK's womanising ways. Back in the 1970s, when he was a young Depute (parliamentarian) and then became the mayor of Sarcelles, a Parisan suburb, DSK had earned a reputation for being a seducer. But such salacious gossip was confined to the press and political circles. In 2003, a centrist weekly, Nouvel Observateur, reported that a leading minister in the Lionel Jospin government was part of a very exclusive 'echangiste' or wife-swappers' club. It was believed the reference was to DSK, then the country's economy minister.
When off to the IMF, DSK's friends warned him of US society's low tolerance of promiscuity. He didn't listen to them.
As DSK wound up his successful campaign to head the IMF in 2007, senior journalist Jean Quatremer wrote in his blog, "The only real problem for Strauss-Kahn is his relation with women. Too pressing...his behaviour often borders on harassment." DSK's team asked Quatremer to withdraw his comment, but he refused, saying the dapper politician should file a defamatory suit instead. When DSK prepared to move to Washington, his friends reportedly advised him against pursuing his seduction games, pointing out that American society wasn't as tolerant of promiscuity.
DSK didn't heed those words, having an extramarital affair with Piroska Nagy, a Hungarian economist at the IMF DSK survived the scandal largely as he was negotiating big-ticket bailouts for Portugal, Ireland, Greece and Spain during the economic meltdown. This was perhaps also why IMF officials ignored what Nagy told them—his woman problem made him unfit to spearhead an organisation where women have to work under him.
As DSK languishes in New York's Rikers Island prison, there are women popping up with ever-new examples of his alleged dark deeds. French writer Tristane Banon, 31, went public, saying DSK had molested her in 2002. Why the disclosure now? Her lawyer, David Koubbi, linked the complaint to events across the Atlantic. "There are several new elements that have emerged which prove what my client has been claiming. So on the question whether my client is simply trying to take advantage of the situation, the answer is no." Banon had revealed her story in 2007 to a French TV channel, which later censored out DSK's name.
DSK is accused of having attacked Banon when she was collecting material for Confessed Errors, a collection of interviews of famous people ruminating over their past mistakes. She sought DSK for an interview and was invited to an apartment where he allegedly set upon her. As Banon recounted, "We ended up fighting, I kicked him, he tore away my bra and tried to open my jeans. Somehow, I managed to escape." She was ultimately persuaded by her mother, Anne Mansouret, a Socialist Party leader herself, not to file a case.
DSK's wife, Anne Sinclair, continues to stand by him, as she had done during the Nagy affair, then dismissing it as one of those things which "occur in the life of all couples. This one-night adventure is now behind us." Sinclair was recently asked whether it bothered her to have as her husband a person who has "a reputation as a seducer," she replied, "No, I'm actually rather proud of it! As long as he seduces me and I seduce him, that's good enough for me." Nor would it matter to Sinclair to know that her husband twice paid money to a brothel madam, Kristin Davis, for escort girls. What raises hackles in America is dispelled as a risque tale, with just a shrug, in France.
---
By Ranvir Nayar in Paris and Ashish Kumar Sen in Washington