When security attaches aboard the Italian oil tanker Enrica Lexie allegedly shot and killed two Indian fishermen about 22.5 nautical miles off the Kerala coast in the Arabian Sea on February 15, few in the foreign policy establishment saw it escalating into a "diplomatic incident" between New Delhi and Rome. But after a week—during which two Italian marines were arrested by the Kerala Police and the state government has been insisting on a maximalist legal course—hectic parleys between senior members of the two foreign ministries for an amicable resolution seem to have hit a brick wall. The resultant impasse has now forced South Block mandarins to do a quick course correction on their earlier assessment of an incident that many of them had described as a "non-issue".
"Most states today are in direct touch with the foreign governments and are not dependent on the Centre to showcase them."


N. Ravi, Former secretary, MEA
Under unrelenting pressure from Kerala, the ministry of external affairs (MEA) insists that since the incident resulted in the death of Indian citizens, the two marines, Latorre Massimiliano and Salvatore Girone, will be tried for murder in an Indian court. Italy dispatched its deputy foreign minister, Steffan de Mistura, to Delhi to express "sorrow and regret" at the death of the fishermen, but also to argue that the marines should be tried in Italy, as per Italian law and international guidelines.
With a crucial byelection for the Piravom assembly seat due on March 18—the outcome of which, political analysts say, will determine the fate of Kerala chief minister Oommen Chandy's UDF government, surviving on a wafer-thin majority in the House—the mood in Kerala has been getting more strident by the day. The Holy See, too, has been dragged into the tussle, after a controversial statement attributed to the Kochi-based Major Archbishop of the influential Syro-Malabar Church Mar George Alencherry, in which he reportedly assured Rome that he'd ask the state government not to act "precipitately", was widely circulated. The fact that Alencherry was consecrated as a cardinal by Pope Benedict XVI in the Vatican only days ago has tossed a heavy dose of religion into the faction-riddled soup of Kerala politics—though the cardinal has since denied having made the statement.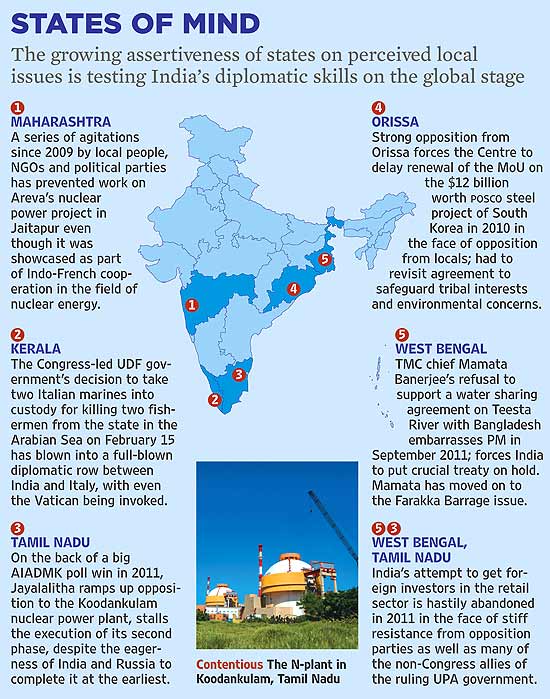 If you are wondering what intrigues in Kerala have got to do with national diplomatic policy and ties to Italy, a country with which New Delhi enjoys a "multi-faceted" relationship, time to wake up. That old cliche #describing a country's foreign policy as nothing more than an extension of its domestic policy is being stretched by Indian states like never before. Irrespective of whether they're headed by the Congress, a member of its fractious ruling coalition at the Centre, or by parties in the Opposition, state governments are becoming increasingly assertive—often individually, but at times even collectively—to push their own agendas in order to ensure their concerns and interests are factored in when India formulates and conducts diplomacy with the outside world.
"India's national interests will have to subsume state interests. A good foreign policy must account for bordering states."


Veena Sikri, Ex-high commissioner to Dhaka
"Federalism in India has reached a stage where foreign policy can no longer be formulated in the abstract and by New Delhi alone, it has to take into account the concerns and interests of the states," Suhas Palshikar, a Pune-based political scientist, told Outlook.
Kerala's case is by no means an anomaly. It is simply the latest in a growing list of incidents that sees state issues casting long shadows on Indian foreign policy. More and more states, ignoring what is often described as the "national interest" by New Delhi, are putting up a fight to hold their own to ensure stability, political and otherwise, in their respective domains (see box).
At the vanguard of this charge is West Bengal chief minister Mamata Banerjee, matriarch of the Trinamool Congress, a key member of the Congress-led UPA coalition in Delhi. In September last year, much of the shine of Prime Minister Manmohan Singh's high-profile visit to Dhaka was lost with Mamata's stubborn refusal to lend support to the crucial agreement on sharing the waters of the Teesta river with Bangladesh. Her opposition to the treaty stemmed from the possible suffering of farmers in the northern part of her state if the promised quantum of water from the Teesta was given to Bangladesh.
"Indian national interests will have to subsume interests of the states," says Veena Sikri, a former high commissioner to Bangladesh. "A good neighbourhood policy can only be implemented by taking into account the demands of the bordering states," she adds.
"The capacity to handle difficult issues gets more complicated when there's a coalition government at the Centre."


Naresh Chandra, Former cabinet secretary
Sure. But what is to be done when states raise voices of opposition on foreign policy decisions with partners beyond our volatile neighbourhood? Tamil Nadu chief minister J. Jayalalitha has been resisting expansion work on the Koodankulam nuclear power plant in her state that Russia, one of India's closest allies, is building. Despite an acute power shortage in her state, Jayalalitha has thus far been reluctant to give assent to the project because of widespread fear among her electorate—exacerbated by the fallout of the nuclear crisis in Japan's Fukushima prefecture last March—that in the event of a nuclear meltdown, they will be severely affected.
Another example highlighting the vagaries of intra-state politics in Congress-ruled states is the case of Maharashtra, where a firm challenge by locals and NGOs has so far managed to stall work on French company Areva's $10 billion nuclear power reactors in Jaitapur. This, despite the state government having agreed to the project, part of the much-feted civil nuclear deal signed during French president Nicolas Sarkozy's visit here in December 2010.
Another friendly country, South Korea, has similarly seen its $12 billion posco steel project come to a grinding halt, even though both the Orissa government and the Centre were keen to see it through, because of the stiff challenge from locals and NGOs, raising concerns about the damage the plant will do to the environment and the local tribal population.
The shift we see today in foreign policymaking, where New Delhi is being forced more and more to yield ground in the face of state pressure, may have started more than a decade ago when India began to open up its previously protectionist economy. Former secretary in the MEA, N. Ravi, explains, "The allowance that the Centre gave the states to generate revenue and attract investments from outside has also increased their leverage in the domain of foreign policy."

Broker Italy's deputy FM Steffan De Mistura greets MoS external affairs Preneet Kaur. (Photograph by AFP, From Outlook, March 05, 2011)
He refers to the growing trend that sees foreign leaders making more frequent visits to Indian states viewed as potential investment destinations, with a cursory stopover in Delhi for a "joint communique", as a reflection of this change. "Most of the states are today directly in touch with foreign governments and do not depend on New Delhi to showcase their states."
In addition to the growth in the states' leverage, the nature of coalition politics in India, where neither the Congress nor the BJP is in a position to form a government without relying on support from regional parties, has also made the states more vocal and proactive in foregrounding their own ambit of interest. "The capacity to handle difficult issues gets more complicated when there is a coalition government at the Centre," Naresh Chandra, former cabinet secretary and diplomat, told Outlook.
"India's federalism is at a stage where foreign policy can no longer be just formulated in the abstract and by the Centre alone."


Suhas Palshikar, Professor, University of Pune
The "federalisation" of the Indian republic observers refer to also gives more room to the states to manoeuvre, often joining ranks with political leaders from outside the coalition to make common cause on issues that embarrass the Centre. A prime example of this was when UPA coalition partners joined those in the Opposition to force the government to withdraw its hyped proposal to open up the retail sector for foreign direct investment last December.
Two other factors, perhaps, help states adopt more strident postures on issues. One is the growing perception of a drift at the Centre, the feeling that no one really wields control. The other is that a mid-term poll may actually help non-Congress parties consolidate their position. So one sees this collectivist oppositional stategy on the domestic front—as with the National Counter-Terrorism Centre tussle, where states extracted concessions from New Delhi. But now, the prospect of such coordinated ambush tactics bleeding into the foreign policy domain must be giving the Centre food for thought. With the Manmohan Singh government busy defending itself from attacks on multiple fronts, it'd be no great surprise to see states continue to push the envelope to maximise their gains in days to come.