Indian cricket has hit a trough; the men of steel are in steep, embarrassing decline, the boys who come in their wake are callow yet. Fans are lamenting and switching off their TVs. Just over two years after becoming the No. 1 Test team, the dream has soured. India have now lost seven Tests in a row away from home, in England and Australia. It stings like a scorpion bite—is it death?
Perhaps we'd still not be too bad at home—wolves if not lions. As England slumped to 192 in their first innings against Pakistan in Dubai, it comforted some in India. Isn't every Test team fallible away from home? But while India has lost abroad before, the difference is that even in the worst of times, India didn't seem like the "minnow" it does now. So here are ten ways in which India can revive Test cricket and improve its performance abroad.
Player earnings in 2011

Pitches: Make lively pitches for domestic cricket so that players can bat well overseas. We need hard and bouncy wickets, wickets with grass, wickets which help bowlers—the kind we got in England in July-August and in Australia now. "We'd get used to playing in those conditions if we start keeping our wickets uncovered in domestic cricket," says Sarkar Talwar, former Haryana spinner. "There was some talk of implementing this, but it wasn't done."
Talwar says that technically incorrect batsmen will never survive on such tracks. In the current Ranji Trophy, an astounding 154 centuries and 345 half-centuries have been scored before the final. In the Ranji Trophy league phase alone, 92 batsmen scored centuries, but only 16 bowlers took over 20 wickets. But this mountain of runs is largely irrelevant if you can't provide batsmen and bowlers with technique to win abroad. Pitches are the first step—and Indian cricket has refused to take it for decades. It's now or never.
"IPL has people who are hired to speak good of it...it's poison for cricket. Supporting it for money is like selling cocaine for a living."
Succession plan: Our top batsmen are at the end of their tether all at once, which means a massive hole in the team when they go. The batsmen are rightly being criticised for their failures, but someone else deserves greater blame for not planning for transition. About the Indian selectors, Ian Chappell, former Australian captain, says, "They thought, 'We're not going to worry about the mess we're going to leave.' The fact is that the Indian selectors were not prepared, and now they're paying the price." Former Test player and commentator Sanjay Manjrekar says, "There's no other way, you have to get young players in. Sure, Yuvraj and Raina looked out of place in England, but perhaps we gave the wrong youth opportunity in Test cricket. Were we influenced by their odi performance?"
Top players in Ranji Trophy: Ranji Trophy would become more competitive if our best players are there. But in 23 years since his first class debut, Tendulkar has played only 33 Ranji matches. Anil Kumble has never ever bowled to him in a domestic match. In 15 seasons of first-class cricket, Harbhajan Singh has played only 29 Ranji Trophy matches. How is the mountain of runs going to be judged if the best cricketers of the land aren't playing?
Home improvements: The domestic first-class competitions are sinking into oblivion and need to be cared for. Take scheduling, for instance. As Aakash Chopra notes in his new book, Out of Blue, "What's the point of having the domestic T20 tournament in October when you have to prepare for the longer format? Why have the T20 tournament, then the Ranji Trophy group stage, then the final stage of the T20 tournament just around the IPL?"
Another change that must be made is to make teams go for a victory. You get five points for an outright victory, three if you take the first innings lead. "The difference is just two points, and taking wickets isn't easy, so most often teams are satisfied with the first innings lead and this defensive mindset is ingrained in our players," says Talwar.
Reward good show in Ranji: From the eight teams in this year's Ranji Trophy, numbering some 120 players, only four players have a central BCCI contract—all four from Tamil Nadu. The best players of the domestic circuit need to be groomed for the future, and the centrepiece to this should be A team tours to the most challenging venues—Australia, England and South Africa. Excellence in domestic cricket should be recognised—if an Ashok Dinda is the top wicket-taker, he should be given a chance.
Promote Tests: England markets Test cricket with carnivals at city centres, contests and coaching clinics to lure the young. India is aggressively marketing Twenty20 cricket, but not Test matches. Crowds still flock into the seven traditional Test centres. So why hold a Test in Nagpur, 18 km outside the city, and then sell only the season tickets? Only by reviving interest in Tests can you get the young to value the long-format game.
Regulate T20: It's anti-Test cricket. It could be exciting, though repetitive, to watch, but it hurts technique. Coaches—the ones who're not on the make—believe juniors shouldn't play T20s at all. Punjab plans to ban it for Under-21 players. "All states must do the same," says Tarak Sinha, the respected Delhi coach, who has worked with the Rajasthan Cricket Association.
Curtail IPL: The IPL this year would see 75 matches over 54 days. That's clearly an excess, hurtful to India's Test hopes. "Even our great batsmen are technically weaker because of it," Sinha says. "Young players are chasing IPL contracts rather than working on their technique." He says the former cricketers who are defending the IPL now are doing it because they've been "bought". "IPL has people who are hired to speak good of it," he says. "It's poison for cricket.... Supporting it for money is like selling cocaine to make a living." He suggests curtailing IPL's duration, and making playing for India and in the Ranji Trophy more financially lucrative than the IPL. "Else the future is dark," he predicts.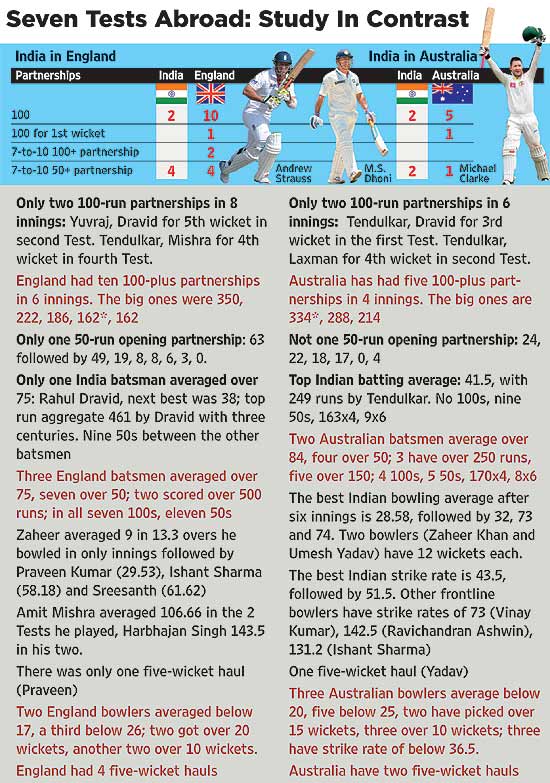 Empower India coach: When he coached England, current Indian coach Duncan Fletcher conceptualised the central contract system, wherein country came before county. Thus Andy Flower, the England coach, can withhold players from domestic cricket if he thinks it's in the national team's interest. England have too much T20 at the domestic level, but a player like Graeme Swann plays around eight matches a year, including the ones for England, because the interests of the country come first, not that of Nottinghamshire. Fletcher needs to be given the freedom to implement this in India.
"Defenders of IPL cite David Warner as a T20 player who's done well in Test cricket," says Sinha. "But in Australia, each team plays just seven T20 games, and the money isn't obscene (Big Bash has a total team salary cap of $1 million, which Bill Hilfenhaus alone gets in IPL). Test cricket is still more important for them."
End conflict of interest in BCCI: The previous three changes could occur only if the BCCI thinks of India first, and that is possible only if no board official stands to gain from the IPL. In gentler and more innocent times, BCCI had a clause that said "no administrator shall have, directly or indirectly, any commercial interest in the matches or events conducted by the Board". This was changed in 2008, making conflict of interest institutional in the BCCI. The most blatant case is that of BCCI president N. Srinivasan owning an IPL team, K. Srikkanth being a national selector and brand ambassador of Chennai Superkings, and Anil Kumble being KSCA president, Royal Challengers Bangalore mentor and heading a player agent company. Now the selectors are paid salaries, in an attempt to professionalise the system. Says Bishen Singh Bedi, "But professionalism is an attitude, they can't simply become professional just because they're paid. Dravid and Laxman have done magnificent service for India. What have the administrators done? Why are they sticking to honorary positions for donkey's years, without accountability?"
Australia has taken giant strides on the road to redemption in Test cricket after swiftly accepting the recommendations of an extensive review. India needs something similar, and quickly.
---
Web version edited on Jan 25, 2012 to fix Mr Tarak Sinha's designation which had been wrongly mentioned in print.