It's getting bigger by the day. If the sheer number of notices sent by the Election Commission to candidates and media houses is any indication, paid news is big news in the assembly elections in Punjab. By the time polling came to a close on January 30, the commission's media monitoring committees (MMCs) in the districts had issued some 300 notices. More than 200 of those served notices have even admitted to paying or accepting payment, the candidates among them agreeing to show this spending in the Rs 16 lakh they are permitted to spend on canvassing.
It seems everyone does it, and most quite freely admit it too. Notices were issued to candidates after MMCs set up in each district tracked election-related coverage of candidates. The broad criteria adopted to identify paid news were: consistent coverage of a candidate in a particular newspaper; similar wording in the coverage of a candidate appearing in different newspapers; or the appearance of more than one news item about a candidate on a page. One committee at the state level scanned election coverage by TV news channels and clamped down on "suspect" programmes.
Many a media house based in Punjab has been rattled by the Election Commission's first-time effort to curb paid news. Nevertheless, media watchers say what has been exposed is just the tip of the iceberg. "The flip side of the EC's strictness in accounting for advertisements put out by candidates is that now there are very few candidates' ads in newspapers or on TV channels," says Kanwar Sandhu, managing editor of Day & Night News, a TV channel. "Instead, candidates either pay local correspondents or get paid news inserted."
In the three constituencies in Mansa district, MMCs sent 57 notices; some 30 recipients accepted wrong-doing. The total amount involved was small—about Rs 7.1 lakh—but then Mansa is one of Punjab's smaller districts and newspapers here are tiny backroom operations. In other parts, much more money is involved. "Some newspapers approached us with 25-day packages for coverage of our main candidates costing some Rs 2 crore," says Jasvir Singh, spokesman for the People's Party of Punjab. "We refused because we couldn't afford it. We are a new party, we have little money."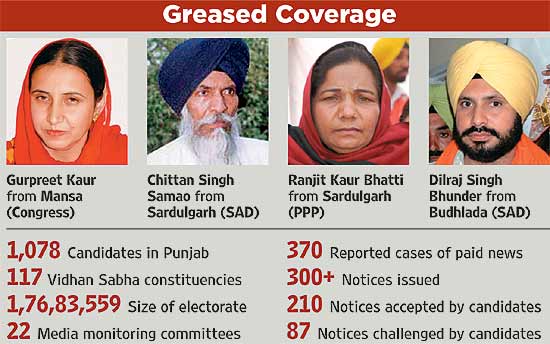 He alleges that some media groups targeted the party because it did not play along. A rally organised by the party in Maur on December 15 was well attended, he says, but there was no report on it in any Punjabi newspaper the next day. "An ad we had placed in a prominent Punjabi daily appeared, but no Punjabi newspaper reported on the rally," says Jasvir. "When we asked the reporters, they said this is what would happen if we booked ads with newspapers' head offices, because its local offices and correspondents lose out on commissions then. Give us the ads, you'll get good coverage."
Even big parties are complaining. Says a Congress candidate, "I've never seen anything like this before. A regional language paper owned by a major media house would not report one word without being paid. It was open blackmail. Initially, I resisted. But when my rival began planting false news about my workers leaving to join her, I came under pressure to hit back. So we too paid and planted news like everyone."
It was open blackmail on part of media houses, small and big. They offered candidates coverage packages for a price.
An 'ordinary' package of Rs 10 lakh offered by a popular Punjabi newspaper entitled a candidate to three columns of 25 cm for 25 days. 'Premium' packages cost up to Rs 25 lakh. A daily run by a well-known dera wooed by all parties offered coverage packages at Rs 5 lakh per candidate. Many candidates hired retired journalists or stringers at Rs 1,000 per day to draft the items that would appear in newspaper space they had paid for. This actually made it easy for MMCs to detect paid news: the similar wording in reports appearing in two or more newspapers was a giveaway. Among those who have admitted to paying for news are candidates of all major political parties.
It is unclear what action will be taken. Will local officials just add up the money to candidates' election spending or refer the matter to the EC for disqualification? Daljit Singh Cheema, spokesman of the SAD and a candidate from Anandpur Sahib, says, "Why only candidates? When candidates admit to paying for news, the EC should act against the newspapers too."
Among the newspapers that received notices for allegedly biased coverage was the venerable Tribune, published from Chandigarh. Gurkirat Singh, who heads the state-level MMC, says a notice was issued on the basis of a complaint from SAD, and when the newspaper responded with a reasoned justification, the matter was filed. Says Raj Chengappa, editor-in-chief of the Tribune, "We were quite surprised at the notice, because we are a 130-year-old newspaper, one that upholds the standards of journalism. The ruling party complained against our critiques of its performance, which is a regular exercise during elections. That said, I also feel it's not for the EC to question coverage by the press unless it gets a specific complaint of paid news. We are open to scrutiny and responded to their notice with documentary support."
Amongst TV channels, the popular PTC News Network, which runs three Punjabi channels, attracted more than a dozen notices. Soon after the first notice, about PTC's constituency-based programme 'Tuhade Halke', the chief electoral officer issued a press release declaring the programme "paid news" and giving the channel 12 hours to respond. "We were branded even before we could explain ourselves," says Rabindra Narayan, CEO of PTC. "We then went to the CEC in Delhi and got permission to continue the programme."
PTC had a lot of explaining to do because the Badal family is part-owner of the parent company and much of its coverage was seen as biased in SAD's favour. But Narayan says, "It's the Congress that boycotted us and told its candidates not to appear on our programmes. We ended up featuring SAD and other party candidates." National channels—Star News, Zee News, NDTV and Aaj Tak—also drew fire: their "opinion-based" programmes on January 30, polling day, were halted.
Quite a bit escaped the EC's notice though, mainly because it was not fully equipped to watch all that the media did. In a letter to CEC S.Y. Quraishi, Sandhu says, "Many TV channels took money from parties and individual candidates for live coverage of rallies. This went unchecked." He also points out how the EC itself advertised on a channel (PTC) owned by SAD, and wondered if it was right for Usha Sharma, the special electoral officer, to appear on a channel she was entertaining complaints about. If this is just the tip of what happened in the Punjab elections, perhaps the EC has much more on its hands in Uttar Pradesh.