Wood Isn't Good
The Red Sanders Anti-Smuggling Task Force was created on November 25 last year through a government order of the finance department (G.O.MS. No. 217)
After the TDP came to power, 831 red sanders smuggling cases have been booked, 5,237 arrested and 15,520 logs seized
Smugglers hire woodcutters and porters from Tamil Nadu to steal red sandalwood from the Seshachalam forests. The forest department says 60 per cent of red sanders forests have already been felled.
The most well-known red sanders smuggler is Kollam Gangireddy, now in a Mauritius jail. The other is T.V. Bhaskar Naidu, now in Rajahmundry jail.
Andhra's forests produce most of the world's red sanders, in the forests of Kadapa and Chittoor districts. The wood is exported or smuggled out to China and Japan mainly.
The wood is used to make shamishen, a traditional Japanese musical instrument. It's used for construction, as an aphrodisiac, as medicine and a beauty aid. In Europe, it is used in the pharma industry.
There seems to be no market for it in India
Grade A red sanders commands Rs 2 crore/tonne in auctions. Smuggled sandalwood is sold at some Rs 10 crore per tonne in China.
***
On December 5, 2014, Andhra Pradesh chief minister Chandrababu Naidu, fresh from a tour of Japan, organised a lunch for journalists. As he wrapped up over coffee, Naidu started outlining his government's policies. One of the issues he spoke of at length was the smuggling of red sandalwood, valued alike as fine timber, medicine and aphrodisiac. Red sandalwood (or red sanders) grows in the hill ranges of the Seshachalam forests in the Kadapa and Chittoor districts. And while Naidu said he would work hard to protect the state's forest wealth, he couldn't help making a glancing political reference: the smuggling mafia, he said, was in cahoots with forest department officials, and sandalwood smugglers like Kollam Gangireddy were fronts for bigwigs. Gangireddy, now in a Mauritius jail for international smuggling, is rumoured to be close to some leaders in the YSR Congress. He is also an accused in the case of a Naxal bomb attack on Naidu in Alipiri in October 2003.
The bloody gunning down of 20 woodcutters from Tamil Nadu by the Red Sanders Anti-Smuggling Task Force (RSASTF) in Chittoor on April 7 might seem like a natural corollary of Naidu's zeal to protect forests. Though the government calls them "smugglers", these are men hired by the ring-leaders for felling and carrying the wood. Nine labourers were killed in Eetagunta, eleven in Vachindou Banda, both in the Chandragiri mandal of the district. As facts tumble out, the killing seems more and more like a staged encounter. DGP J.V. Ramudu said 20 men of two teams from the task force were attacked with knives, sickles, axes and stones by some 200 woodcutters. "It was in self-defence that the combing party was forced to open fire," the police chief said.
But all bodies had bullet wounds in the abdomen, face, chest and back of the neck. Some had burn marks on the arm, raising suspicions of torture. When attac­ked and forced to open fire, policemen are expected to fire warning shots in the air and if that fails, to aim below the knees. The post-mortem team of five doctors at the Venkateswara Ramnarain Ruia Government Hospital, however, said the men "were shot at close range".
Another giveaway was that the bodies lay close to each other with a red sander log each next to them. Some victims had a hand around the logs. Was this all arranged, rights groups wonder. Activists say the logs, too, looked old, not recently felled, and they had white paint markings on them. Were they from a previous seizure? C. Bhaskar Rao, general secretary of the Organisation for Protection of Democratic Rights, points out that the bodies lay in a semi-circle, as if it had been stage-managed. "Isn't it also curious," he asks, "that 11 policemen suffered only minor injuries in what was said to be a heated encounter and didn't have to stay in hospital even for a day?" Another activist, Jeevan Kumar of the Human Rights Forum, wonders why there was so little blood at the site. Congress MP Chinta Mohan says that, considering the number of bullets fired, there should have been "at least 20 litres of blood, but there's not even an ounce". "These people," he says, "were tied up and shot at point-blank range. No two opinions." Kumar adds that the CCTV footage released seems like an afterthought.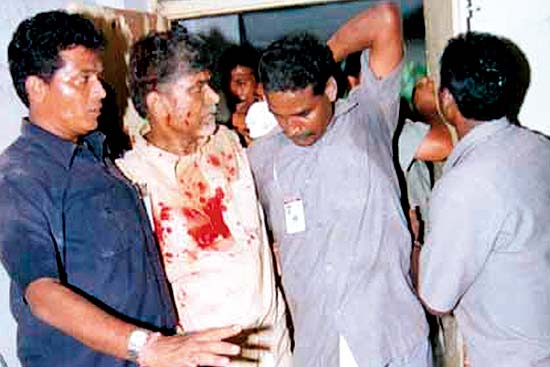 Old story Naidu after a 2003 bomb attack
The DGP, facing a volley of questions, had stormed out of his press conference and then returned to chide journalists for being rude. He refused to comment on "technical details". On April 2, five days before the encounter, DIG Kanta Rao, who heads the task force, had asked the government to remove some allegedly corrupt forest officials, to fill up vacancies in the task force, and to give permission to fire upon red sanders smugglers.
Some say the Kamma-Reddy rivalry might be behind the killings. Some blame it on an 'over-enthusiastic' DIG.

Kranthi Chaitanya, a member of the Andhra Pradesh Civil Liberties Com­mittee (APCLC), claims to be protecting Sekar, a 45-year-old villager, who says he is witness to the labourers being picked off a bus and taken away. Chaitanya says that Sekar, from Anan­tapuram, in the Tiruvannamalai district of Tamil Nadu, and seven other villagers had been hired by a red sandalwood agent to go into the Seshachalam forests. The group headed out to the border town of Thiruthani, where they changed buses for Tirupati. This bus, he says, was intercepted by an Andhra police squad at Nagari. The cops picked up Sekar's seven companions. Since Sekar was sitting next to a woman, and was older than the others, they probably did not think he'd have been hired as a labourer. He got off at the next stop, went back to his village and informed the elders of Anantapuram panchayat.
The Andhra police released some CCTV footage to show a long line of people trooping into the forest on April 6. It was on seeing these visuals, they claim, that the two task force teams went on a combing operation. Additional DG (law & order) R.P. Thakur says it's common for smugglers to enter the forests in large numbers. "They are violent and tend to attack patrols with whatever weapons they have," he says, and recounts a December 2013 incident in which a mob of 500 smugglers attacked a forest team and killed two forest officials, N.R. Sridhar and David Karunakar.
Earlier, the Seshachalam forests were a haven for Maoists. But in the late 1990s, and particularly after failed talks with the YSR government in 2005, Maoists migrated to Chhattisgarh and the Andhra-Orissa border. Now, timber smugglers seem to have taken over. The task force was formed about three months back with the aim of crushing the smuggling mafia. On April 7, when the encounter took place, it was around 5.30 am and the forest was dark. So the team had to quickly decide to open fire when attacked, say police officers.
Forest minister Bojjala Gopalakrishna Reddy asks, in a petulant tone, "If these people were not smugglers, then what where they doing in the sandalwood forests? Were the growing grass? Whet­her they are in the front line, second line or third line, the fact is this: they are smugglers. And the AP government will deal with the crime with a firm hand."
Sources in the TDP say that it is possible that Naidu was not in the loop. The list of 20 victims took even the ministers by surprise. "The Kamma lobby, which has been worried about the growing presence of the Reddy lobby in the red sanders export business, might be another reason for the operation," says a TDP leader. Some blame DIG Kanta Rao, in-charge of the task force, who they say is "over-enthusiastic and eccentric". The DIG says his team acted in self-defence on being attacked with country-made weapons and stones. In fact, before a shocked country could react, the Andhra home minister even alleged that two of the slain were international smugglers.
Bhaskar Rao says the "fake encounter" was probably a message to terrorise Tamil workers, who are engaged as woodcutters and porters by smuggler rings. He suspects the men were picked up from buses, tortured and killed. "The bodies were then dumped to make it look like an encounter," he says. The government will have to submit a report to the Union home ministry, the National Human Rights Commission (NHRC) and the Andhra Pradesh High Court.
The encounter has also caused tension between Tamils and Telugus. Andhra buses going to Tamil Nadu and Telugu institutions in Chennai are being attacked. All parties in Tamil Nadu have condemned the killing. The chief minister has sought an inquiry. In 2014, there had been seven encounters in which Tamil labourers were killed in the red sanders zone. Like them, those killed on April 7 were mostly hardy men in their thirties. Most of them hadn't told their families where they were going.
---
By Madhavi Tata in Hyderabad