The first printing press in India arr­ived in Goa in March 1556 more by accident than by design. But despite its presence, almost within a century of its invention by Johannes Gut­enberg, over 200 years would pass before Indians realised its awesome impact. An impact that would birth a nascent media that, in its matur­ity, would help influence not only the soc­ial structures, religious beliefs and customs but also the very political architecture of the country, finally paving the way for an independent Indian nation to emerge.
Much of what happened in an India that came under the advancing maws of colonialism from the late 18th century onwards bore a direct imprint of a churn in Europe—the Industrial Revolution, age of enlightenment, the French Revolution and the ideas of republicanism it spawned thro­ughout the next two centuries, an evangelical-materialist Brit­ain laying down new laws of morality and capital, and the ravages of nationalism that midwifed the two world wars.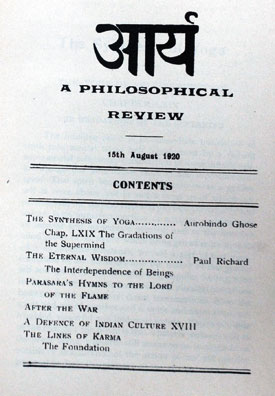 Arya: Published in English and French this monthly journal that called itself a 'philosophical review' was edited by Sri Aurobindo
With India emerging Britain's most important colony—its chief source of raw materials as well as its main market for finished goods—the country was sought to be transformed thro­ugh administrative and infrastructural changes that required generations of 'English-edu­cated' Indians. As the middle-class in India—steeped in the liberal ideas sweeping across Europe—grew in the 19th century, so did the demand to bring about changes both within their own society and in their own relations with Britain. These aspirations were expressed through a burgeoning press—newspapers and magazines.
"Modern newspapers and periodicals are perhaps a product of the modernism that came to India with the advent of British colonial rule," says Calcutta-based commentator Rajat Roy.
Indian journalism started its journey when maverick Iris­h­man James Augustus Hickey—often in jail for criticising Warren Hastings's wife—launched the Hickey's Bengal Gazette in 1780. It is widely regarded as India's first English weekly.
Several other journals followed suit—the Asiatic Researcher in the late 18th century and a veritable parade of dailies and journals from the first quarter of the next century. While the Calcutta Review was a prominent journal, many publications in Bengali and other vernaculars started around the same period, including Rammohan Roy's Sambad Koumudi, Samachar Dar­pan and Digdarshan. Many were from the printing presses of the Baptist Mission of Srirampore, near Calcutta, from where emerged journals in Urdu, Hindi and Farsi, apart from Bengali.
Initially, journals covered a wide range of subjects—religion, utilitarianism, the new sciences revolutionising human existence—but avoided making their arguments overtly political. But watershed events like the Sepoy Mutiny in 1857, the Indigo revolt in 1858, the explosion over Dinabandhu Mitra's play Nil Darpan, its championing by James Long, and the emergence of intrepid editors like Akshay Kumar Datta of Twattabodhini Patrika would usher in an era of political journalism.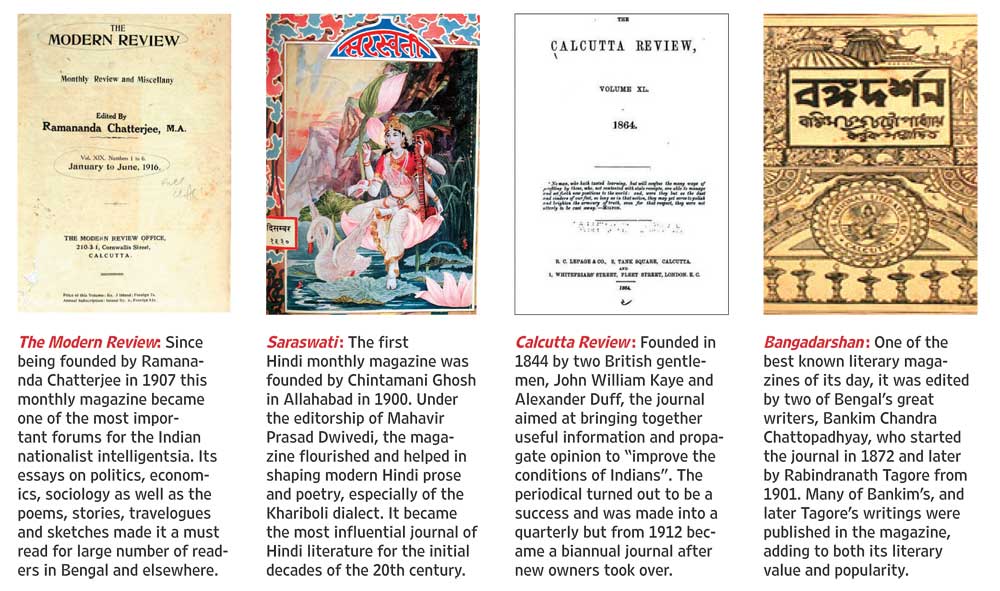 "Anything about India that one could think of were reflected in these journals," says historian Deepak Kumar. But the readership remained small and limited mostly to the educated elite. However, this started changing with the expansion of the middle class, more access to the printing press and an explosion of journals in the vernacular, particularly Bengali.
Some experts describe Calcutta as the "cradle of journalism in India". The spurt of new, and quality, publications in the 19th century right up to the 1930s and 1940s was nothing less than extraordinary. Some of the iconic literary and newsmagazines are Sambad Pravakar, Samachar Chandrika, Bangadoot, Sam­bad Pravakar, Som Prakash, Bangadarshan, Bharati, Basumati, Bharatbarsha, Prabasi, Kali-Kalam and Parichay. Several were from the Bartabaha press in Rangpur (in erstwhile East Ben­gal) as well as from Dhaka, like the Dhaka News, Dhaka Prakash and Dhaka Darpan. The proliferation of journals also brought about changes in subjects and most publications soon became the favoured forum for debates and discussions for the leading thinkers and social reformers of Bengal—Bankimchandra Chattapadhyay, Swami Vivekananda, Rabindranath Tagore, Sri Aurobindo and Kazi Nazrul Islam, to name a few—in their att­empt to challenge both British colonial practices as well as conservative religious sections within the country.
The role of magazines and their influential editors in the development of Bengal's literary culture cannot be overstated. Sabujpatra (edited by Pramatha Chaudhuri), Shonibarer Chi­­thi (ed. by Sajanikanta Das) and Gokulchandra Nag and Dineshranjan Das's Kallol helped turn the tide of Bengali literature towards modernity, then modernism.
The march of Indian magazines soon expanded to other parts of the country, particularly in areas under the Bombay and Madras Presidencies. By the mid to the last quarter of the 19th century, social reformers like Jyotirao Phule (of the Satyasodhak Samaj), Mahadev Govind Ranade and others in Maharastra and in the south used their journals to highlight exploitation of the Dalits, social evils, and espouse causes like women's emanicipation, much like what others were trying to do in Bengal.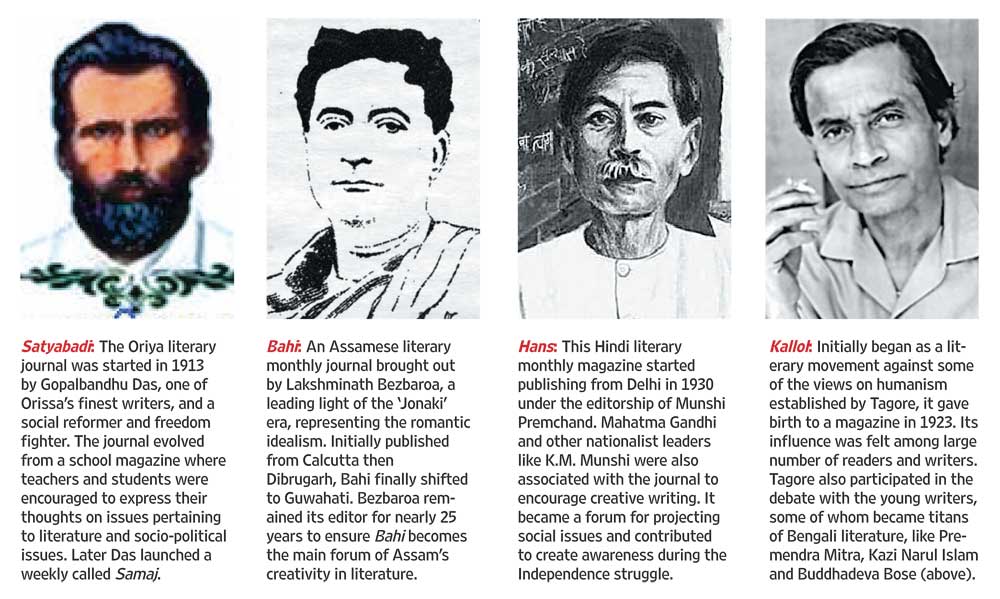 "Both the reformists as well as the conservatives fell back on the scriptures and religious texts to further their argument and educate their readers," observes historian Tanika Sarkar. This led to not only an increase in number of the journals and magazines in the vernacular but also in the publication of books on a variety of subjects.
One overriding concern of journals across the country was nationalism, the state of the languishing nation, nation-building, as well as the forging of an ideal national character.
The gathering forces of political consciousness in the country directly resulted in the growth in the number of readership of journals and newspapers as well as the new books, an increasing number of which were aimed at growing numbers of women readers—a section which was till then largely ignored. Though editors of most of these journals were men, most tried to highlight issues pertaining to women, ways of improving their lot and expanding their role both in society and nation-building.
Mahatma Gandhi's columns in Harijan are well known, but a similar call for social progress was adopted by a number of leading Indian politicians not only from the Congress but also from the Left as well as the Hindu right to propagate their opinion and ideology. Gopal Krishna Gokhale, Bal Gangadhar Tilak, Dadabhai Naoroji, Abul Kalam Azad, Jawaharlal Nehru, B.R. Ambedkar and E.V. Ramaswamy 'Periyar', used their regular columns in various journals to propagate their messages.
Many of these journals are not extant. But they played a significant role for over 200 years in being the primary forum to propagate news, ideologies, literary idioms and dre­ams of a new dawn. Their contribution towards the shaping of an inde­p­­en­dent India is a integral part of our national intellectual heritage.
---
Pranay Sharma, a senior editor in Outlook, specialises in foreign policy. He has previously worked for The Telegraph and spent his formative years in Calcutta.