The quiet premises of St Sophia's Senior Secondary School in West Delhi appear untouched by fame. Children in colourful uniforms dot the school grounds, classrooms seem run-down and the campus bears an altogether unkempt and unsophisticated look. Outside, however, colourful posters fete Team India on winning the World Cup in 2011—and make special mention of Virat Kohli, perhaps the school's most famous alumnus.
The guard points towards the cricket nets at the far end of the school, where the West Delhi Cricket Academy (WDCA) holds practice sessions. This is where it all started for the young Virat who would go on to gather more style and flamboyance.
When Virat was just nine, his father Prem Kohli, a lawyer, had seen enough to know his son would play for India one day. He took the chubby boy to Coach Rajkumar Sharma at the nearby WDCA to hone his talent. "I felt Virat was a class apart. His flair with the bat was impeccable even at that age," remembers Sharma. His guide and mentor, Sharma played a key role in Kohli's grooming. In 2006, when Virat was in the middle of an innings in a crucial Ranji Trophy match against Karnataka, the terrible news that his father had died was relayed to him. Distraught, he sought Sharma's advice. The coach told him to continue his innings. Virat went on to score 93. He was 17.

With his mother
Then on, it was clear cricket was first. Soon after, he captained the under-19 side to the World Cup trophy in Kuala Lumpur. But did single-minded obsession with cricket make him aloof and overly aggressive? "Of course, he's aggressive," says Virat's older brother Vikas. "He knows how to chase his dreams and gets obdurate when he sets his mind on something. Is there really any other way to achieve success?" Former India player Nikhil Chopra, among those who selected Virat for the Delhi Ranji team, says his understanding of the game, continuous self-renewal and maturity were evident at a young age. Kohli guards his personal space jealously and doesn't reveal his secrets easily, his friends say. What people think about him doesn't bother him in the least. To his inner circle, though, he is the most 'chilled out' person. "He is a typical Delhi guy," says his pal Ankush. "Just a few years ago, we'd be driving through the city streets on Holi, throwing water balloons at people, especially girls." He loves watching soccer, is a huge Man U fan, loves his kababs and curries, and loves jiving to loud bhangra songs. Former cricketer and patron-in-chief of the wdca Atul Wassan says Virat knew early on how to strike a balance between work and play. "While he's dead serious about cricket, he also knows how to let his hair down and unwind either at home or at discos, lounges, pubs or bars."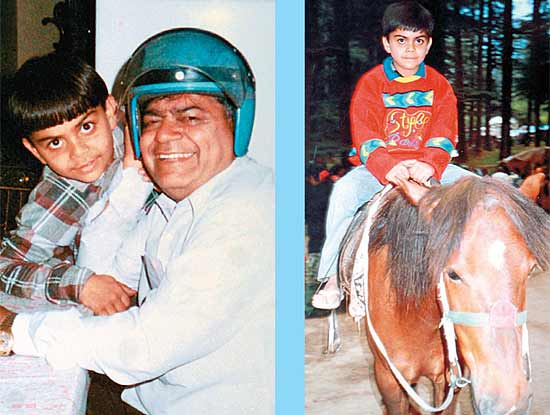 His late father; horsing around
Questions have been raised about Virat's mercurial behaviour and quick temper. His critics point to his run-ins with umpires and scuffles with opponents on the field. "He's always been a go-getter and daring," says childhood friend Chavi Gulati. She recalls Virat having a crush on the school beauty, a senior, and him giving Chavi a letter to hand over to her. Chavi asked him to reconsider, but Virat was determined. The senior tore the letter, saying "The cheek of the fatso." What gets to people, Chavi feels, is Virat's no-nonsense attitude—that gets reflected as aggression. "It's a childhood trait that makes him unreachable to most. It's how he is. People have to just accept him."

His older sister and brother
Virat loved school; his teachers recall a good student. "He was witty and bright," recounts Lucy Jat, his biology teacher in Class 8, adding that he had a great aptitude for science. His principal Geeta Sehgal recalls asking Virat's class about what a poem meant to them and his reply, "The best words from a person's heart."