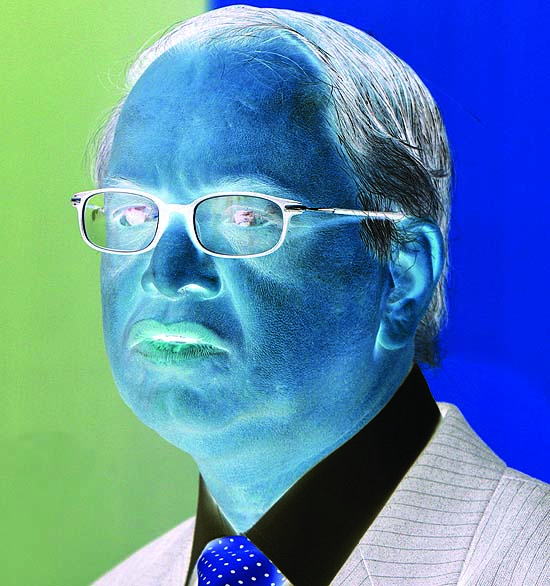 In his typical round-about twang—clause, pause, sub-clause —N.R. Narayana Murthy flatly denied any chance of his return to the company he founded many years ago. That was last month, of course. "I think as I said, sitting where I am, looking at the data, I don't see that happening. I think it's all speculation," he told Mint. But within Infosys, talk had long begun. Despite the sombre mood following the company's bad showing in the fourth quarter results, there were murmurs of Mur­thy's return to Infy in some capacity or the other. The company's most prominent founder was being increasingly seen on the Infosys campus, rubbing shoulders with the top management, even attending the company's crucial strategy and planning meetings.
Why, according to a report in Mon­eyLife, the day before the annou­n­cem­ent of Murthy's return to Infosys, the company's stock saw brisk volumes in a negative stockmarket and gained 3 per cent during the day's trading. When on June 1, it was finally ann­ou­nced that he would return as executive chairman—replacing K.V. Kamath, who was barely two years into the job at the software giant—along with his son Rohan as an executive assistant, people at Infosys were not surprised. "Did he ever leave?" sniggers a senior Infys­cion on the condition of anonymity. But ask the rank and file—1,60,000 of them—and it was unsure how to react.
Here was this larger-than-life icon, with years of experience and achievements under his belt, trying to save a company which had been constantly sliding in the last couple of years from a position of prosperity and glory. At the same time, his return raises disturbing questions for a company touted as the Indian benchmark for meritocracy and professionalism. At a time when another leading Indian company, Ranbaxy, is being pilloried for selling adulterated drugs in the US, many have reacted sharply to his return to Infosys. Issues like corporate governance, nepotism and favouritism have been raised.
The irony hasn't escaped anyone: Narayana Murthy himself was the big­gest votary for the right corporate values, setting an example to the IT ind­ustry and corporate India as a whole. Sure, this image has been carefully cultivated and burnished over the years, but there's no denying the sense of disappointment at Murthy's return. It's like the fall of an icon. "If you yourself have set and espoused lofty standards, and that too in writing, if you regress from those, you will fall in the eyes of the public and the corporate world," says Professor A.K. Jain, corporate governance expert with IIM Lucknow.

Dad's asst NRN with son Rohan and his wife Lakshmi Venu in 2011
It is a common perception that Infosys's fortunes have suffered ever since Murthy stopped steering the company. But was he ever distant from the company he founded in 1981? It is hard to believe that in the years that he was not in an executive position, he did not have a say in the company's affairs. As he rightly put it after the announcement of his return, "This calling was sudden, unexpected and most unusual. But then, Infosys is my middle child".
"It's because of indifferent leadership. Infosys used to have fantastic client focus but that's not there anymore. After Nilekani, we haven't seen a client-facing CEO in the company."
As expected, with Murthy's godlike sta­ture in the industry, there was instant gratification and euphoria. The company's stock rallied on the bourses and immediately parallels were being drawn with events like Steve Jobs' return as Apple CEO in 1997 and Mich­ael Dell's return to Dell in 2007. Goldman Sachs even dec­lared that this would boost long-term investor confidence. Even the venerable Economist went over the top, com­paring Murthy's return to Indira Gandhi's comeback as PM in 1980!
Even though a few in corporate India are sticking their neck out and openly questioning Murthy, there is hushed talk about Infosys behaving just like any other "Lala company" where the 'gaddi' is always reserved for the son or the kin. Also, with all the bright management talent available in the country, did Infosys have to bring Murthy back from retirement to fix a prescription for its revival? While there is nothing illegal or illogical in appointing a person that has the board's approval, ethical issues could be raised.
By bringing son Rohan into the fold as his executive assistant, Murthy has fue­lled this, especially when he himself has always been vocal against employing fam­ily members in the company. "He has to be seen as practicing what he pre­aches. This doesn't send the right signals. It is very mysterious. If they (the Murthys) wanted to protect their stake (in the company), there are other ways of doing it," says Manjeet Kripalani, executive director at think-tank Gate­way House and veteran Infosys tracker.
Indeed, by retiring at 60, Murthy had set an example for all of corporate India­­—by rejoining at 67, he has gone against his own stated resolve. This also comes at a time when in his own state there is a raging debate over the new chief minister Siddaramaiah naming 65-year-old S.R. Patil as the state's information technology minister. Mur­thy's own contemporary Mohan­das Pai twe­e­ted: "#Surprised at choice of minister for IT/BT. Need a person who can work with global companies and a lot younger. Sad day for us." The return tells you more about the poor self-image in the company. "The question is, have you suppressed talent so that it could not rise? Or have you simply not nurtured any talent? Either way, you have created the problem yourself," says A.K. Jain.
Last year, Murthy's support for former CFO V. Balakrishnan as the company's next CEO became public even when incumbent Shibulal had a good three years to go. Also, even as he has, time and again, professed "meritocracy", he set up a system where all the founders of Infosys would be CEOs, without even considering whether there were other professionals who could do the job better or not. "It is not that things are all gloom and doom, two other big companies in this space (TCS and Cognizant) are doing well. It is because of indifferent leadership. Infosys had a fantastic client focus but, unfortunately, that focus is not there any more. After Nandan Nilekani, we haven't seen a client-facing CEO in the company," says Mohandas Pai, Infosys's former CFO and HR head.
It is also a fact that post Infosys, Murthy's options have been rather limited. He tried for a larger role—despite denials, Murthy's ambitions to be India's president or India's ambassador to the US are well-known. Says Kripa­lani, "Infosys put a larger-than-life image in Murthy's mind and he was already behaving like a statesman, representing India at global meets like Davos. Heads of state would go to Bangalore before Delhi. So what would you think beyond Infosys?" But for some reason or the other, his political ambitions did not fructify. Some aver that his presidential ambitions fell by the wayside during an Independence Day function at the Infosys campus in 2007. Defending the playing of a pre-recorded electronic version of the national anthem, Murthy said that "foreigners (on the Infosys campus) should not be embarrassed while we sing the anthem".

Do the shuffle From left, Infy CEO Shibulal, Murthy, K.V. Kamath and vice-chairman S. Gopalakrishnan
Anyway, energised by his god-like status on the Infy campus, Murthy had stepped out to improve the people's lot in Bangalore and Karnataka, openly commenting on what needs to be done for the betterment of the state. Sources say he even attempted to revive an old pol­itical party, obviously with the aim of becoming its new patriarch. While Murthy's ambitions did not bear fruit, his founder colleague Nilekani got into a prominent government role with a cabinet minister rank, something, even if Murthy does not acknowledge, would not have been easy for him to accept.
"Mr Murthy has to be seen as practising what he preaches. It's very mysterious. If they (the Murthys) wanted to protect their stake, there are other ways of doing it."
As Harish Khare, former press advisor to the PM, wrote in a signed piece in The Hindu: "Mr Murthy is not just a private businessman, minding his own business. He has often sought to inject himself into the public domain, telling a thing or two to the political class about how to behave.... Like other corporate leaders, the Murthys, father and son, represent an unrepentant ideological approach to the Indian state, its morals, manners and policies and purpose...."
So can the great Narayana Murthy take Infosys forward with the same glory as it has seen in the past under him? Not many are optimistic about this. Murthy's earlier stint as CEO or chairman was at a time when the IT industry was in its formative stages and Infosys had an early mover advantage. Also, with IT being the most prominent sunrise industry and then India's poster boy sector, it drove government agenda, even India's foreign policy, pushing people like Murthy and Nilekani to a position few could match. Global markets were vibrant and companies were on an upward curve on their IT spends.
xIt is common knowledge that Infosys has had some rough times in the last few years with quarterly per­formance slipp­ing consistently, though the company made profits. Its quarterly guidance, once a much sought-after event in the IT industry, faltered quarter after quarter, forcing the company last year to stop making any guidance. It lost its bellwether status to rival TCS. The company also made some strategic decisions that did not pay off. Even within the industry, the general feeling is Infosys is losing its edge. Says Arjun Malhotra, co-founder of HCL and chairman of Headstrong, "Infosys has fallen behind, in the present requirements of the industry. You are caught in a world that is changing. Unless you build domain-specialist business, you will be left out."
Yes, the world has changed in the past two decades. Global economies are in a recession-like stage and global corporations are trying to find ways to cut costs, even as there is an anti-outsourcing outcry and Bangalore today is known more for mining scams than IT. In such stressful times, when most companies are looking at fresh thinking to tide over the present crises, Infosys has gone back in history to fetch an answer. It may be a long walk back home for Mr Murthy.
***
The Many Ambiguities Of Mr Murthy
Dynastic As a vocal votary of meritocracy, argued against family members (like wife Sudha) taking up positions in Infosys. Yet, he has now brought son Rohan into the company as his Executive Assistant, raising governance issues in an iconic Indian company.
Clubby For all his claims to professionalism, insiders feel he is actually against putting professionals and competent people at the top to run the company. In fact, he pushed in a system where only the founders would be CEOs, a root cause of Infosys's problems today.
Doublespeak Murthy has always insisted on following a retirement age; he retired from executive functions at Infy at 60, setting a rare precedent in India Inc; now, in a volte face, he has come back into the company at 67, going against his own standards.
Left to right Despite his avowed political neutrality, whispers about Murthy trying to set up or fund a new outfit on the lines of Swatantra Party; nrn himself denies such talk, but admits he wanted to join a "left of centre" party in his early days.
Ambitious Has meticulously crafted an industry leader/icon status with an eye towards public office; but when his self-professed attempts to become president of India or India's ambassador to the US failed, he has returned to Infosys.
Always there Insiders say he never "left" the company in the first place; played a crucial role in the past couple of years. This is evident in his support for former CFO Balakrishnan vis-a-vis CEO Shibulal, which has affected the running of the company.
***
In NRN's Own Words…
On Meritocracy
"In the West, they show professionalism by embracing meritocracy. Meritocracy by definition means that we cannot let personal prejudices affect our evaluation of an individual's performance. As we increasingly start to benchmark ourselves with global standards, we have to embrace meritocracy."
On Retirement
"Every party should have to come out with a resolution that they will not field candidates beyond a certain age. And, at the same time, they should create an advisory council of elders in each party or in each coalition. These councils would consist of people who are above 60 or 65 years of age."
On The Role Of Corporates
"As economic factors become more and more significant in any debate, and as the country makes noticeable progress in its economic well-being, people who dabble in these matters become important voices. It is only natural that they voice their opinion about what should happen in the country."
On Standing For Presidentship
"I will be very happy, absolutely no doubt about it, but that I think is in the realm of speculation...that is not for me to comment on and perhaps it is too early right now. We still have another nine months to go."
On India's Political Icons
"I believe India would have been a powerful exporter much before China if only Netaji had a front seat in our policymaking along with (Jawaharlal) Nehru…. India would have seized the opportunity the world offered and would have become the second most powerful economy in the world."
***
Infyms Problems
Infosys has been performing worse than its peers. Projected revenue growth for FY 2014 at 6-10% is lower than industry projection of 12-14%.
After faltering repeatedly, Infosys stopped giving quarterly guidance. It also lost its bellwether status in the industry.
In Q4 results, it saw just 3% growth in profits while revenue growth was below expectations. Earnings (EBIDTA) are down to an all-time low.
This happens at a time when rivals TCS and Cognizant have seen significant growth in profits and revenue.
Infosys stock has also underperformed in the bourses and grew just 1% cent in the last one year. Company has lost Rs 30,000 crore in market cap since Q4 results with stock plunging 21 per cent.
The company's strategy under new CEO Shibulal, Infosys 3.0, aimed at taking it higher on the value chain through consulting and product platforms didn't click.
In the last few years, the company has lost several senior people including T.V. Mohandas Pai, Subhash Dhar, Ritesh Idnani and Shaji Farooq.
---
By Arindam Mukherjee with Pragya Singh