When did you last hear of an Indian cabinet minister being compared to Muhammad Ali? Well, that's how a retired bureaucrat described Jairam Ramesh: float like a butterfly, sting like a bee. Over the past 15 months, UPA-II's environment minister has done just that, taking on many a ministerial colleague in public while simultaneously landing on the hit-list of numerous chief ministers. Even if Jairam is at the heart of the raging environmental controversies of the day—approvals for mega projects from Vedanta and Posco, the battle over Mumbai's new airport, and last year's spat over GM foods—his plate never seems full. The man still takes time out to launch other battles elsewhere.
It's definitely making an impact. Today, a shared perception among environmentalists and fellow politicians alike is that Jairam has transformed Paryavaran Bhavan into a happening place. But by doing so, he's also changing the rules in the development vs environment applecart. This makes for some powerful enemies in a fast-growing economy, where states—in collusion with the central authorities—chase big money and bigger headlines. Not to forget the ministries in a desperate race to meet development targets. Is Jairam's green charge all for the good then?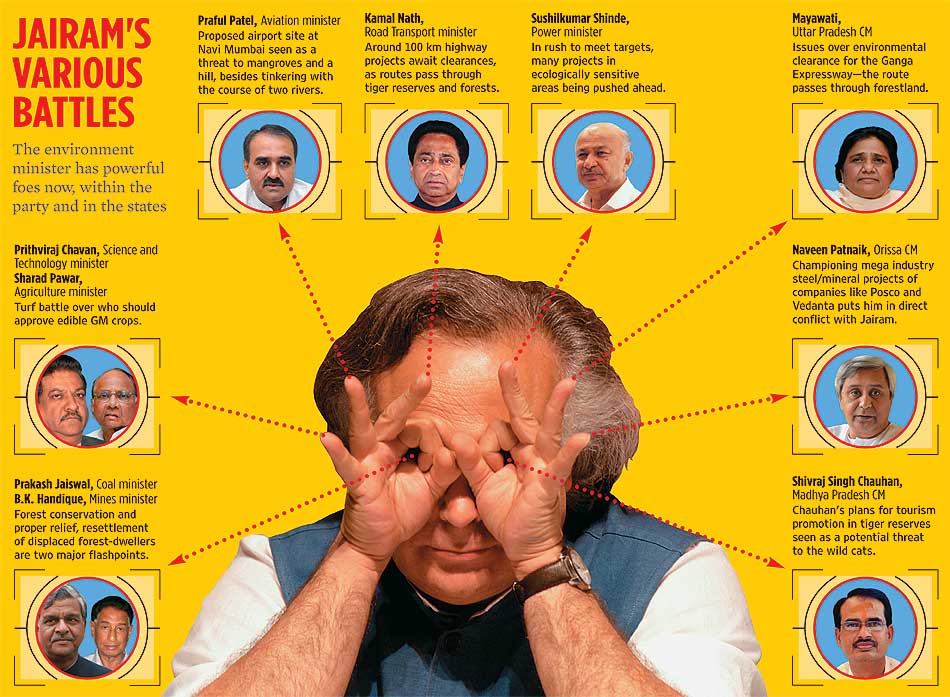 K. Ullas Karanth, head of the India chapter of Wildlife Conservation Society and a member of the in-the-news Forest Advisory Committee (FAC), is one of those pleased with the change. "Jairam Ramesh has brought back a lot of integrity to the ministry and cleaned it up," he says. His only complaint is that the minister has not kept "his promise of making the ministry more scientific-oriented (possibly due to his being a technocrat). There is lot of room for improvement."
Despite having crossed words with many ministers in public, it's intriguing that few in the Congress and the government have any criticism to offer. At the most, there is unease at the minister's tendency to veer towards "flamboyance and playing to the gallery in many cases". Similarly, everyone glosses over the usual questions—is Jairam as clean as the white khadi churidar kurta he favours? Is he above power politics? Is he a lone ranger or is there a bigger design behind the UPA's green politics?
In fact, a cabinet colleague, who in the past has aired major differences of opinion with Jairam in public, defends him saying, "He is implementing laws in letter and spirit...which previous environment ministers had never done." The minister, who declined to be identified, points out that all the requisite laws to protect the environment without hampering development already exist—it's just that powerful vested interests continue to flout them.
"If investing 10% can buy the system, would an erring industry spend money to meet its legal obligations?"


N.C. Saxena, NAC member
Many point out that in the decade prior to Jairam taking charge, barring Suresh Prabhu's tenure during the nda regime, the ministry suffered during the eight years when DMK ministers were in charge. It had virtually abdicated its regulatory role and had become a clearing-house for uncontrolled development. "The minister is only trying to observe the laws passed by the cabinet and Parliament," says N.C. Saxena, an NAC member who heads numerous panels on development. Stating that often the bureaucracy is also under pressure when politicians try to please companies, Saxena caustically observes, "If investing 10 per cent can buy the system, why would an erring industry want to spend money on meeting obligations under the law?"
On the face of it, support for Jairam comes from consistent political backing from Sonia Gandhi. The PMO is also letting him be—apart from the time when Manmohan Singh pulled him up for his statements criticising home minister P. Chidambaram's policies on Chinese investments. Clearly, Jairam's mandate comes from its consonance with the principle of development with a human face, which UPA-II is seeking to espouse in times of volatile Naxalism. "There is pressure to strike a balance between development and the environment. Unless we focus more on equity and distribution of profits, we will have more Vedantas," says Zoya Hasan, professor of political science at JNU.
It helps that Jairam has played his cards well—thus far. He is quick to keep everyone in the loop on developments, dashing off a flurry of letters. Tactically, he has withheld environment clearance only after careful deliberations, whether based on an expert team's report (like with Vedanta) or by engaging with civil society (like in the case of GM foods). But while he has been using existing laws (the latest weapon is the Forest Rights Act), the pressures are mounting. A look at Jairam's many battles.

Site for the new airport in Navi Mumbai (Photograph by AFP, From Outlook, August 30, 2010)
Navi Mumbai Airport
In Mumbai, they say the true test of Jairam's calibre will lie in how the city's second airport project is decided. No one, including the minister himself, questions the need for a second airport. For close to a decade, the site was near Panvel in Navi Mumbai, about 75 minutes' drive from the existing airport. Clearances were given subject to several environmental conditions. Jairam, sources in Mumbai say, took a different view when the file came to him for final clearances. For one, he listened to all those people and groups which had not been heard before; and they raised ecological and land acquisition issues that apparently rattled him.
The Navi Mumbai airport project, which called for between 2,500-4000 acres of land, would displace nearly 12 thriving villages, and inflict long-term ecological damage in the region. How? Because the project calls for exemption from certain provisions of crz rules, destruction of 400 acres of mangroves, 'training' of the Gadhi river and diversion of the Ulwe river which together might end up in a "Mithi-like disaster", as Jairam put it recently in Mumbai. (The Mithi river was diverted for the existing airport, which contributed in large measure to the 2005 Mumbai floods). Jairam directed the Bombay Natural History Society to submit a report in a month's time, based on which the final decision will be taken.
Jairam is now pitted against a most powerful confluence of interests: the PMO itself, civil aviation minister Praful Patel, the Maharashtra government, its City Industrial and Development Corp (CIDCO) which is to construct the airport in a public-private partnership, 10 MPs from the city who met the PM last week to demand that the airport project go ahead as scheduled, construction giants who smell large-scale profit, and even the Maharashtra governor, who last week made a strong pitch for the airport at that site. Opposition to an alternative site in Kalyan is also rising—as is the political pressure on Jairam.

Niyamgiri hills, Vedanta's proposed site for bauxite mining (Photograph by Sandipan Chatterjee)
Vedanta
What is it about mining projects that even wealthy private entrepreneurs cannot do without cohabiting with psus? The answer is simple. The public-funded body acts as the "facilitator", opening government doors. This is euphemistically called public-private partnership. The Orissa Mining Corporation, a state body, is technically the licence-holder to mine the Niyamgiri hills for bauxite—but the proceeds go to Sterlite (a subsidiary of Vedanta).
"So far small power projects backed by the locals have been kept pending while mega ones were fast-tracked."


Chandi Prasad Bhatt, Environmentalist
Therein hangs the tale of how the executive, the legislature and the judiciary let the people of Niyamgiri down. So when Congress MP from Orissa Bhakta Charan Das got up in Parliament last week to talk about how the state's BJD government had violated laws in giving approval to Vedanta, perhaps he should have checked with the central party first. The first go-ahead for the alumina refinery and captive power plant was actually given in 2004, by a PMO-controlled environment ministry. The Supreme Court then gave the green signal for the project in 2008, subject to clearances from several authorities. In '09, the PMO gave an approval for the bauxite mining.
Complicating matters further are contradictions within the Congress itself—party spokesperson Abhishek Manu Singhvi is the lawyer for the Orissa Mining Corporation before the National Environment Appellate Authority (a quasi-judicial body). But after party heir apparent Rahul Gandhi lent a sympathetic ear to the Dongria and Kutia Kondhs, Jairam set up a committee to look into what was wrong with the project.
It's hardly surprising that this four-member panel found that every single law of the land was bent to facilitate the great mining expedition. Though a final decision is pending, the project looks doomed. P.V. Jayakrishnan, chairman of an SC committee on forests and wildlife, is happy that the government "is for the first time concerned about illegal mining...and in the process the forests are also getting the deserved focus".

Got your back Sonia, Manmohan and Jairam during a meeting at her residence in Delhi (Photograph by AP)
Posco
South Korean steel major Posco's dream of setting up an integrated 12 mtpa plant and captive port project near Paradip seems to have run into a fresh set of hurdles. Two fact-finding teams, sent courtesy Jairam, have nullified the Orissa government claim that there are no forest-dwellers on the designated plant site. Taking a serious view of non-compliance of the FRA—which empowers a community to ensure their habitat is preserved—the ministry has clashed again with the Naveen Patnaik government.
Jairam has withdrawn an approval given in December 2009 for diversion of 1,253.23 hectares of forestland for the project. The minister has so far refused to bow down to the Orissa government stand that since the FRA implementation began after the approval was granted, Posco should not be penalised. Protesting that the Union environment minister was not being impartial, the Orissa government has pointed out that the Polavaram dam in Congress-ruled Andhra Pradesh has been given the green signal though a large number of tribals (estimated at 2 lakh) will be displaced. Jairam's response that no natural forest would be affected by the Rs 9,000-crore dam project has so far cut no ice with Orissa. Watch this space.
---
Charge Of The Green Brigade
Large development projects that have been cancelled or stalled in the past one year due to denial of environment clearances
1. Project: Posco's 12 mtpa greenfield steel plant and port facility near Paradip, Orissa
Status: Denied environment clearance unless forest rights issues are settled
2. Project: Vedanta's bauxite mining and refinery project in Kalahandi, Orissa
Status: Denied environment clearance pending decision on Saxena probe team report.
3. Project: Navi Mumbai airport project
Status: Stalemate as selected site near mangroves, would damage hill and involve diversion of two rivers.
4. Project: Nagarjuna's 2,640 MW coal-based power plant project at Srikakulam, AP
Status: Clearance cancelled for falsifying information that project land is barren.
5. Project: East Coast Energy's 2,640 MW thermal project in Srikakulam, AP
Status: No clearance; suppression of facts about possible damage to area's wetlands.
6. Project: Jindal's 2,400 MW power project at Tamnar, Chhattisgarh
Status: State asked to stop work (started without permission) and initiate action.
7. Project: Reliance Cementation's proposed plant in Maharashtra
Status: No clearance as site not selected, environment impact not known
8. Project: Ultra Tech's limestone mining project in Amreli district of Gujarat
Status: Fresh proposal sought as large portion of the mine lease falls within CRZ
9. Project: Tehri Hydro's Sankosh-Teesta Canal project in West Bengal
Status: Alignment of canal is passing through Buxa Tiger Reserve
---
Power Projects
Over the past year, among the key decisions taken by Jairam is putting a stop to giving "provisional approval" to projects, which many companies (including Vedanta) took as the final approval to push ahead without fulfilling legal commitments. Recently, Congress MP Naveen Jindal's Jindal Power Ltd was found to have commenced implementation of a 2,400 MW power plant in Chhattisgarh without getting environment approval. A more diligent approach by expert panels is now unearthing several other cases of fraud or companies seeking approvals without furnishing correct information (see list of stalled projects).
"Jairam gets to the nuts and bolts of issues unlike predecessors... pity the cabinet has no unity of purpose."


Valmik Thapar, Nat'l Tiger Conservation Authority
In many cases, as the recent landslides in Uttarakhand reveal, the collusion of politicians and contractors has led to many power plants being set up in ecologically sensitive regions with destructive consequences. Environmentalist Chandi Prasad Bhatt, based in Badrinath, is happy that "Jairam is trying to understand the issues". Emphasising that development should improve living conditions and not further worsen their situation, Bhatt says, "So far the tendency has been to keep small power projects proposed by locals pending while mega projects are given quick clearances."
The saga of protests against many of the mega power projects continues unabated. Anil Razdan, consultant to the government on energy technology, stresses the need for a clear policy on "may go" and "no go" areas for open-cast mining. Urging site-specific regulations and time-bound clearance to help planners, Razdan favours making "project-affected families and areas stakeholders in the benefits and earning of projects". That's an approach similar to what has been mooted by the ministry of mines.
In conclusion, Jairam hasn't won all his battles. Take the bitter debate over whether India should go in for genetically modified food production. The environment minister had won the first round. But now, though the debate remains alive, Jairam will no longer have the final word. The cabinet has recently approved a proposal for setting up a Biotechnology Regulatory Authority. Once it comes into play, the scientific community will have the final say, while the environment ministry's panel will only have an advisory role. This is not a happy state of affairs, fear environmentalists.
Meanwhile, Jairam's plate is brimming over—promoting the "polluter pays" principle, pushing for clean energy fuels, protecting coastal zones. The fight from now on is not going to be easy, nor will it get over soon. In fact, many say "it's a lonely seat" he occupies, with pressure lobbies at play from all sides. For now, though, the man with "the luck of the devil" is boxing away.
---
By Lola Nayar with Anuradha Raman and Smruti Koppikar