When did you last hear of an Indian cabinet minister being compared to Muhammad Ali? Well, that's how a retired bureaucrat described Jairam Ramesh: float like a butterfly, sting like a bee. Over the past 15 months, UPA-II's environment minister has done just that, taking on many a ministerial colleague in public while simultaneously landing on the hit-list of numerous chief ministers. Even if Jairam is at the heart of the raging environmental controversies of the day—approvals for mega projects from Vedanta and Posco, the battle over Mumbai's new airport, and last year's spat over GM foods—his plate never seems full. The man still takes time out to launch other battles elsewhere.
It's definitely making an impact. Today, a shared perception among environmentalists and fellow politicians alike is that Jairam has transformed Paryavaran Bhavan into a happening place. But by doing so, he's also changing the rules in the development vs environment applecart. This makes for some powerful enemies in a fast-growing economy, where states—in collusion with the central authorities—chase big money and bigger headlines. Not to forget the ministries in a desperate race to meet development targets. Is Jairam's green charge all for the good then?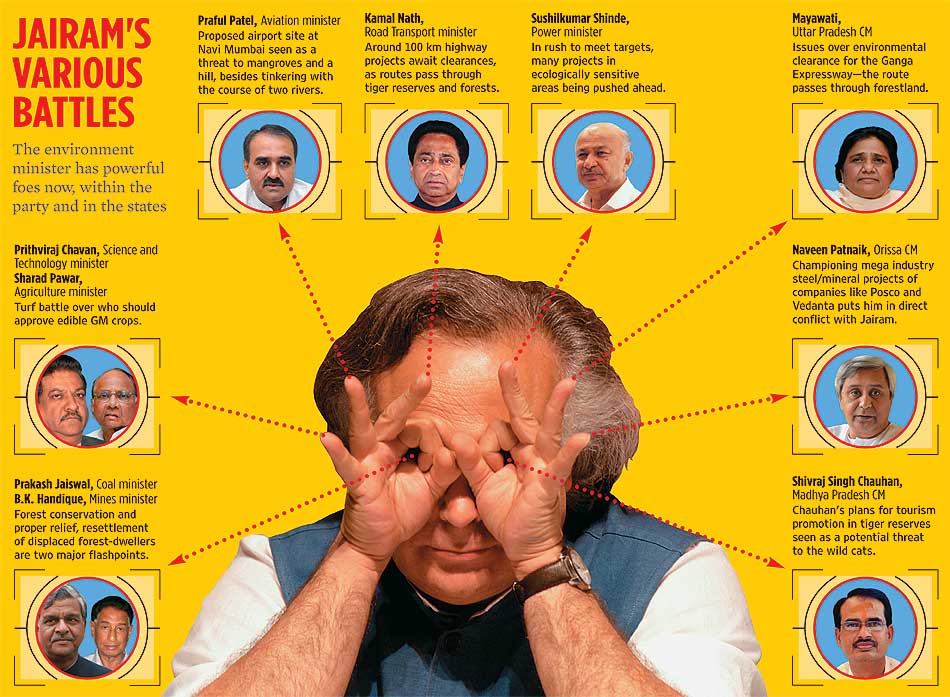 K. Ullas Karanth, head of the India chapter of Wildlife Conservation Society and a member of the in-the-news...