Why Does Kabul Chawla matter?
First generation real estate entrepreneur who first made headlines in 2008, when he was the highest bidder for a Noida property, beating giants DLF
His company is notorious for non-delivery to thousands of buyers of apartments and plots with delivery dates in 2012
Has been named in a NYT investigation for owning an iconic Manhattan apartment; also owns a house in Delhi's upmarket Amrita Shergil Marg
Was partner of Justice Y.K. Sabharwal's son during his judgement on the sealing drive and is said to have benefited from the verdict
Is considered to be close to Congress, particularly former Haryana CM Hooda, during whose tenure he acquired large chunks of land in Haryana
His company has grown faster than seasoned real estate giants; claims to have 35 residential and commercial projects in hand at present
***
"At BPTP, it is our aim to establish ourselves as the most trusted and admired real estate company in the country," announces the website of real estate firm BPTP. But trust is what Kabul Chawla, the 42-year-old, "young and dynamic" cmd of this fast-growing construction group, has found completely missing in his customers. Chawla, who was born in Karnal in Haryana, is a first generation builder who started BPTP less than 10 years ago with a team of 20 people. Under him, it grew to a turnover of Rs 1,400 crore in 2011-12. His net worth is an impressive Rs 2,071 crore. BPTP—a Gurgaon-based company—operates in Noida in Uttar Pradesh and in Faridabad and Gurgaon in Haryana. It claims to be developing 35 residential and commercial projects and is currently sitting on a prime land bank of over 2,500 acres in the expensive Delhi NCR and Faridabad area.
While little is known of Chawla's family business, there's no denying BPTP has established itself in a relatively short span of time. Of late, Chawla, who stays in Delhi's uber-posh Amrita Shergil Marg, shot into the limelight for becoming a part of a New York Times investigation of foreign wealth flowing into elite New York real estate. In a piece headlined 'The Besieged Indian Builder', the NYT wrote about a plush apartment of Chawla's at the upmarket and dazzling Time Warner Centre in Manhattan.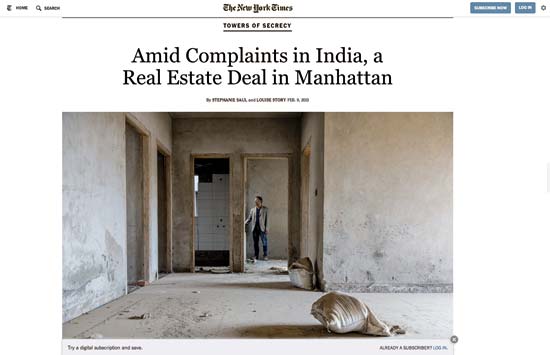 NYT headline that referred to him
Though there is considerable public interest, and angst, against him, Chawla has been missing in action. His office politely declined a request for a meeting with Outlook, saying he has not been meeting the media for the last few years. Chawla has also rarely been seen in public in recent times. There was talk that Chawla was in the US but his office did not confirm his whereabouts.
Kabul Chawla is known for two things: being a young, first generation entrepreneur; and not delivering flats on time.

Coming from a business family in Karnal, BPTP was Chawla's maiden venture into the real estate business. His interest in this field probably came from his in-laws, the Tanejas of the tdi group, a real estate group that has executed big projects in Sonepat. Though there's no known family background in politics, Chawla is said to be close to the Congress and has made a killing in acquiring prime land in Haryana during the tenure of the builder-friendly Bhupinder Singh Hooda government. He is seen by many as being close to Hooda. Most real estate watchers talk about Chawla's company's 'links' with Sonia Gandhi's son-in-law Robert Vadra, who is said to have real estate interests in Haryana. The company denies these rumours strongly.
The fact that Chawla exercises a lot of clout in the market is evident from the fact that he could rope in prominent investors into his company. The company website lists the following as investors: CPI India, an affiliate of Citigroup Property Investors, which has also invested in five SEZ companies of the BPTP group; Gurgaon Investments Limited, a company of Blackstone Group; Harbour Victoria Investments Holdings Ltd, an affiliate of the J.P..Morgan Chase group; Kellorzo Holdings Co of Cyprus; and Kotak Investment Advisors Ltd.

Work undone An incomplete project of Chawla's BPTP group in Faridabad, Haryana. (Photograph by Tribhuvan Tiwari)
Chawla and BPTP hit the headlines in 2008, when he outbid veteran builder DLF for a plot in Noida. Later, payment pro­blems were reported. Earlier, in 2007, Chawla's name was in the limelight in the Justice Y.K. Sabharwal case, when the latter had ordered large-scale sealing of commercial establishments being run from residences in Delhi. According to activist-lawyer Prashant Bhushan, Chawla became a partner in a real estate company owned by Sab­harwal's son. The shopping malls being built by Chawla 'benefited' immensely from the Sabharwal ruling.
In any case, Chawla has been no stranger to controversies. Most of his buyers have been fighting over non-delivery of apartments and plots. Of late though, he has hit international headlines for a totally different reason. Even as his projects have been languishing with stalled construction, ostensibly for the lack of finances, Chawla, according to a New York Times expose, bought a $19 million, 4,000 sq feet luxury apartment in Manhattan. Chawla has denied this outright. "Mr Chawla and/or his wife do not own the property mentioned in the NYT article or any other property in New York," was the cryptic reply sent by Chawla's office to Outlook on enquiring about the deal.
According to the NYT piece: "Although Mr Chawla denies owning the apartment, saying that he stays there but that it belongs to his cousin, the New York Times has unearthed correspondence among real estate brokers involved in the apartment's purchase, as well as other sources, tying the condo to Mr Chawla. The ownership of the unit on the 68th floor of the Time Warner Center's south tower is obscured by a corporate veil: a Delaware company with a Singapore address and a name, nyc Real Estate Opportunities, evoking the ambitions of an international buyer."
Within the country, there is extreme buyer angst against Chawla and his BPTP group, as deliveries and handover of apartments have not happened on schedule in many of the projects undertaken by the group. In fact, a majority of the apartments have not been handed over. Even construction has not progressed beyond 2011-2012 as claimed by many of his buyers.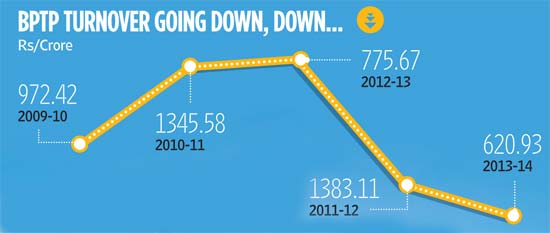 Chawla's company has taken near-full payment from most of its customers, but delivery has not happened as promised.

Late last year, Chawla's company was in the news when over 200 army officers sat in a protest for delay in the completion and handover in the Park Serene Apartments project in Gurgaon. The apartment complex, for which the company had taken deposits from 400 people in 2008, is yet to be completed and handed over to the buyers. The company told Outlook that the project is ready for delivery and claims it will hand over the apartments in 60-90 days.
The biggest controversy probably involves Chawla's Parklands project, an ambitious 2,000-acre project in Fari­dabad, where he sold plots and apa­rtments to over 22,000 buyers. Most of these are yet to be handed over even though in almost all the cases, the company has taken 95-100 per cent of the money from all the buyers. For a typical story, take Supreme Court lawyer D.K. Garg. He bought a plot in Parklands and paid about Rs 1 crore to BPTP, apart from stamp duty and other sundry charges. "I paid in 2012 and was assured that the plot was ready. They also took money for getting the sale deed registered. But there is no plot. Till date the land is still lying as it was in 2006—as agricultural land," says Garg.
The fate of sub-projects under the Parklands project is also similar. Park Elite, Park 81 and Princess Park, are all in various stages of neglect despite buyers having paid almost all the money for buying apartments in them. In Park Elite Floors, for instance, of the 4,200 flats sold, only some 1,200 have been delivered. In Park 81, the date of delivery of the 800 units is unknown, say buyers. At the Dis­covery Park and Park Arena projects, it's a similar situation.
A query on this to Chawla's offices came back with this standard, disarming answer: "We accept that there have been delays in certain projects owing to a plethora of external reasons/conditions and we are working towards delivering all such to our customers at the earliest.... It is pertinent to mention that payments made by customers are linked to pre-agreed construction milestones.... We have delivered more than 9,990 units to our customers where more than 5,000 families have already moved in and further deliveries are slated in the near future."
According to some of the buyers, following a massive protest march last year, the company started sending emails to buyers stating delivery dates starting from 2016 and going all way to 2018. The original delivery date for all these apartments, say buyers, was 2012. Says Umesh Prabhakar, secretary, Federation of Apartment Owners Ass­ociation, Greater Faridabad, "Cons­truction in the Parkland projects happened till 2011 but has been stalled since then. The company says there is shortage of money but they have taken almost the entire cost of the houses from all the buyers till 2012. About 12,000 customers are awaiting delivery of their houses despite having paid 95 per cent of the house cost."
Chawla appears unruffled by the controversies. According to property consultants in Gurgaon, the company has acquired 700-800 acres in the new master plan of Gurgaon, where land prices have soared to around Rs 24 crore per acre. In the absence of laws governing builders and delayed delivery of houses, nothing seems to stop the rise of this real estate baron.