Diana Vreeland, an influential editor of American Vogue, once described allure as "something that's around you... like a perfume or a scent...it's like memory...it pervades." Vreeland was probably the sort of editor who helped conjure up yearly lists of famous beauties, an idea now regarded as both politically incorrect and passe. But even outmoded labels have a habit of sticking; they have recently resurfaced with the passing away of two Indian women, Gayatri Devi, the erstwhile Rajmata of Jaipur, at 90, and the actress Leela Naidu, 69, in the same week.
The media, particularly the Internet, is overflowing with image galleries of both for millions to gawp at the "memory of allure" as captured in portraits, photography and film. After decades, I watched a DVD of the 1963 Merchant-Ivory film The Householder, their first feature, based on a Ruth Prawer Jhabvala novel, and found it fresh as paint. The film's charm relies chiefly on the youthful appeal that Shashi Kapoor and Leela Naidu brought to the clash between a genteel schoolmaster and his bride in lower middle-class Delhi. Naidu's radiance is enhanced by shades of romantic longing, boredom and childish petulance that the director draws from her.
Gayatri devi's life was, in an ironic, insightful way, a lesson in adapting to stormy change.
Other than their Indo-European backgrounds (Gayatri Devi, born in London, was schooled in India and abroad, while Leela Naidu's mother was Swiss-French) and their marriages to wealthy men (Gayatri Devi's to the maharaja of Jaipur and Leela Naidu's to Tikki Oberoi, heir to the hotel fortune), the two women actually had little in common. Beauty being the most perishable of human attributes, it is a compound of longevity, character and conviction that makes Gayatri Devi's allure the more indelible. Leela Naidu's is captured in but a handful of films and a career that was shadowed by two failed marriages, illness and obscurity. In contrast, Gayatri Devi's long innings were played out against a period of radical change and shaped by an uncommon temperament. A skilful negotiator, she defied convention—in marriage, politics and manners—with wit and aplomb.
When Atal Behari Vajpayee became prime minister in 1998, and Gayatri Devi was done with parliamentary politics, she caught up with her old jail-mate (they had both served terms in Tihar Jail during Indira Gandhi's Emergency in 1975) at an official function. Though she spoke refined Bengali, workable Marathi and fluent French, her command over Hindi remained shaky. But she wasn't deterred. "Atalji," she teased in her memorably smoky voice, "aajkal aap pehchantey nahin hain (Nowadays, you seem to ignore me)." The prime minister caught her mocking undertone. Bowing low to namaskar, he replied, "Magar Rajmata sahib aapka to aksar doordarshan hota hai (But Rajmata, I often manage glimpses of you from afar)."
The word "fairytale" erupts suspiciously often in stories of Gayatri Devi's life but, in fact, her upbringing was highly nonconformist. Her mother, a Baroda princess and feted beauty, rejected an advantageous alliance with the maharaja of Gwalior to marry a prince from the remote northeastern state of Cooch Behar, a family known for its "unorthodox and wild behaviour". "Ma Cooch Behar" was pretty wild and unorthodox herself but, widowed young with five children, she stood as regent for her son and was a dashing international social figure. Ayesha, as Gayatri Devi was nicknamed, was brought up with an appetite for sports, public duty and—it must be said—strong individuality. In her 1976 memoir, A Princess Remembers, a worldwide bestseller, she describes the scandal she caused when her teenage romance with the much older, twice-married, polo-playing maharaja of Jaipur resulted in marriage.
Polygamy was widely accepted amongst Rajasthan's rulers, but breaking purdah was not. The new maharani—"Third Her Highness"—shocked the palace by playing tennis, riding horses and taking charge of household accounts. The couple led a luxe life of parties and polo; they also presided over Jaipur's transition from a feudal to a modern state.
She went everywhere and knew everyone: Nehru, Sarojini Naidu, the Mountbattens, Cecil Beaton and Henri Cartier-Bresson came to stay. (Later, the guest list grew to include the Queen of England and Prince Philip, Eleanor Roosevelt, Nikolai Bulganin, Nikita Khrushchev, and Jackie Kennedy.) Powerful connections, however, did not dilute her opinions or keep her out of trouble. Nehru was charmed, called her Ayesha, but after India lost the 1962 war with China, she flayed him in Parliament as an opposition MP from C. Rajagopalachari's Swatantra Party. "If you knew anything about anything, we wouldn't be in this mess today," she burst out.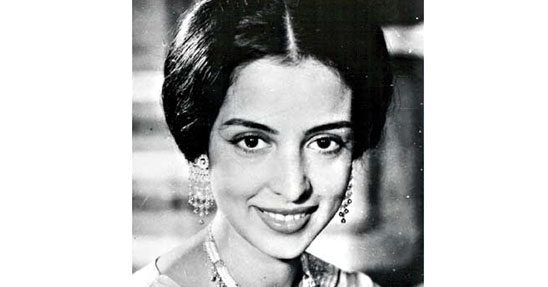 Glowing star Leela Naidu acted in few movies, but in riveting roles
Her life may sound like a social roll call but it was, in its way, an ironic and insightful lesson in adapting to upheaval and stormy change. Independence, the rough-and-tumble of democratic politics and the abolition of privy purses meant that the family home, Rambagh Palace, became a hotel, the country estate in England was swapped for a flat, and the Bentley for an Ambassador. The glamorous pin-up phase of her life was over; simple chiffons, often of striped Rajasthani leheriya, and her trademark string of pearls, became her new style statement. Her lack of pretension was bolstered by sound common sense. As a young woman in London in the 1930s, she had thought a secretarial course might prove useful: the princess took to Pitman's like a duck to water, enrolling herself as "Miss Devi". The training stood her in good stead. "My business correspondence and accounts were always perfect," she would say with pride.
Leela naidu's radiance is preserved in but a few films, including the sweet Householder.
On an impromptu invitation, she decided to join a mutual friend and myself for an evening out in London. That week she had been a guest on BBC's famous radio programme, Desert Island Discs; the channel had given her a courtesy car and chauffeur, which she gleefully reported she had made good use of. But tonight was nothing fancy: inexpensive Thai dinner on Fulham Road followed by a movie. When we came out, it was pouring rain, and no taxi in sight. Instantly she took command. She produced a cheap brolly, said "Follow me", and strode through back streets to the nearest Tube station. In ten minutes, we were home and dry.
After her five-month incarceration—on a tax evasion charge that some thought was prompted by Indira Gandhi's dislike of her—she quit politics to tend the educational and cultural institutions she had started and to promote Jaipur. She had lost her husband on the polo field and later, her only biological son, to dipsomania. Showing grace under pressure, she led an engaged life, weathering a series of ugly family feuds.
In public she could appear aloof—noblesse oblige is three parts hauteur and one part small talk—but in private she could be articulate, opinionated and witty. Famous people are asked fatuous questions, and someone once asked her for tips on how to make an impression socially. She tried to escape her interlocutor but could not. Finally, she said, "People like to arrive fashionably late. But in my opinion, it's more noticeable if you leave early." She paused, and added in an aside, "In my case, I even left the political party fashionably early."
Many Indian beauties—a succession of Bollywood stars for example—have come and gone, their impressions chiefly contained in small heaps of dvds. Their shelf life is brief; once they reach their sell-by date, they lose the big picture. But the aura of allure is more complex. The maharani with the common touch received a state funeral because she captured Jaipur's spirit and India's imagination. She changed the rules with self-assurance and style.