In a recent documentary Qissa-e-Parsi: The Parsi Story, Dasturji Khurshed, head priest at the Parsi pilgrim town of Udvada in south Gujarat, says, "If we don't change, we are not going to survive." He is talking about the Parsis' long-standing issue with girls who marry out, and how accepting them into the fold could strengthen community numbers. But some ads, that were created as part of the government-funded Jiyo Parsi scheme and have gone viral, take several steps backward from such progressive views. In one of the more provocative print ads, put together by adman Sam Balsara of Madison World and his daughter Lara, Parsi couples are told to "be responsible, don't use a condom tonight". In short, make babies—and make a joke of it, as the humorous Parsi community is wont to.
Divya Cowasji, a 27-year-old Parsi filmmaker-photographer who co-dir­ected Qissa-e-Parsi, isn't amused in the least. "I'm appalled. While the rest of India is being told to have fewer children, there is actually government money being sanctioned to get us to have more babies! To treat infertility in the community is one thing, but what's the point of airing your dirty linen in public and reinforcing stereotypes? The burden is being put squarely on the woman, and this takes us back to the same old issue of gender bias within the community," she says.
To be sure, the Jiyo Parsi scheme, started last year by the government and representatives of the Parsi community, has both health and advocacy components. It offers medical and financial assistance to Parsi couples who are unable to conceive (but not to women who have married non-Parsis). All very well. A smaller part of the campaign, kickstarted by the provocative series of ads, targets the youth on whom falls the burden of carrying forth the famed Parsi torch. "The ad campaign was just to make the community aware of how inward-looking we have become and to laugh at typical attitudes in the general population," says Shernaz Cama, director at Unesco Parzor, a Parsi-Zoroastrian project that is implementing Jiyo Parsi. The controversy around the campaign has been blown out of proportion, she says. "We are not neo-Nazis, as is being portrayed on the social media. We are only serving a community need. Nobody is holding a gun to anybody's head to get married and have kids. I don't see why people are taking it so seriously. We have purposely kept it light-hearted and sarcastic, because sarcasm stings and has a corrective aim. The issues Parsis face, however, are morbid and serious."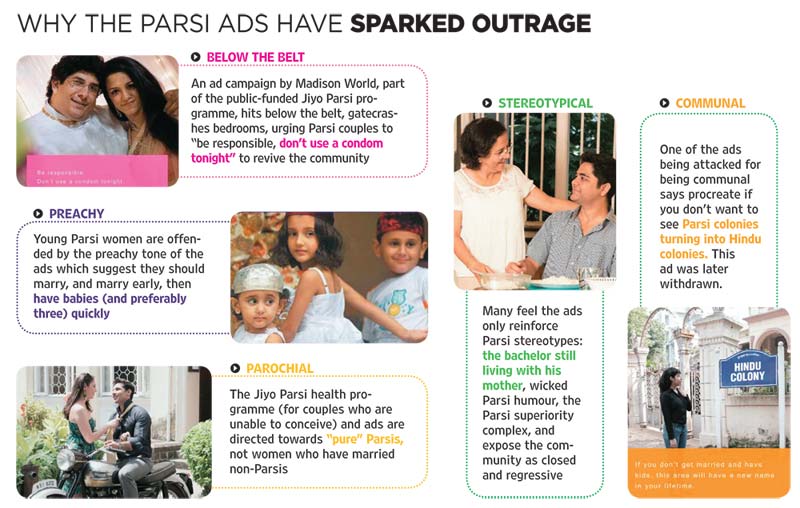 "We're not neo-Nazis, as is being made out on social media," says Shernaz Cama, director of Parzor.
Of course, there are two ways of looking at it, and the Parsi community is sharply divided on this issue. The father-daughter duo of Sam and Lara Balsara, who are Parsis, can't understand why so many women have taken offence. Then there is Jehangir and Simin Patel, another Parsi father-daughter pair, who're at the other extreme. "You are going to die out if you hold on to regressive views, won't you?" asks the senior Patel, editor of the community magazine Parsiana. "Do we have the will to survive? I don't think so. How many more babies can Jiyo Parsi lead to, 20 in a year? That's not going to change our demographics! If we really wanted to survive and change with the times, we would have accepted women marrying out and their children. The criticism the ads have generated could signal a shift in attitude, perhaps lead to some rethinking," he says, hopefully. His 30-year-old daughter, Simin, a student of the social history of Parsis in colonial Mumbai at Oxford, is unmarried, and no, not in search of a Parsi boy to settle down with. She's already being trolled on social media for protesting the campaign. "What we're seeing—insular, regressive programmes of breeding, state-sponsored at that—is an absolute reversal of the way Parsis were a century ago. The contrast is stark and heartbreaking. Throughout history, we've had mixed blood through the male line. When I saw the ads, I was upset, ashamed. Is this all we can produce, to wreak paranoia, to take us back to Stone Age? How about addressing issues of tolerance instead, opening up our temples to all communities? How about talking about homosexuality within the Parsi community? How is marrying late a Parsi-specific issue? It's happening in all communities, aross the world," she fumes.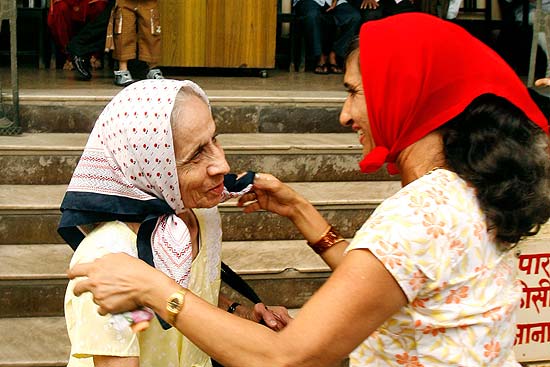 Number trouble Parsi women greet each other on Navroze
But, Lara shoots back, the ad campaign also talks to the men. "They are being told to quit being mama's boys. But the men aren't saying they are offended." What does she herself make of all the advice she is getting to have babies quickly now that she is married? "Older people are always telling younger people to get married quickly, trying to match-make, and once they get you married, they are always wanting you to have kids quickly. It happens in all communities in India, not just among Parsis. I don't think young people get pressurised by such things. As for me, everyone is entitled to give us advice, but my husband and I will decide when the time is right to have kids. Our objective through this campaign was to get youngsters to internalise the message. But the ultimate action has to come from within, no one is being forced into doing anything."
***
Ad-Ing To The Controversy
"Before the first ad was released we reached out to almost all Parsis in India. To that extent, the campaign is wildly successful. There is a always a vocal minority and a silent majority." Sam Balsara, C&MD, Madison World
"Everybody is a bit taken aback by these ads, the backwardness they represent. We can't survive if we hold on to regressive views, our attitudes towards women have to change." Jehangir Patel, Editor, Parsiana
"The reactions to the ads is reflective of how complacently abnormal we've become. Isn't it normal to want to start a family? Feminist views have become narrow, self-centred, bitter." Shernaz Cama, Director, Parzor Project
"I'm appalled by these ads, they are in such poor taste. It's like they are telling us, if you don't marry a Parsi boy and quickly have kids, you are nothing." Divya Cowasji, Filmmaker and photographer
***
Her father Sam, who has been atta­cked for creating what is being called a "crass, anti-feminist" campaign, sees this as an any-publicity-is-good-publicity kind of situation: "Good advertising often stirs the pot! The response expected from the campaign is life-changing, so we thought we should treat the subject in a light-hearted and humorous way to reach out to the youth of this community, known to enjoy a good laugh at its own expense. The chances of internalising a message are higher this way."
Admaker Sam Balsara is happy with the attention and the controversy. "Good advertising stirs the pot!"
The intentions may have been noble, but the impact has been more than skewed. Goolrukh Gupta, who married a non-Parsi in 1991 and has been fighting for equal rights for Parsi women (see Jump Cut) for the last five years, feels this isn't just about one ad campaign: it's a symptom of the greater malaise, it exposes the contradictions within the community. It lifts the liberal mask the orthodox set in the community often hide behind. "All Parsis go to Saibaba and Ambe Ma temples­—then why can't others visit the agiary? You don't want to anyone to be part of your religion, but you want to go everywhere."
That brings us to the `10 crore question, the money that the government is spending on the campaign: does a preachy campaign like this do more harm than help the Parsi community? Has the romanticism of the much-loved group of people, educated and cultured, industrious and fun-loving, taken a hit? Are the measures being taken to check the decline in numbers too desperate? And finally, many ask, in the light of the recent sterilisations of some endangered tribals in Bilaspur, why is there indeed so much focus on just the Parsis by the government? "Every community in danger of dying out is protected in India," counters Cama. "We have to face facts. We are an aged community, not so rich anymore. We have complex issues to address. I agree there is a need for change when it comes to talking about women marrying out, there is a need for more open discussion," she says.
Sure, this campaign has done its bit in generating noise and opening up topics and forums for discussion, especially across digital platforms. But when it comes to success in creating a sense of oneness with your people, taking pride in one's own, as perhaps the Jiyo Parsi program set out to do, the Simins and Divyas are not convinced at all.