Lt Col Prasad Shrikant Purohit is a key player in the narrative of Hindutva terror. Believed to be the man at the heart of the extremist Hindu militia Abhinav Bharat, he was arrested by the Maharashtra Anti-Terror Squad (ATS) on November 5, 2008, for his role in the Malegaon blast on September 29 that year. On April 13, 2009, the Indian army instituted a court of inquiry (COI) against Purohit and four other army personnel. This, even as a national investigation into saffron terror continues and a criminal case is pending in a special MCOCA court in Mumbai.
The army's inquiry having come to an end, the board of officers, comprising three senior army personnel—a brigadier and two colonels—has forwarded its findings to the Southern Command. Close to 60 officers were examined as witnesses over a period of 37 months. Outlook has gained exclusive access to the testimonies of all the witnesses. These reveal that Purohit will in all likelihood be held guilty for his association with organisations not recognised under the army. However, he may very well get a clean chit as far as being involved in activity that could be termed "terrorist" or "anti-national". This internal inquiry is unlikely to be made public.
Besides Purohit, the COI was convened to look into charges against four other personnel: Lt Col B.P. Dhar, Captain Sood, Major D.P. Sudhir and Subedar Pawar. All of them were linked to Purohit, though he remains the only one behind bars. The terms of reference set for the inquiry were primarily to establish the veracity of six allegations, most of which can be covered under what is known as "dereliction of duty" in army parlance. Purohit has been proceeded against for the following:
For reportedly proceeding on leave or temporary duty without approval from his seniors, thereby absenting himself from duty
For allegedly being a member of Abhinav Bharat, an organisation not recognised by the armed forces of the Union
For the illegal sale of a non-service pattern weapon
For having initiated procedures to get bulletproof jackets, debugging equipment and mini bug detectors for personal gains using his official position
For allegedly swapping ammunition from the army
For allegedly being involved in illegal or undesirable terrorist activity.
The last ground for investigating Purohit would suggest the army is also looking into the Malegaon blast case. In reality, however, the force is looking only into his antecedents. As Rohini Salian, special public prosecutor of NIA, says, "The army inquiry has no bearing on the case before the special judge. These are two completely different investigations done by two completely different agencies."
None of the 60 witnesses before the COI, Outlook has learnt, has corroborated the charge of Purohit being a terrorist. Several witnesses have instead used epithets like "motivated officer" and "good field operator" for him. His peers too reportedly describe him as an officer who could cultivate sources with ease. Sudhakar Chaturvedi was one such source he was cultivating, according to the argument being presented; it was he who led him to Abhinav Bharat.
This version is at odds with the ATS's allegation of Purohit being Abhinav Bharat's leader. In the picture that emerges from the COI testimonies, Sudhakar, currently an accused in the case, worked for Abhinav Bharat and kept feeding Purohit inputs on the right-wing group's movements during the latter's tenure as an intelligence officer of the Deolali unit in Maharashtra. Gradually, he became a key source and shortcut for Purohit to infiltrate right-wing groups. After Purohit was posted to Pachmarhi in Madhya Pradesh, he handed over the "source" to his unit, handled for a short while by the now retired Subedar Pawar.
***
What the army's witnesses have said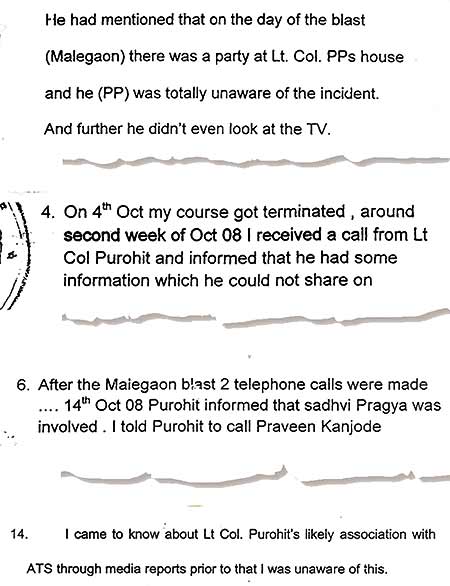 ***
According to Purohit's statement before the court, a source called him sometime in the second week of Oct '08, giving him crucial details on the Malegaon blast. By then Purohit had left Deolali and was taking a course in Arabic at Pachmarhi. He says he passed on the information to the intelligence officer at Jabalpur, Maj Bhagirath Dey, and the commanding officer of Southern Command liaison unit, Col Vinay Panchpore, besides the then intelligence officer at Deolali. Dey and Panchpore's depositions before the COI confirm that Purohit did inform them about the blast weeks before he was arrested.
Panchpore's exact statement runs thus: "After the Malegaon blast, two telephone calls were made on October 14, 2008, and Purohit informed that Sadhvi Pragya was involved. I asked him to call the Deolali unit." Purohit likewise claims to have forwarded Dey a handwritten letter on Oct 15, '08. The letter, submitted as evidence before the court (a copy of which is with Outlook), elaborates on right-wing activities in Maharashtra, MP, Gujarat and on Pragya Singh Thakur's role in the Malegaon blast.
In his letter, Purohit also details how Indresh Kumar of the RSS had established sufficient influence over abvp cadres and ex-abvp people and how he operated in MP through two of his key associates. Purohit also refers to the Gujarat blasts in July and says Indresh Kumar is "instrumental in carrying out these actions".
More importantly, Purohit writes: "The other person operating in your area of responsibility is one lady by name of Pradnya (sic) Singh originally resident of Murana or Bhind. She frequents between Indore, Jabalpur and Gujarat. The vehicle used in the bomb blast of Malegaon was assembled from three different vehicles, one of which was Bajaj Freedom and the same was registered in the name of the above mentioned lady."
The question now is: can this letter serve as a strong defence for Purohit in the civil courts where he faces several charges, including terrorism? The trial in the case is yet to begin. That is why the army inquiry gives significant pointers to the defence. The question is to explain how the relationship between a source (Sudhakar) and a handler (Purohit) became one of associate, and Purohit became a trustee of Abhinav Bharat. A trust deed has, in fact, been furnished before the COI. Originally procured from the Maharashtra ATS, it shows Purohit as a trustee.
However, Col R.K. Srivastav, who conducted the preliminary investigation and was instrumental in Purohit being handed over to ATS, says in his statement that Purohit was the "de facto head" of Abhinav Bharat. Purohit himself has admitted to being part of Abhinav Bharat but has claimed that, "the trust (Abhinav Bharat) is a non-profit, charitable organisation and legally registered in Pune". His lawyer Yogesh Bhardwaj told Outlook, "The Abhinav Bharat Trust and Abhinav Bharat organisation are two different entities. There are five organisations under the same name in the country, but none of them is a trust."
"The army inquiry has no bearing on the MCOCA case. These are two different inquiries by two different agencies."
This still leaves the question of Purohit's 'ideology'. Col B.P. Dhar, also being investigated by the army, has said that Purohit had attended three controversial religious meetings at Faridabad and Calcutta in 2008, and in Bhopal in 2009. At a later stage in the inquiry, Col Srivastav, Col V.S. Tomar and Brig Raj Kumar have alleged that these were Abhinav Bharat meetings. Col Tomar, for instance, told the court, "The first meeting took place in some ashram. Some people whom he (Col Dhar) did not know before were attending and were introducing themselves as Sameer Kulkarni, Maj (retd) Ramesh Upadhyay, Sudhakar Chaturvedi and one chap Shankaracharya." Purohit in his defence has said these were networking meetings and claims that he had forwarded the intelligence reports to his superiors. One Col (retd) S.S. Raikar has corroborated his claims. In fact, the only charge Purohit has accepted is the sale of a non-service pattern weapon allegedly due to lack of procedural knowledge.
The inquiry has also raised questions about Srivastav's handling of the investigations. The colonel reached Pachmarhi on Oct 24, '08, on the army HQ's instructions and conducted a five-day investigation during which he formally questioned Purohit. The latter was handed a 'movement order' the next day for New Delhi, to be accompanied by Srivastav. The duo took off from Bhopal airport, but much to Purohit's surprise, landed instead at Mumbai airport, where Srivastav was received by a representative of the Maharashtra ATS. Purohit was arrested by the ATS on Nov 5. As per procedure, an officer has to report to the destination unit and register his presence in the official registry. However, what has emerged in the course of the inquiry is that while Purohit was handed a movement order for Delhi, information about the change in destination from Delhi to Mumbai was withheld. Technically, therefore, Purohit was "missing" from Oct 29 to Nov 4 in 2008. Several other officers too have raised questions about the manner of Purohit's detention.
The army would naturally be upset that a member of its ranks has been arrested by civilian authorities and charged with acting against national interest. However, the significant point in the Purohit case is how in the saga of saffron terror it probes the possibility of an armyman turning terrorist. And the internal inquiry by the men in uniform does not seem to answer that decisively.
***
Malegaon 101:
The Blast, The Arrest And The Army Court Of Inquiry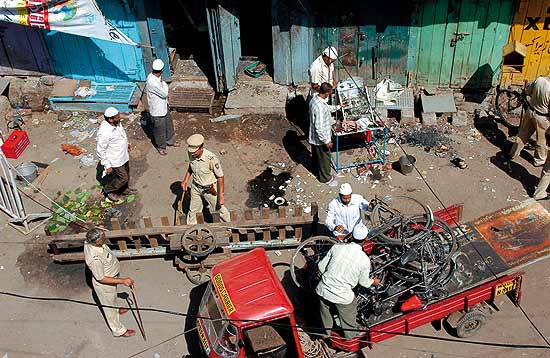 Seven people die in a blast in front of a mosque after Ramzan in Malegaon, 270 km from Mumbai, on Sept 29, 2008. The bombs were fitted on motorcycles.
Hand of Indian Mujahideen suspected initially. But Maharashtra Anti-Terrorism Squad zeroes in on radical Hindutva organisations, including Abhinav Bharat.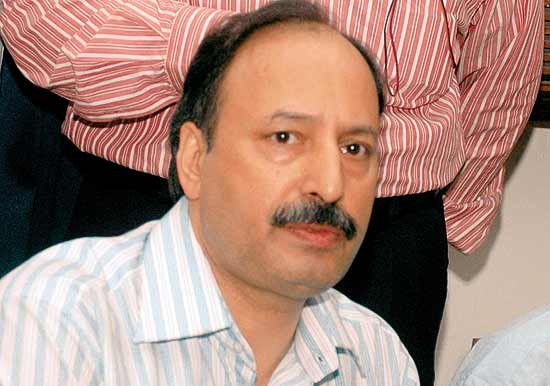 ATS chief Hemant Karkare makes first arrests in the case. Killed in 26/11 attack on Mumbai. Congress leader Digvijay Singh claims Karkare spoke to him.
A 4,528-page chargesheet filed by ATS in January 2009 says the 14 accused conspired to set up "a separate Hindu rashtra with its own constitution and aims".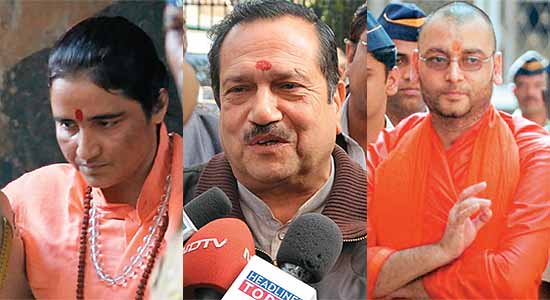 Pragya Singh Thakur (left), Indresh Kumar (right) and Dayanand Pandey (far right) among those charged. Lt Col Prasad Shrikant Purohit first serving officer charged with terror.
Purohit, learning Arabic at an army school in Madhya Pradesh at the time of the Malegaon blast, is detained in last week of Oct '08.
Army commissions court of inquiry under Rule 180 but does not allow Purohit to cross-examine witnesses. Purohit goes to Armed Forces Tribunal.
All but one of the 60 officers examined as witnesses by the new COI are said to have affirmed Lt Col Purohit's conduct. COI concludes on May 24, 2012.
An army COI is a confidential fact-finding committee. Officers against whom COI is initiated are allowed to cross-examine witnesses. Findings are forwarded to the convening authority. After vetting them, a summary of evidence is submitted. Depending on the level of culpability, punishment is handed out.
***
Questions In The Air
If Lt Col Purohit was doing only what his job demanded, why did the army hand him over to the ATS so quickly?
Why did the army not conduct its own internal inquiry before handing him over to the Maharashtra ATS?
Did Lt Col Purohit have the requisite permissions from his superiors to attend the three religious meetings or to collect funds?
With whose okay did Col Srivastav hide Purohit's movement status for several days in the last week of October 2008?
Is the clean chit of his colleagues merely a technical victory for Lt Col Purohit, and do the
bigger questions remain unanswered?
Why did the army not dismiss Purohit swiftly from service if he was involved in a criminal case?
What impact will the COI verdict have on the ATS probe which is currently in a limbo?
***
Purohitspeak?
What the Lt Col reportedly said
"We will fight the Constitution to fight for our nation."

"Many things are wrong in the country and need to be rectified. Hindu religion is in danger. It is our duty to defend Hinduism."

"We have to establish this country in accordance with the Vedic procedures, we want the Sanatan Dharma, the Vedic Dharma."