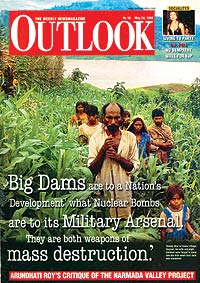 "The last person I met in the valley was Bhaiji Bhai. He is a Tadvi tribal from Undava, one of the first villages where the government began to acquire land for the Wonder Canal and its 75,000-kilometre network. Bhaiji Bhai lost 17 of his 19 acres to the Wonder Canal. It crashes through his land, 700 feet wide, including its walkways and steep, sloping embankments, like a velodrome for giant bicyclists.
The canal network affects more than 2,00,000 families. 1,00,000 people, will be, like Bhaiji Bhai, seriously affected. They don't count as 'Project Affected' and are not entitled to rehabilitation.
Like his neighbours in Kevadia Colony, Bhaiji Bhai became a pauper overnight.
Bhaiji Bhai and his people, forced to smile for photographs on government calendars. Bhaiji Bhai and his people, denied the grace of rage. Bhaiji Bhai and his people, squashed like bugs by this country they're supposed to call their own.
It was late evening when I arrived at his house. We sat down on the floor and drank over-sweet tea in the dying light. It broke my heart, the patience with which he told his story. I could tell he had told it over and over and over again, hoping, praying, that one day, one of the strangers passing through Undava would turn out to be Good Luck. Or God.
Bhaiji Bhai, Bhaiji Bhai, when will you get angry? When will you stop waiting? When will you say 'That's enough!' and reach for your weapons, whatever they may be? When will you show us the whole of your resonant, terrifying, invincible strength?
When will you break the faith? Will you break the faith? Or will you let it break you?"
—From The Greater Common Good, Outlook, May 24, 1999