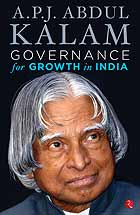 Governance For Growth In India | Published by Rupa
| Pages 168 | Rs. 295

Dr Avul Pakir Jainulabdeen Abdul Kalam's sprawling house in Lutyens' Delhi (well, less sprawling than his previous house just across the road, parts of which you can glimpse from the lawns) has a library almost the size of a badminton court, crammed with books on shelves along the walls. There are numerous biographies, books on science (many by Stephen Hawkins, including God Created the Integers), religion, theology, history, geography, economics (Raghuram Rajan's Fault Lines is on the mantle too). But the pride of place is the elegantly-produced, well-thumbed Koran kept on a wooden book stand, with large font size easier for older people to read. Dr Kalam's new book, his 14th, Governance for Growth in India (Rupa), hits the stands this week. He spoke to Satish Padmanabhan about the two-party system, election funding, and the shrill campaign. Excerpts:
Advertisement opens in new window
You have been a votary of the two-party system. Do you think it's feasible in a country like ours, with such varied interest groups?
I had in a parliamentary address in 2007 proposed that the time has come for us to have two parties or, maybe, three. All the parties, without exception, criticised it. They said, as you put it, it's not viable for India. According to me, it's a question of time. I have studied many democracies around the world which are a hundred or two hundred years old. They too started with all types of multi-party systems. Fina­lly, they all converged to a two- or three-party system. People learn, experience, and then graduate to a developed nation, thinking how can I make my nation great. We are 60 years old and will be there in another few decades. Though you can see it even now, how parties are joined together, how we are moving towards a two or three-party system in most states. Of course, it'll have to be discussed in Parliament as the Constitution will have to be amended for this.
But don't you think we are far less homogenised than some of the Western democracies?
Advertisement opens in new window
The homogeneity of which you talk about is a function of poverty. Poverty makes people create differences. Sometimes poverty drives these differences. But economic prosperity and higher lite­racy will make us forget our differences. According to me, this two or three-party system is a function of the citizen's way of thinking, the political party's way of thinking and the environment of the nation. All three will be quite different in an economically developed nation.
So far in these elections, it has already taken a sort of a presidential form of campaigning....
We are a democracy. Every party within the Constitution is to have certain freedoms. The Constitution does not ordain that you have to work only in a particular system. It gives guidelines and Parliament has the authority to cause any con­stituent change. If people feel we have to change the system of democracy, we have to take a view on it as it'll spark debates. It's a big issue.
You also propose that elections should be state-funded.
Advertisement opens in new window
The state has to find a way to reduce election spending. I have made a point of it in Parliament too, how to curb election spending, but some questions came up. For example, one legislative member got up and said, "Mr Kalam, do you know how much money I've spent to become a legislator? If I've spent such a huge amount in my election campaign, I have to get it back when I am elected." That's when I said that if you have a two-party system, the state can afford to fund elections.
But with such big money coming into elections now, is state funding in the realm of possibility?
Yes, it is going to happen, it will happen. All expenditure, where it comes from, will have to be accounted for. That means you have to bring in a law by way of the EC that whatever the receipt of the fund, it should be known. Who gives to whom should be known. There has to be a set of procedures, we can make it transparent. If the EC is going to spend on so many parties, it can't be transparent, but it can be in a two- or three-party system.
Advertisement opens in new window
In these elections, do you think a certain decorum of campaigning has been breached, where so many leaders are engaging in communal and personal attacks? Do you feel a bit sad or disappointed?
Elections are a competitive environment. You have to know how to win, or you lose. As a democracy, all we can do is lay procedures.

See, elections, after all, are a competitive environment. That is, you have to know how to win, or you will lose. In a competi­tive environment, you can use any means. It is up to you the way you represent yourself. According to me, as long as we are a democracy, all we can do is lay out the procedures. That when you are fighting for elections these are the following principles you should adopt. So the guidelines, a value system should be put forth. It should be put forth to each party. So when you talk about yourself, you talk about your party. You highlight the things you have done or things you're going to do, but don't insult individuals. If the candidates are good, capable, they can run the government, go out and say that. But if they don't, they deviate from guidelines, they have to be punished.
The President's role may prove to be very critical after the verdict in these elections. If you were the President now, would you be worried?
Advertisement opens in new window
Every President in his time has to go through it. But fortunately there is one great book in front of us—the Constitution. Secondly, the President has the authority to consult anyone whom he or she wishes, a constitutional expert, or from any field. So at a time of crisis, as I've done, what any President would do is to get all the experts in their fields for their views. So, it's not a unilateral decision the President takes in a crisis, as these issues can be very complex.
You've said that when you were in office a lot people would write to you with their problems thinking that the President could solve them. Do you think the President should have more powers?
I've seen that when the President's office writes a letter or sends a message or an e-mail to a concerned person, you get answers. The President's office does have that authority to get full details of a project, of a plan. For example, when I went to Nagaland, they built two helipads and a road connecting the village. The President has to keep visiting a lot of villages to make improvements there.
Advertisement opens in new window
You are a great believer in techno­logy and you make a point in your book that very soon we could be voting from our mobile phones.
You should be able to get all the data about your candidate electronically—how much property he holds, how much tax he pays. And yes, as long as the secrecy is maintained, he or she can definitely vote electronically too.
You place a lot of importance on youth, but aren't most of them, at least in the cities, very self-centred, short-sighted and lacking any sense of political history?
I have studied what is happening to the youth in detail as I have met over 16.5 million students so far. Wherever the youth come from a joint family, they are more responsible, because they stay with their parents and their grandparents, they have values. But when they come from a nuclear family, they have a certain type of upbringing. I think in the interest of the youth, every father and mother should be spiritual. And the other person who plays a vital role up to age 17 is the primary school teacher. These three shape the youth. I have seen with my own eyes how a youngster's life is determined by these three great souls.
Your book is full of good intentions and sage advice, but haven't we moved away from those idealistic times?
It's a very good question and I can only quote to you what I heard in a place of worship once. Where there is righteousness in the heart, there is beauty in the character. When there is beauty in the character, there is harmony in the home. When there is harmony in the home, there is order in the nation. When there is order in the nation, there is peace in the world. But the beginning is righteous­ness in the heart. We'll always have it.