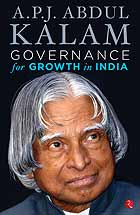 Governance For Growth In India | Published by Rupa
| Pages 168 | Rs. 295

Dr Avul Pakir Jainulabdeen Abdul Kalam's sprawling house in Lutyens' Delhi (well, less sprawling than his previous house just across the road, parts of which you can glimpse from the lawns) has a library almost the size of a badminton court, crammed with books on shelves along the walls. There are numerous biographies, books on science (many by Stephen Hawkins, including God Created the Integers), religion, theology, history, geography, economics (Raghuram Rajan's Fault Lines is on the mantle too). But the pride of place is the elegantly-produced, well-thumbed Koran kept on a wooden book stand, with large font size easier for older people to read. Dr Kalam's new book, his 14th, Governance for Growth in India (Rupa), hits the stands this week. He spoke to Satish Padmanabhan about the two-party system, election funding, and the shrill campaign. Excerpts:
You have been a votary of the two-party system. Do you think it's feasible in a country like ours, with such varied interest groups?
I had in a parliamentary...