Anurag Kashyap's Bombay Velvet, specifically Anushka Sharma's character, Rosie Noronha, is a tribute to Lorna Cordeiro, the Konkani jazz singer, who ruled Bombay's club scene in the '60s, crooning her way into many a heart at evenings at Venus. But Kashyap is not the only one to pay a cinematic homage to Lorna. Far from the hullabaloo and impassioned row elicited by Kashyap's failed/flawed epic, a small, modest Konkani film also trains the camera (rather more acutely at that) on Lorna's tumultuous life. Nachom-Ia Kum­pasar ('Let's Dance To The Rhythm') fictionalises her tragic love for the fam­ous saxophonist, trumpet player and mus­ician Chris Perry. The two may have got renamed Donna Pereira and Lawr­ence Vaz for this screen version, but to their fanatical fans, divided in their loyalty and sympathy for the duo, the real-reel connect is not too hard to spot.
It is impossible not to notice the similarities between the films. They are like parallel narratives in the same universe: the same period and setting—'60s Bombay—and, most of all, all that jazz for the soundtrack. But in its impact, the Rs 4 crore indie, clearly outdoes the Rs 100 crore biggie.
Made with contributions from 101 family members and friends of the filmmaker, Bardroy Barretto, Nachom-Ia Kumpasar has captivated Goa. Premiered in December 2014, it has had 200 housefull ticketed screenings organised by the makers themselves—in Margao, Panjim and Vasco, amongst other sunny venues. "There is no one in Goa who has seen it only once, some have seen it as many as 30 times. People find it tough to get hold of tickets," claims Barretto.
Outside Goa, the film doesn't ring a bell beyond the two national awards—for best Konkani film and production design—and a special mention for the lead actress. There have been a few private screenings in Mumbai and just a rare one in Delhi. But that's the way the makers would have it—that it should percolate to the audiences and gain critical mass steadily. "These days, films remain relevant for only two weeks, we want it to be spoken of for two years," says Barretto of this staggered, non-conventional release.
It's not hard to fathom why the otherwise laidback Goan is so enthused. The legendary love story with its passion, betrayal, heartache and heartbreak is something many would have grown up hearing. The film tells it simply, with a right mix of gentleness and intensity. From the stolen glances to the moment when sparks fly and onwards to their scintillating creative alchemy—the film draws in even the uninitiated. All that the makers were careful about was not to take sides with either of the two lovers.
NK draws a lot from the virtuoso performance from Palomi Ghosh as Donna. A luminous, warm presence, Palomi makes Donna's joie de vivre as infectious as her grief and despair. She is Lawry's muse-apprentice, each a cre­ative spur for the other, yet charting a disastrous path in love. Then there's the music, which radiates passion from the screen. They are the emotional conduits, and Palomi is up to it, even crooning two songs. "Songs are the outlet for Donna's emotions; it's in them that she truly expresses herself," says Palomi. Be it illicit love, pain and bitterness or the utter waste of it all, the music keeps in step.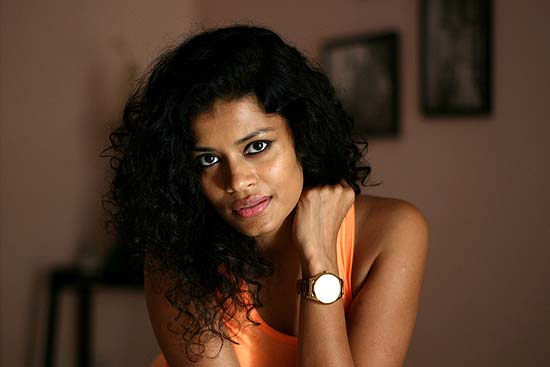 Photograph by Amit Haralkar
Palomi Ghosh gives a virtuoso performance as Donna, emoting brilliantly through the songs that are the film's heart.

For its unique, authentic feel, the songs were shot at a go, rather than in bits and pieces to suit fancy camera angles—the reason why they look like actual performances. "We did the whole song at a go, without a cut, so many times that I would be exhausted for the final take and that helped in making the emotions real," says Palomi. NK unfolds through 20 popular Kon­kani songs of the '60s and '70s. "We used to hear them in afternoons on AIR," recalls Barretto. While rooting the film in its specific context and time, he constructs it as a western musical. Barretto first created a playlist of songs—the full arc from flirting to love gone wrong—then wrote the scenes in between. He researched for seven years before shooting it over 40 days in Goa, two days in Mumbai and one in Calcutta. Musicians Ronnie Monserrate and Jackson Pereira, veterans of the period the film's set in, then re-rec­orded the songs live. "It's not digitised like today's music," says Barretto.
The period feel looks lived in too. "We decided to get the silhouettes of the era correctly than do a filmi take on the retro," says Barretto. It grew from the memory of people who were there, a documentation of time gone by. However, the film is not without its flaws—the rustic humour gets lost in translation.
NK doffs its hat to Goan musicians in the Bollywood of yore who ushered in western musical influences, trying to merge its rhythms and harmonies with Indian melodies. It invokes names like Anthony Gonsalves and Sebastian D'Souza, and characterises Chic Cho­co­late, who brought in a 'swing' infl­uence. You even have Mohammed Rafi depicted recording a Konkani song. But the self-aware way NK criticises Bollywood for denying these musicians their due credit seems thrust in and the jibes, however justified, seem out of the narrative's context. But the flaws are easily overlooked; one feels for the two lovers. "Because it's a film that is all heart," says Palomi.
Which is what Bombay Velvet is not. It is more craft than heart. Painstakingly designed Bombay, down to those art deco buildings, kitschy clubs and gowns and Fedoras, dwarf the characters and their relationships. Kashyap tries to do too much: noir, gangster, street-fights.... The interesting bits are in the details—of the formation of Bombay, the land mafia, prohibition and smuggling, mill workers, the odd mention of Chic Chocolate and Shankar Jaikishen. But these elements of history don't transcend the voiceover. At the end of it, the film is yet another age-old tale of a misguided youngster pushed to crime, a tale of friendships, love and betrayal, of revenge and retribution. The love story at its heart is one you don't engage with. It's amour lost in excess and pointless gunshots. Only Amit Trivedi's music rises above the dissonance.