Since the installation of Narendra Modi as India's prime minister in May 2014, there has been a general air of optimism in the business community. In the months following the formation of his government, the stockmarkets have been on fire. Now this raises some fundamental questions: what role has Modi played in this market rally? Is there a basket of stocks that would be the best indication of Modi's economic worldview? How has this basket compared with indicators like the Sensex?
So Outlook presents ModX—the Narendra Modi Index—through which we will track the stockmarket performance of companies that are either seen as 'friendly' with Modi or those that stand to 'benefit' from his policy focus, or both.
How did we decide Modi's vision? A close parsing of Modi's speeches since late 2013, when the election fever started, rev­­ealed that a few sectors would get preference in his policies. Accordingly, we chose five areas from which we picked up stocks for ModX. Four of these—Capital Goods, Rail­ways, Power and Tourism—were sectors Modi has repeatedly mentio­ned in his pre-election speeches. The fifth segment, Friend, is a qualitative one as the common perception is that the founders of these companies are 'friends' of Narendra Modi, and have been seen to be close to him over the years. Three stocks were chosen from each theme to stitch together the 15-stock ModX.
Choosing the Modi stocks wasn't easy. We had to overcome our own 'hindsight bias'—selecting stocks with the benefit of knowledge that they have done well or badly. In general, though, we believe our selection in February 2015 would not have been very different from the one we made in May 2014 before the polls.
Modi's early speeches made no secret of his love for the railways and tourism sectors—reflected in the BJP manifesto that came about later in the year. Power and capital goods were sectors he believed should be "revived". Considering that, we have incorporated a number of public sector companies like NTPC, BHEL and PowerGrid in ModX. Finally, his "friends" would include those business groupings deemed close to him—the Adanis and Mukesh Ambani have their biggest investments in Gujarat. The mammoth Tata group can also be seen as friendly with the 'doer'. Of course, Modi had recently wooed Tata Motors into building their next large plant in Gujarat.
ModX has broken out to new highs regularly since Dec '14, even as the Sensex has rolled back a little since Jan-end.
The 15 chosen stocks were given equal weight—we start with the notion that an equal amount of money is being invested in each stock, so that the total amount invested is Rs 100 crore. The starting date of the index is being kept as January 1, 2014. So we presume that we invest at the closing price of the previous year—that is, on December 31, 2013. We rec­al­culate the portfolio values for every trading day after the creation of the portfolio. We then take the values of this portfolio and remove the "crore", to get an index value of 100 initially and watch it evolve. The findings: the ModX has done way better than the Sensex, with a return of 110 per cent in a little over a year, versus just 37 per cent for the Sensex. In other words, an investment of Rs 1 lakh into the ModX would have yielded a return of Rs 2,10,260 in the year, versus Rs 1,36,983 for the Sensex on an investment of Rs 1 lakh.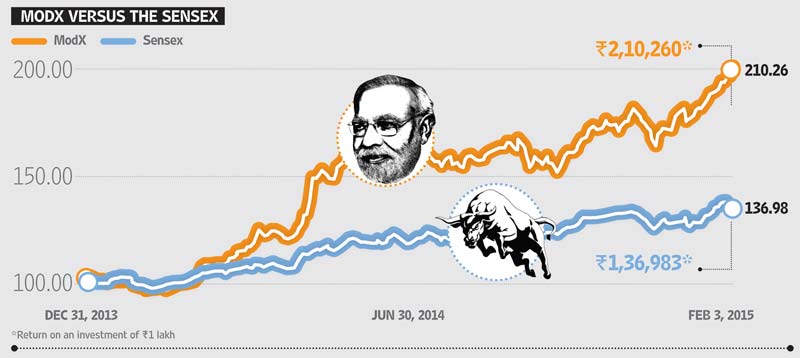 The ModX has performed better before the elections, than after it. That said, it continues to overshadow the Sensex. ModX has broken out to new highs almost regularly since December, even as the Sensex has rolled back a little since January-end. The top five stocks (BEML, Texmaco Rail, Bharat Forge, Cox and Kings, and Adani Enterprises) have deli­vered returns of more than 100 per cent, with the top three giving more than 200 per cent returns. Even the worst-perfo­rming stocks (Reliance Industries, NTPC, Reliance Infrastructure, and PowerGrid) have kept their "heads above water" and delivered positive returns.

All told, the Modi stocks have done excellently in 2014. Will 2015 continue to be kind to them? Outlook will track this index over time as prices evolve. ModX has been further buoyed by unnaturally low inflation and low crude prices, and from phenomenal foreign investor sentiment. But 2015 is the year that the US Fed will roil markets, and it remains to be seen how these stock market 'darlings' will react.
---
(Deepak Shenoy founded Capital Mind (capitalmind.in) which provides financial market analytics and insights online. He developed ModX for Outlook.)