Dissecting Modi's Make In India
Plan To invest all of Rs 20,000 crore over the next five years to create industrial hubs and help five institutes—IIT Delhi, IIT Bombay, IIT Madras, IIT Kharagpur and CMTI Bangalore—develop technology to support capital goods industries. Also aiming to attract foreign manufacturing companies to set up base in India.
Strength The proposal has merit as every big manufacturing unit creates opportunity for several ancillary units. Unlike the services sector, particularly high-tech services, labour-intensive manufacturing units hold the potential to create large numbers of sustainable jobs.
Weakness The central government can propose and even macro-manage, but real implementation depends on the state governments. The huge gaps in infrastructure, from erratic power supply in some states to logistics iss­ues, supply chain management etc—major challenges remain.
Opportunity For those aspiring to be entrepreneurs, a pro-bus­iness atmosphere opens up avenues to be explored. Hopefully, Make in India policies will help to turn around the thousands of units hit by cheaper imp­orts and create employment for the milli­ons entering the workforce.
Threat Unless the focus on industrial development is accompanied by attention to environment and civil responsibility we could end up like China—smog-filled cities and even more polluted rivers. With the proposed changes in land acquisition and labour laws, there is apprehension on what it could herald.
***
In 2006, India witnessed a feeding frenzy as big industrialists bought up thousands of acres as the UPA government built up grand designs of turning every possible nook of the country into a special economic zone (SEZ) to promote manufacturing and value-added exports. Till the end of August this year, out of 564 SEZs covering an area of 61,624 hectares that were given formal approval, 388 had been notified. Out of that, only 192 have become operational so far.
Prime Minister Narendra Modi's grand plan of turning India into a manufacturing hub is in no way different from the UPA's earlier grand design. So, will Modi get these hundreds of SEZs moving and thriving like the Chinese models that seem to inspire India's prime ministers? Or will more land be acquired by the land sharks (and environment norms byp­a­ssed) in the name of industrial gro­wth? China is manifestly the inspiration beh­ind the PM's mission of making India a manufacturing hub, yet how grounded in reality is Modi's aspiration?
The articulation of the 'Make in India' mission by Modi comes at a time when China is seeing labour wages going north taking away one of the major advantages it offered western biggies which had set up operations in the dedicated special economic zones with the best of infrastructure facilities. A survey by Boston Consulting Group earlier this year sho­wed there is now a reversal in the trend—over 50 per cent of the $1 billion-plus US companies with operations in China are considering bringing all or part of their production back to American shores.
One of the advantages the US now off­ers is cheaper shale-based energy fuel, besides the plethora of local and national incentives offered to companies. The scenario in India is the same, but only on a few counts—a relatively cheaper labour force and ample natural resources barring energy fuel. It too faces the challenge of having to create one million jobs a month for new job-seekers entering the market and to put the economy back on the high growth path. Even so, it's evident the difference in scale is astounding. "When we compare India's share in global manufacturing exports to China's, our achi­e­v­ements pale in comparison," says Dr Anwarul Hoda of ICRIER and former WTO deputy director-general.
India's share in global manufacturing exports, worth an estimated $12 trillion, has come down from 1.60 per cent at its highest in 2011 to 1.57 in 2013. The picture is in sharp contrast with China which has seen its share rise from aro­und 2 per cent in 1991 (when India's share was a mere 0.52 per cent) to 18 per cent in 2013. The reason for this huge gap is difference in ease of doing business. "Today, manufacturing is not done on an integrated factory floor. It's called international production sharing. The­re­fore, if you have logistical barriers at imp­ortation, then it is a drawback to manufacturing," says Hoda.
A BCG survey says China's cost advantage has been hit, over 50% of the $1 bn-plus US firms say they are moving out.
From relatively high tariff on capital goods compared to China, Thailand and Malaysia (the main manufacturing hubs in the region) to bottlenecks due to ske­wed policies resulting in raw material imports becoming more expensive than finished goods, the Indian manufacturing saga continues to be full of challenges. The biggest is the infrastructure gap, whether it be ports, airports, roads or rail. Then there are procedural difficulties in getting clearances. All this adds to the delays but also the cost of products, major handicaps for exports.
Besides transportation, a major disadvantage faced by manufacturers in sev­e­ral parts of the country is the lack of quality power supply—industries have to make investments in captive power, including use of diesel-run generators. The percentage of firms that own generators in India is as high as 63.6 as against 18.3 in China and 8.3 in Thailand.
Similarly, many archaic rules and regulations continue to be the bane of entrepreneurs. According to a sur­vey, as many as 1,240 central and state regulations apply to the industrial sector. Com­merce and industries minister Nirmala Sithara­man promises this issue is being stud­ied and many archaic regulations will be weeded out as part of efforts to reduce the hassles of running a business.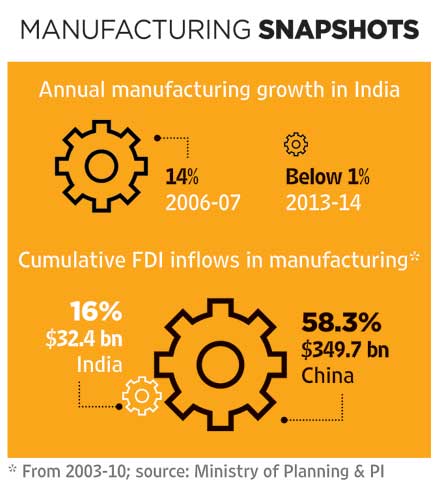 Other governments in the past have similarly talked about promoting manufacturing, but its share in GDP has remained at 15-16 per cent for over 25 years. The UPA had in place a national committee to steer the course and even came up with a new policy in 2011. Yet its impact was limited. "One is waiting for the government to articulate and put in place a set of strong, coherent and consistent policies to support the goal of rapid growth of lab­our-intensive manufacturing," says senior economist Dr Shankar Acharya. He poi­nts out that the government will have to tackle issues on labour law reforms, land acquisition, problems of the infrastructure sector, tax policies—"all that you need from the policy perspective to make manufacturing dynamic".
Federation of Indian Micro and Small & Medium Enterprises (FISME) secretary general Anil Bhardwaj says a lot of issues have to be addressed, particularly the unc­ertainty over retrosp­ect­ive tax, bef­ore they can hope to attract foreign inve­stment in manuf­a­cturing. "The government has a poor record of keeping its commitments, whether it be taxes, land acquisition or any other issue. Even the basic infrastructure is missing," he says.
In the case of SEZs also, it's the uncertainty created by the change in taxes that has kept away investors, claim experts. Bhardwaj says for msmes to do well, the government should acquire land and give it to the entrepreneurs as economically as possible and, as in China, create 'plug and play' facilities so that operations can start from day one. In India, msmes employ 60 million-odd people spread over some 3.6 million enterpr­i­ses. Despite being one of the largest emp­loy­ment providers, accounting for about 45 per cent of the manufacturing output and around 40 per cent of the total exp­orts of the country, the sector is still dogged by difficulties in raising funds.
Quality power supply is a huge issue, in India 63.6% of firms are dependent on generators; in China the figure is just 18.3%.
Acharya also stresses that there is a need to be more focused on domestic entrepreneurs as only some portion of the FDI money comes into manufacturing. Ultimately, in India, at the national level, investments as a share of GDP is only 30 per cent—of that over 90 per cent is domestic savings and investment. Less than 10 per cent comes from overseas in any form, including FDI.
Many economists and industry experts are of the view that the rather complex regulatory structure established by the UPA government to deal with land acquisition, land use and the environment (focused on protecting rights of poor landowners, particularly tribals) could prove a drawback for the proposed boost to manufacturing. "The process has bec­ome increasingly time-consuming, opa­­que and unpredictable," says Dr Rajiv Kumar of CPR. Of course, activists hold a contrary view on this pro-business bias.
Where bulk purchase orders are concerned, whether in textiles, automotive parts or engineering goods, India has been losing out to exporters from countries like China and even Bangladesh and Sri Lanka in the case of readymade garments. Bhardwaj blames inconsistencies in the government policies and international trade agreements like the WTO's Information Technology Agreem­ent (ITA) signed 17 years back for the near demise of manufacturing of televisions, electronic goods, computers and several other IT products in the country. Even in auto components, a major area of India's strength for the last several years, the country has become a net importer.
Lack of focus on research and development by the industry and poor reso­urce allocation by the government has also resulted in most industries in the country pursuing screwdriver technology. imi director-general Dr Pritam Singh laments the fact that "young men and women don't want to join manufacturing". One of the pioneers of management education in India, Pritam blames the manufacturing industries for failure to invest in at least one year training for students, as is being done by IT and some of the other services industries.
As Modi readies the blueprint for his Make in India vision, the central government is also preparing to usher in major labour reforms. But that will take time as consultations with the Opposition parties and trade unions are still awaited. Some of the states like Rajasthan are, however, moving ahead with their own set of reforms to woo investors.
"Manufacturing is the only cure or at least the panacea for unemployment—for the jobs that we need to be creating. It is the only sector that can absorb the huge numbers that are coming into the workforce every month—about a million a month. If we miss this chance, we will have a demographic nightmare on our hands," warns Rajat Kathuria, dir­ector of ICRIER. Given the multiple levels of authority in government and the varied interest groups at play, it will not be an easy task for Modi to fulfil this promise to the Indian youth.