What The Polls Are Saying
At least three polls are predicting a win for Nawaz Sharif
Heinrich Boll Foundation (Mar): Majority for PPP
Gallup Pakistan (Feb): PML(N) to secure more votes than others
Herald-SDPI (Feb): PPP 29%, PML(N) 25%, PTI 20%, MQM 4.2%
Public Judgement Online Poll (Jan): PTI 225 seats
IRI (Nov 2012): PML(N) 32%, PTI 18%, PPP 14%
***
How Pakistan Votes
The electoral system: Like India, Pakistan has a parliamentary system of democracy where members are elected through the first-past-the-post system. A Pakistani national who has attianed 18 years of age is eligible to vote.
Total number of voters: 90 million, of which 40 million will be voting for the first time.
Voter break-up: Punjab with 49,229,334 has the highest number of registered voters, followed by Sindh: 18,963,375, Khyber-Pakhtoonkwala: 12,266, 157, Balochistan: 3,336,659, and FATA: 1,738,313 voters.
Clean-up: A fresh, computerised database by the EC has eliminated 35 million bogus voters. Voters have been issued biometric ID cards.
The political system: Pakistan has been through various political systems in the past— parliamentary, presidential, semi-presidential and also under direct military rule. Currently, it has a parliamentary system where the President is the head of state but largely has a ceremonial role. The prime minister is the head of the government and exercises executive power, while legislative power is largely with parliament.
The Prime Minister is elected by members of the largest party or coalition in the House.
***
If anything has caught the very nub of the election in Pakistan so far, it was the sight of a former military dictator running out of court when he had returned to run for office. The judiciary had spoken, a democratically elected government had just completed a full term in office for the first time ever, and perhaps there is a flicker of hope in Pakistani hearts that democracy is here to stay.
Democracy cuts a dashing figure too, in the political persona of former cricketer Imran Khan, whose Pakistan Tehreek-e-Insaaf Party (PTI) has emerged as a serious contender, threatening to upset the status quo, especially in Punjab, which with its 182 seats in the 342-member national assembly can make or break governments.
Imran is in the middle of a gruelling campaign trail, add­res­sing massive rallies across the country, attracting crowds even in areas which have traditionally been 'no-go' areas for most. "God, I am getting 120 texts an hour. Going mad!" he says in an SMS to me. "You must cover Zari Gul in DG Khan." There are 36 women contesting on a general ticket, and Imran's party has given the largest number of tickets to women.
Cricket may have been his past, but Imran intends to carry the game's metaphor well into the future. What better can symbolise his party than the cricket bat and what analogies can work better than those from the field?
"You do not know how to play cricket," he taunts Nawaz Sharif in Okara, "so come and see how professionals play. You should come on TV to have a debate with me because I know you cannot beat me in cricket. I know why Nawaz Sharif is in a state of fear to face me on a live TV debate. He knows I will strike his stumps on the very first ball." The roar from the crowds, on cue, is deafening.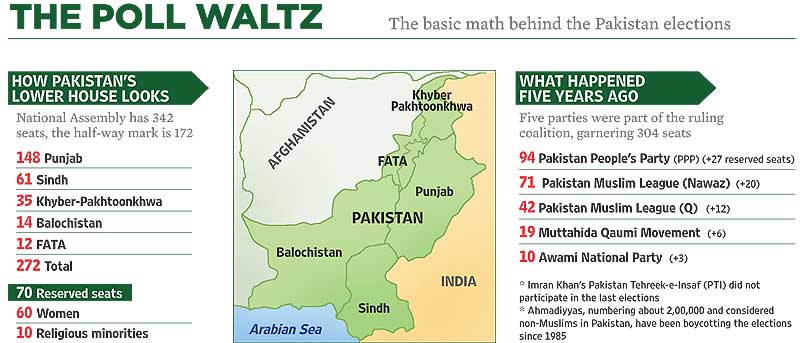 Punjab has traditionally been split between the PML(N) and the PPP, the northern and central areas being the former's stronghold, and the southern ones throwing their lot with the PPP. With Imran gaining a huge cachet among the disaffected youth here, promising them a break from the past and giving them a 'Naya Pakistan', and PPP battling anti-incumbency, Nawaz Sharif could well find himself in a face-to-face contest with the cricketer-turned-politician. He is battling for every seat where Imran has put up a candidate when he should have had an easy run for Takht-e-Lahore, emerging as the natural choice in the face of the PPP's dismal performance.
"The PML(N) will emerge as the single-largest party. But it'll be a hung house."
But is the groundswell of support for Imran enough to get him the top job? Will the man once identified with his cricketing gear now step into a black sherwani and occupy the most important building on Constitution Avenue? Or will he be clean-bowled by those who have traditionally won by bending every rule in the book and have had two terms years in office?
As a famous psephologist told Outlook when Imran held his first rally in Lahore in 2011, "Third party forces have never made it to the prime minister's house in Pakistan. Since 1970, there has been no third force. Unless there is a wave, and Imran Khan starts sweeping provinces, it'll be difficult for him to become prime minister."
As it happens, the Imran 'tsunami' is yet to register in opinion polls too. The latest opinion poll conducted in March showed that the first choice of 39 per cent of the respondents in the May 11 election would be the PML(N), followed by 18 per cent for the PPP, another 7 per cent for PTI, and 5 per cent for the PML(Q).
Sampling error? Maybe not. Gallup Pakistan chief Dr Ijaz Shafi Gilani told The News that these results were not too different from the poll his own organisation had released earlier. "The frontrunner rem­ains the same, as are the runners-up," he says. "Thus, there'll be no major impact on the number of seats political parties would bag."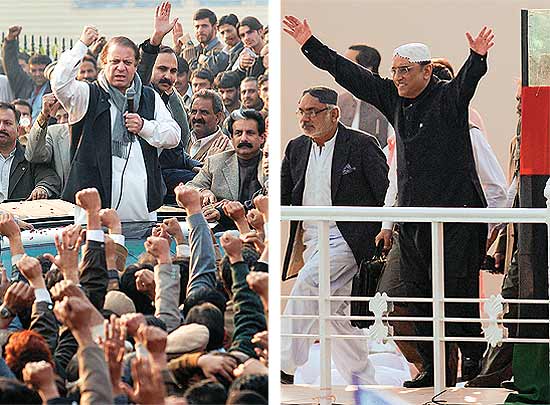 Which way the wind? PML(N) leader Nawaz Sharif in Muzaffarabad; Zardari on Benazir's fourth death anniversary. (Photograph by AFP, From Outlook 06 May 2013)
Political guru Nusrat Javeed agrees. "The PML(N) appears set to emerge as the single-largest party with a clear majority. But it will no doubt be a hung parliament as in the past. Nawaz Sharif should sail home with 115 to 120 seats in the national assembly. PPP might at the most get between 40-45 seats." PTI, he says, could swing anything bet­ween 20 and 120 seats. "It's like Zulfiqar Ali Bhutto in the past, expecting people to come on their own to cast votes. It's unlikely this will work."
Not only does Pakistan's eighth general election since 1985 promise to be the most unpredictable but also its bloodiest. Even now, two weeks short of polling day, people are still asking if elections will take place at all. Friday Times calls it a "blood-soaked election". To sample just one of the daily recordings of the Free and Fair Election Network (FAFEN): "Thirteen incidents of electoral violence claimed 23 lives—mostly of workers of the Awami National Party (ANP)—while 54 others were injured between April 13 and 19. Ten incidents of political violence left 24 people dead and 28 injured during the week, compared with the preceding week's 170 killed and 42 injured in 20 incidents."
The 'secular' MQM, PPP and ANP have been the hardest hit; PML(N) and PTI seem to have been spared for the time being. "All secular parties were on the Tehreek hit list," says Tehreek-e-Taliban Pakistan spokesman Ehsanullah Ehsan. "The killing is part of our war against secular parties, including the MQM, PPP and ANP, which committed genocide of our tribal people and Muslims while remaining in power for five years."
However, even a cursory reading of the manifestos of all political parties shows that none of them is taking up the issue as a matter of serious concern, barely mentioning what is the single largest threat to Pakistan's stability. "This widening division across Pakistan's major political forces on how to deal with the country's most crucial threat does not augur well for the future," says author Zahid Hussain. "Instead of offering solutions in their manifestos for a problem so critical for the stability of the country and for the future of democracy, they appear to be in a state of denial. The cracks appear to be growing visibly and frighteningly larger."

Viva democracy Pervez Musharraf in court, before he was put under house arrest
Meanwhile, Amir Mir, a senior journalist from Lahore, says that 55 charged terrorists from 10 sectarian groups have been allowed to contest polls. With their cases still in court, the Election Commission has been unable to disqualify them. Even Nawaz Sharif has issued a ticket to Sardar Ebad Dogar, a supporter of the banned Sipah-e-Sahaba Pakistan. He will be contesting elections from Khangarh, a tehsil in Muzaffargarh, Punjab. Khangarh is considered the second-most violent area when it comes to sectarian violence or Shia-Sunni conflict.
"Widening divisions between parties on how to deal with Taliban doesn't augur well."
Ask him how he plans to tackle the Taliban factions once he comes to power, and Imran Khan tells Outlook, "There is no one Taliban group, it's an assortment whose motivations stem from different reasons. To win this war, we have to deal with them in a way where we isolate the barbarous ones and the criminals and fanatics from those who are fighting simply because we are perceived as a hired American gun. The way we are going, this could go on and on, and not only can we collapse under the financial burden of the war, but we will also have an army of fanatics to deal with."
And what of the Pakistan military establishment? Bogged down by problems of its own making, it's keeping its hands off, allowing Pakistan a second free and fair election, with results acceptable to all. "You can't switch off the army's propensity to become involved in the civilian domain overnight," executive editor M. Ziauddin writes in Express Tribune. "It will take time for the institution calling the shots all these years to learn to live within its constitutional limits."
However, army chief General Ashfaq Pervez Kayani has created a stir when he said this week that "Pakistan was created in the name of Islam and Islam could never be taken out of Pakistan" and that "Islam should always remain a unifying force". Towards whom was this remark directed at a crucial stage in this election?

Viva democracy Badam Zari the first woman ever to fight elections in FATA
Responding with an editorial, financial daily Business Recorder noted: "One would like to remind General Kayani that the Pakistan army is fighting with Taliban because the nation does not accept the latter's highly flawed and controversial way of life. His speech aimed at exhorting his officers and soldiers to remain steadfast and also encourage the young to join the army in the name of Islam may not be the best sales pitch. There is a profound disagreement on...whether Pakistan was created in the name of Islam or for the Muslims of the subcontinent to have the freedom to practise their religion."
Washington, another former player in Pakistan's elections, is also keeping away. The American ambassador has reiterated at least four times in public that the US has no favourite 'candidate' or political party.
In another first, Badam Zari, who has studied only up to eighth grade, became the first woman ever to contest elections in FATA (she has filed her nomination papers from Bajaur Agency) where women do not even go out and vote. Not just that, Article 247 of the Pakistan Constitution prevents MNAS from creating laws for tribal areas. Following Zari's example, Nusrat Begum, a 28-year-old mother of seven, too filed her nomination papers from Lower Dir.
A huge chunk of minority votes is also up for grabs. The last five years have been the worst for non-Muslims as also for the Shia community. There's no saying who they'll go with. Lost too will be the thousands of votes of those internally displaced in Khyber Pakhtoonkhwa because of military operations.
Missing in all this action is the PPP, whose co-chairperson Zardari has been prohibited by the courts from electioneering. Hopes had been high that Bilawal Bhutto, too young to contest, could lead the party's campaign. Security risks, however, confined him to add­ressing voters via video links. The more interesting battle will be in Benazir Bhutto's constituency NA-207 or Larkana, where Zardari's powerful sister Faryal Talpur will be engaged in a battle royale with Zulfiqar Ali Bhutto's daughter-in-law, Ghinwa Bhutto.
The prospects don't look too bright for PPP, which garnered the sympathy vote last elec­tion in the wake of Benazir's assassination. Today, PPP is a dirty word, never mind the distinction of its government being the first ever to complete a full term in office.
---
By Mariana Baabar in Islamabad