India has shifted on its axis and elected a Supreme Leader after a democratic process that has been described as one of the wonders of the world. Narendra Modi will be the prime minister of the country following an emphatic mandate that marks the end of coalition politics. Even within his own party and parivar, it will be He who will prevail, leaving little room for those quiet manoeuvres and petty competitions that the BJP has been known for. The nation was first given a campaign that was extraordinary in its focus on one man, and then lo and behold, defying even the most optimistic estimates of his own party, Narendra Modi has turned the pitch into reality. He created the wave, with media and advertising acting as force multipliers, and then he deftly rode it to a stupendous victory.
Political scientists and commentators will have to reboot their minds and think of a new vocabulary and constructs for understanding the dramatic changes in the nation. The cardinal principles of coalitions and consensus so far applied to understanding politics will be nothing more than slogans. The cult of "Absolute" leadership will have to be understood more carefully, truly a remarkable phenomena in a nation as large and diverse as India. Modi was bowling to a new India that he seemed to understand. At his first speech post his victory, he said quite pointedly that a government is not for "vishesh people" (privileged people) and that he was a "mazdoor who will serve the people without a vacation". He certainly represents the arrival of the pan-Indian subaltern hero, who breaks traditional barriers, even as big corporates celebrate his victory and the stockmarkets boom.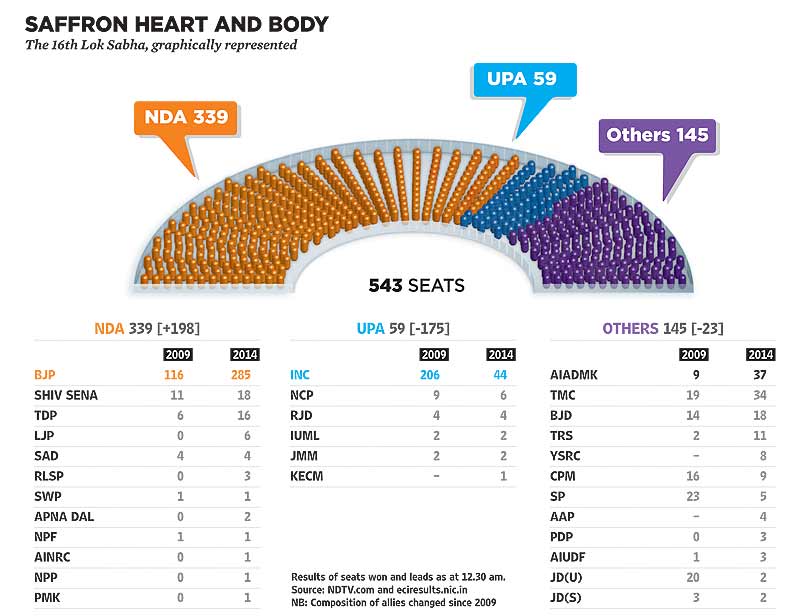 A very different kind of subaltern hero from those produced in the Mandal era that has truly passed with the complete devastation suffered by Mayawati's Bahujan Samaj Party and the poor showing by Mulayam Singh Yadav's Samajwadi Party, Nitish Kumar's Janata Dal (United) and Laloo Prasad Yadav's Rashtriya Jan­ata Dal. In the days to come, there will be many analyses of whether the Modi campaign overcame traditional caste divisions. It must also be asked whether the entire process of "secular" mobilisation by a slew of parties based on presuming and stoking great fear in a section of the population will have to be re-examined.
Equally dramatic has been the utter collapse of the Congress. A Congress-mukt Bharat, something that Modi would often say in his speeches, has almost come to pass, with the Rahul Gandhi-led party receiving the sort of drubbing it may not recover from in a hurry. Sources also suggest that with the Nehru-Gandhi family's stock falling this low and with Modi getting so much of the national vote, he will not hesitate to let the investigative agencies examine the Robert Vadra land acquisitions. Sources say that Modi feels he was hounded by the ruling establishment in Delhi for over a decade and he is a man who does not forget or forgive easily. As a BJP leader explains, "He will actually do nothing himself. But the bureaucracy will act in ways that would make Vadra squirm and the Congress first family very, very uncomfortable."
Given the sort of mandate Modi has got, he could well realise the parivar dream of making the Nehru-Gandhis irrelevant.
Indeed, there is so much focus on Hindutva but less on one of the cardinal ideological positions of the BJP that involves smashing the Nehruvian socialist secular consensus and the principle of dynasty. Atal Behari Vajpayee was not temperamentally inclined to do that. Modi is both inclined and in a position to do just that. Given the sort of mandate he has received, he could actually translate into reality the parivar fantasy of reducing the Nehru-Gandhi dynasty to irrelevance. The Congress may not altogether expire in national politics, but it could from now onwards be breathing oxygen only in states where it has a real base and traditional leaders and not via the lifeline of a particular family.
The BJP/RSS too must now confront a parivar crisis of a different sort. There is no doubt that Modi will appear to be gracious and will do the routine calling on the RSS chief and senior leaders of the BJP. But no one shall now presume to dictate any terms to him. The Sangh would have liked to be in control of this victory. But the stark reality is: the RSS always existed but was often rendered irrelevant (even during phases in Vaj­payee's reign). Yes, the footsoldiers did get charged up and step out for Modi. But their importance should not be overstated. None of their exertions would have delivered had Modi not crafted an incredible campaign that at times seemed like an overkill. As it turned out, it clicked in a country where prices were soaring and the central leadership appeared to have all but abandoned the ship. It is an old thesis that the idea of a strong, muscular leader clicks partially well when a nation is apparently adrift.

Jaya He: A supporter in a Jaya mask bursts crackers on AIADMK's showing in TN
Now that we are back to single-party rule, embodied in the figure of one leader, what of the "160 club" in the BJP? It is no secret that a section of the RSS and many BJP leaders were hoping for a modest win, just upwards of the BJP's 1999 record of 182 seats that would have left Modi dependent on allies and his own ideological parivar and party colleagues. In fact, a day before the counting, a senior BJP leader was rubbishing the exit polls and forecasting not more than 180 seats. Now, those who were overtly and covertly anti-Modi in the BJP have no hand to play beyond hoping that they are included in the cabinet. They will be a chastened lot and will no doubt struggle to stay relevant.
Going by his Gujarat rule, Modi will work through bureaucrats. He'll consult technocrats, but the decisions will be his.
They could not find any consolation in the fact that this win will be remembered as that of Modi's alone and no one else's. It is, therefore, elementary to deduce that after losing all importance in the second term of Manmohan Singh, the Prime Minister's Office (PMO) will be all-powerful once more. And if Modi's Gujarat reign is an indicator of what could be his governance model, then he will work through the bureaucrats and not allow traditional political power centres to come up. Technocrats will be consulted (the names of two bankers are doing the rounds for the critical post of finance minister) but the decisions will be Modi's—and he has a good grasp of economic details and is known to have a head for data and figures.
The RSS will be around hoping for some crumbs from the high table of the new PM but they would also remember the manner in which Modi had shown their state unit and the VHP their place in Gujarat. (There is no love lost, for instance, between the VHP's Pravin Togadia or the RSS's Sanjay Joshi who Modi destroyed but the Sangh kept trying to rehabilitate). Such inner tensions would remain. Still, Modi is a former pracharak who makes no secret of his ideological leanings. Now that he's in for a stable five-year term, the RSS would at the very least be focusing on changes in history textbooks and curriculum. Not very different from what Murli Mano­har Joshi attempted as HRD minister in the Vajpayee era.

The Lady Ducked: A deserted BSP office in Lucknow. (Photograph by Nirala Tripathi)
In the ideological pole of the BJP, if Vajpayee stood at one end, Modi is at the other. In his own party, it had been argued that he was too hardline and divisive to ever prevail on India. He has proven all the sceptics wrong and changed the rules of the game. In the history of the BJP, which begins with its formation in 1980, he will now be remembered as the significant leader who took them to single-party rule. The theory that "only a Vajpayee" could do it has been proved quite bogus by a man who flaunts his backward caste credentials. Certainly, it cannot be ignored that Modi also represents an end to the Brahmin hegemony within both the RSS and the BJP.
He did so by running a blockbuster campaign that was presidential in its scope. Popular BJP chief ministers in some states would have surely helped but let there be no doubt that it was the will, drive, ambition and resources Modi raised that made this possible. This is most clearly seen in the structures he created independent of the formal BJP-RSS that worked on his entire campaign, its planning, nuancing and emphasis—all but execution. Says marketing expert Sunil Alagh, who is believed to have helped build Brand Modi, "Vox Populi Veni Modi Vici." Alagh is typical of the Modi followers: not a member of the BJP but a follower of Modi. The NaMo insiders have every reason to rejoice as they gave India a campaign that has now culminated in the Supreme Leader of their dreams becoming a reality in the world's largest democracy.
With his backward caste credentials, Modi also represents an end to Brahmin hegemony in the RSS-BJP.
Modi himself was a tireless campaigner. He spoke a different language in different places and emphasised on a local point (see Different Folks, Different strokes, page 46). And we must now conclude that he knew exactly what he was doing when he pressed certain hot buttons with rhetoric about infiltrators and "pink revolution" in Assam and West Bengal. The BJP has made a dramatic appearance in eastern India and produced both seats and voteshares in Assam, West Bengal and Orissa, besides improving on its traditional presence in Bihar. Modi addres­sed up to five rallies a day and in far-flung areas where traditional strategists thou­ght the BJP had no chance of winning seats. They were wrong; Modi's instincts were emphatically proven to be right.

Didi Rules: TMC supporters erupt in joy at the party's tally in West Bengal. (Photograph by Sandipan Chatterjee)
As he heads into the future, it will be the economic agenda that will be Modi's focus, but just in case a certain ideological emphasis is required here or there in various assembly elections, be assured that Modi can deliver. Across the world, men and women who emerge as strong right-wing leaders do so when they emphasise a certain nationalism underpinned by carefully controlled sectarianism. Yet such leaders are also seen as agents of dramatic change and most crucially as economic reformers. Says BJP spokesperson Ravi Shankar Prasad, "It' is strong personalities who inspire people in this media-driven age in both states and the Centre. That's one important facet of the appeal of Modi's leadership."
Now the floodgates of opportunity have opened up for the BJP. With such a win at the Centre, unstable state governments surviving on the support of independents such as those in Bihar and Jharkhand will slowly start to collapse. In West Bengal, the Left deba­cle implies that the anti-Mamata vote will possibly gravitate towards the BJP. In the Assam-Bengal swathe, one can imagine the BJP as a growing force, its very premise of mobilisation emerging from the springboard of the existence of large minority populations. Equally, the BJP has marked its presence in the south, even as it has crossed new barriers in Uttar Pradesh. Under Modi, it has truly become an all-India party.
India has indeed shifted on its axis.