No Love Please, It Is Nehru
The I&B ministry has written to the producers of Indian Summer, a British film on the "affair" between Pandit Nehru and Edwina Mountbatten, asking them to delete portions of the script.
Outlook has accessed the five specific objections raised in a letter dated July 27, 2009
The film is not based on recorded facts, say the officials. So, from the outset, it should be declared as a work of fiction.
No scenes showing physical intimacy should be filmed between Nehru and Edwina.
No gestures or actions, or words of love or affection, should be filmed.
No kissing scenes should be included.
The word "love" has to be struck off from six dialogues in the submitted script
***
Political Films And Controversy
They go hand in hand. Whenever a political icon is perceived to be shown in an uncharitable light, protests follow...
Aandhi (1975): Gulzar's film was banned for some time because Suchitra Sen essayed
a character based on Indira Gandhi and the Emergency.
Kissa Kursi Ka (1978): Amrit Nahata's film was banned on its release and all prints confiscated for its take on Indira's politics, Sanjay Gandhi and the System.
Mukhamukham (1994): The Kerala Marxists alleged that this Adoor Gopalakrishnan film portrayed the degeneration of Leftist politics in the state.
Iruvar (1997): A fictionalised account of the lives of Tamil Nadu's political icons, MGR and Jayalalitha, the film's release led to several protests.
Chand Bujh Gaya (2004): Love saga set in post-Godhra Gujarat, starring Aamir Khan's brothers, runs into trouble. Reason: reel-life CM resembles real-life Modi.
Gandhi, My Father (2007): Made by Britain-based Indian director Feroz Abbas Khan, the film ruffled feathers for examining the Gandhi-Harilal relationship.
***
Take II: Lights, Camera, Reaction...

"I think it's the colonial mantle the Congress finds difficult to shake off. People will talk about the relationship anyway; they have been talking about them for the last six decades. Who says public figures can't be up for public scrutiny? I'm sure Nehru's stature won't be diminished were his personal life brought on screen."
Ashis Nandy, Social psychologist

"Nehru or Jinnah, their personal lives were not important. A good historian will not focus on the personal lives as history was not affected by what they did in their private space."
Bipan Chandra, Historian

"Most of the historical view we take of leaders is largely hagiographic. As filmmakers, we have never focused on Nehru's personal life as he kept it private. Gandhi didn't. I'm a great Nehru fan. I am sure I would not have found his relationships unattractive. I know of women who fell hopelessly in love with Nehru."
Shyam Benegal, Filmmaker

"There has been a certain consensus in the Indian press that the personal lives of public figures is never discussed unlike say the US and UK press. It's not being squeamish but one can legitimately argue that public figures should be allowed their privacy. More seriously, did the relationship impact the course of events?"
Mridula Mukherjee Director, NMML

"I think it's the personal lives that make our politicians more interesting. Why are our politicians turning more and more Victorian now when they are not in the Victorian age? Why should the Indian government even act as the censor on this matter? What is it going to ban next, memory?"
Shiv Visvanathan, Sociologist
***
"I have often been asked whether I think Nehru and my mother were in love. The answer undoubtedly is, yes, they were."
—Pamela Mountbatten Hicks, daughter of Lord Louis Mountbatten, the last viceroy of India
Jawaharlal Nehru, the statesman/visionary. Chacha Nehru, the man who doted on children. A loving father, who wrote letters to his daughter while in prison. Pandit Nehru, committed socialist, architect of modern India, dashing and intelligent public figure. India's first prime minister was all this and more. But Nehru, the handsome lover, lonesome widower, the man who penned eloquent letters to the woman he loved—wife of India's last viceroy, Edwina....That is one side of Nehru the Congress would rather keep under wraps. Which is why when British filmmaker Joe Wright—who also directed Ian McEwan's Atonement and Jane Austen's Pride and Prejudice—wanted to capture the last gasp of the British empire in India in the backdrop of a romantic relationship between the first prime minister of India and the last viceroy's wife, he ran into trouble. It was pretty predictable. The Union information and broadcasting ministry in India told his producers—Working Title—not to cross the line and serve up Nehru's private life for public consumption on the big screen.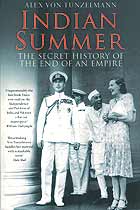 Ironically, the relationship between Edwina and Nehru was never really a secret. The film is, in fact, based on a book by historian Alex von Tunzelmann. Titled Indian Summer: The Secret History of the End of an Empire, the tome did not scorch the Indian bookshelves when it was launched here two years ago, despite its compelling and often controversial narrative. Its proposed celluloid version, however, has the government scurrying to put a freeze on any filmic Indian Summer.
Sources in the I&B ministry revealed to Outlook the exact nature of the five objections the ministry detailed in its July 27, 2009, letter to the film's producers. The film's script had been submitted to the ministry four months earlier and it had been sent to a panel of experts (read serving and retired I&B ministry officials) for vetting. It was they who passed the verdict that the script had 'objectionable' amorous references which could well hurt the sentiments of the Indian public. The five objections run something like this:
Objection 1 The film's not based on fact, so call it a work of fiction
"Where has the love affair been chronicled in history?" asks a ministry official. "Has any Indian historian said it impacted events?"
The panel is of the view that the "romance" between the two principal characters—Edwina and Nehru—is not borne out by historical facts. Nor was the relationship, by their reckoning, in any way central to Partition. In all fairness, therefore, they say, the filmmakers should primarily declare beforehand that the storyline is fictional.
The official discomfiture stems from the fact that Tunzelmann's book is quite upfront and forthcoming about the Nehru-Edwina romance, and the film's script has followed it pretty closely. An excerpt that a panel member has flagged from the book reads thus: "Meanwhile the relationship became more close. In public, Jawahar and Edwina were formal; in private, they were inseparable. Letters became fervent: 'The more one talks, the more there is to say and there is so much that it is difficult to put into words'."
Objection 2 This is a straight injunction: thou shalt not show any intimacy between Edwina and Nehru
The I&B panel says that when it comes to Nehru, only recorded history can be shown. Beyond that, "everything is conjecture. And in this realm of conjecture...falls the love affair between Countess Edwina Mountbatten and the first prime minister of Independent India, Jawaharlal Nehru." Asks a ministry official: "Where has the love affair been chronicled in history as we know it? More specifically, have Indian historians ever written about the so-called romance and have they said it impacted the course of events in history?"
Indian historians might have desisted but not Tunzelmann. Her book details, for example, the famous trip to Mashobra in Himachal Pradesh, which is also included in the script and for which the producers had sought permission to shoot in Mashobra. "Edwina and Jawahar met early every morning in the garden. They drove together along the Tibet Road stopping for picnics in the woods. They stayed up late and alone after Dickie (Lord Mountbatten) and Pamela (their daughter) had retired to bed. When Jawahar came to see Edwina in her room, he somehow upset an inkstand. 'They were both too busy mopping it up to be abashed,' wrote Edwina's official biographer." Scenes like this, say officials, when adapted on screen, could be embarrassing.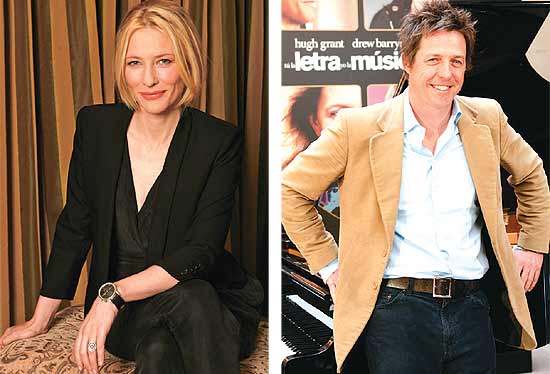 Cast lines: Edwina (Cate Blanchett); Mountbatten (Hugh Grant)
Objectiob 3 No 'love' in the script, we are Indian
The L word figures six times in the script, but I&B ministry officials would not hear of it even once. Why, they don't want even a hint of love by word or gesture. They object to love scenes cropping up regularly in the script, saying the film focuses more on the romance than on Partition. They would be happier if Indian Summer emerged as a sanitised docu-drama of Partition and not the great romance of the 20th century that they suspect the filmmakers will sell the movie as. But while the ministry mandarins may choose to turn a blind eye to any sign of weakness in Nehru, Tunzelmann is vivid in her description of a pining Nehru. To quote from her book: "After her return to England, Jawahar wrote to Edwina that he could still sense her 'fragrance on the air' and that he read and re-read her letters. 'I lose myself in dreamland which is very unbecoming in a Prime Minister'."
Objection 4 No gestures or words of love or affection either, please
There is no question of the Edwina-Nehru characters holding hands or being in any romantic or intimate pose on screen. The I&B ministry officials cite Edwina's daughter Pamela as saying that her mother's relationship with Nehru was "more platonic" than anything else. It would be scandalous, they say, for instance, to film this from Tunzelmann's account: "Their relationship had worked because it allowed both Jawahar and Edwina their own private space; but suddenly being together around the clock did not seem so undesirable after all. The intensity of their feelings both exhilarated and frightened them...."
Objection 5 Kissing scenes? No way
It would be sacrilege to have the screen Nehru enacting any sensual scenes. He might come across as only human but for the I&B wallahs, it would be showing him in a poor light.
The official discomfiture stems from the fact that the book on which the film script's based is explicit about 'romance'.
Will this mean the end of Indian Summer? Perhaps not, but not quite the start the producers might have wanted either. They had sought permission to shoot in Rashtrapati Bhavan and Teenmurti House in Delhi, and in Amritsar and Mashobra, as it is mandatory for foreign filmmakers to seek clearance from the I&B ministry before filming in India. With the I&B ministry throwing this spanner in the works, it is clear that they will be allowed to shoot in India only if they agree to the suggested cuts. They could, of course, consider filming on locations abroad. But then that won't quite be an Indian Summer.
Meanwhile, the I&B ministry's squeamishness has put paid to the filmmakers' original plan to start filming in winter. Take One, the Indian first-line production company, put up a brave front when its officials said the delay in production was due to the global financial crisis. Director Joe Wright has been quoted in the British media as admitting that the script has run into problems. So even as the script is in hand and actors Cate Blanchett, Hugh Grant and Irrfan Khan shortlisted for the leads, the I&B ministry is playing spoiler. Perhaps it is reading too much into one observation Tunzelmann makes in her book. "The security of three nations—Britain, India and Pakistan—rested on this one love affair being kept quiet." This may be the only thing they agree with Tunzelmann on.