"Getting moneybags to provide Rs 1,000-2,000 crore for buying up MPs is no longer beyond the realm of possibility.... In other words, Indian Parliament will be on sale from now onwards."
—L.K. Advani's close aide Sudheendra Kulkarni in his August 3, 2008, column in The Indian Express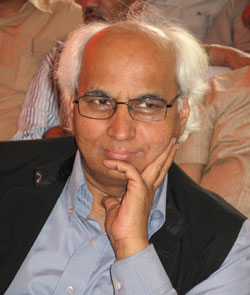 After having delivered the cash to the BJP MPs in Argal's residence, Saxena spotted Kulkarni there.
The irony is that while claiming the high moral ground, Kulkarni, then a close aide of BJP leader L.K. Advani, was himself getting shady characters to stage the 'bribing' of BJP MPs in his bid to derive political benefits for his party. His role in the cash-for-votes operation of July 22 last year is now back in focus. Jaswant Singh recently declared that Kulkarni had come to meet him with an associate before the televised tamasha in Lok Sabha when bundles of cash were brandished on the floor of the house by three BJP MPs who claimed they were bribed to vote with the UPA in the nuclear deal trust vote.
To quote Jaswant: "I stumbled on the whole thing (sting operation) when a very strange fellow (Suhail Hindustani) was brought here to my house by Sudheendra Kulkarni. I was not consulted but I was appalled that Advaniji was giving the MPs the go-ahead to display the money in Parliament."
Outlook has learnt that the sting was a well-planned drama and Kulkarni was involved in it from the planning stage. He even tried, unsuccessfully, to rope in a sting expert. Later, through a senior BJP leader, Kulkarni got CNN-IBN to agree to record the bribe being paid on a secret camera and later telecast it.
The parliamentary inquiry committee that looked into the sting concluded in its report that "he (Kulkarni) masterminded the impugned whistle-blowing operation" and that he was an "active votary of the proposal that the money be placed on the table of the house". It even stated that Kulkarni "facilitated" bribing the MPs and that his justification for planning the sting was "unconvincing".
When contacted by Outlook, Kulkarni said: "I was not the mastermind. It was a BJP leader, who I shall not name." He denied that he had arranged the bribe money. "Not in the least. The money came from those seeking to bribe the MPs. I won't name these people who were trying to mobilise support (for the UPA)." Kulkarni also refused to comment when asked if senior BJP leaders had prior knowledge of the operation.
But Suhail Hindustani, a BJP activist who played a key part in the sting, told Outlook: "All senior party leaders, including Advani, knew of it and supported it. Nobody opposed it. Now that their house is falling apart, differences are creeping in." Crucially, Hindustani admits: "Kulkarni was my 'sahayogi' (partner) in the whole operation."
Over a year after the sting, many doubts still linger. Foremost among them is about what transpired at Samajwadi Party leader Amar Singh's residence on July 22. Who were present there is not known. Neither is there evidence of the money being handed over at Amar Singh's residence. The CNN-IBN team had apparently been advised against secretly recording the proceedings because the SP leader was believed to be a "past master in sting operations", and he could jeopardise the entire operation!
Hindustani claims Amar Singh handed over the money to Sanjeev Saxena, who ran errands for Amar Singh, and that it was Saxena who brought the Rs 1 crore with an unidentified associate to then BJP MP Ashok Argal's residence. But Saxena, who was traced to his residence in east Delhi by Outlook, maintains he was refused entry into Amar Singh's residence on July 22 morning.
Saxena said he went to former SP leader Shahid Siddiqui's residence from Amar Singh's house. He worked for the two but had quit his job on July 21 for personal reasons. He went to meet Siddiqui for a job recommendation letter. It was Siddiqui who asked Saxena to go to an address on Ashoka Road, where the latter met Hindustani. Recalls Saxena: "I was playing along initially in the hope of getting a job but when I realised what was going on, it was too late to get out." He adds: "I met Hindustani in the building next to the BJP headquarters on Ashoka Road (also the party's office) from where he and another unidentified person came in my car with a bag. I was only told that it had money before I was forced by Hindustani to enter Argal's house." The CNN-IBN team did not record Saxena's entry, prompting claims that he came willingly and separately and counter-claims that he was forcefully brought there by Hindustani. After having delivered the cash to the BJP MPs, Saxena says he spotted Kulkarni in one of the rooms in Argal's residence.
Even Saxena, in retrospect, thinks the whole operation was planned by the BJP. "I think so. It was their man (Hindustani) and it involved BJP MPs," he says. His attempts to contact Hindustani for some sort of "rehabilitation" a few days later proved futile. Away from the glare of the media, Saxena presently lives in relative obscurity. "I regret my involvement in the whole episode," he says.
The inquiry report says it is unclear if Saxena was "coerced into completing an operation that had been aborted". On Hindustani, the committee noted, "his role in arranging the bribe money needs to be probed by investigating agencies". As for Kulkarni, this is what CNN-IBN editor-in-chief Rajdeep Sardesai said in his deposition before the committee: "Kulkarni may have been directing the MPs. We are not ruling that out."