Death, Be Not Proud
The 10 minors and 8 adults killed and 4 hurt in Sakerguda on Jun 29, 2012
Hapka Chhotu 12
Kaka Parvati 16
Kaka Rahul 15
Sarke Ramala 16
Hapka Mithu 15
Korsa Bichem 15
Irpa Suresh 16
Kaka Sandhya 12
Kaka Ramesh 15
Madkam Deva 15
Madkam Ramvilas 13
Madkam Nagesh 13
Madkam Mutta 29
Irpa Narayan 29
Madkam Ramesh 27
Irpa Anil 20
Kaka Samaiya 35
Madvi Ayutu 35
Kunjam Malla 40
Madkam Suresh 23
Irpa Gandhi 38
Irpa Chinnaka 35
(Age of victims as recorded in their BPL, ration and voter ID cards).
People who have a nodding acquaintance with tribal communities know them to be poor liars. The more removed they are from urban civilisation, the more incapable they are of manufacturing the truth, often turning up at a police station to confess a crime after committing it. But a group of impoverished Gonds in Bijapur (Chhattisgarh), bordering Andhra Pradesh and Maharashtra, were stripped of their innocence last week by Union home minister P. Chidambaram. He questioned their claim that security forces massacred 22 unarmed and innocent tribals at Korseguda, a village of 50-odd huts, barely three kilometres from the CRPF camp at Basaguda in the BJP-ruled state.
As day broke on June 29, police claims of a "major breakthrough" in the fight against deadly Maoists had been blown to smithereens: a dozen of those killed were less than 16 years of age; seven had just a "criminal record". Still, Chidambaram could barely conceal his sarcasm when he said he was "deeply sorry" but only "if a completely innocent life was lost". He had already complimented the CRPF on its courage and skill in conducting the operation. He went on to add that the force, "under him", had nothing to hide and, perhaps more importantly, nothing to fear. Although criticised for his "premature articulation", Chidambaram stuck his neck out again to say that the encounter was not only transparent but also justified.
Never at a loss for words, the home minister even kept a straight face when reminded of his cabinet colleague Union tribal affairs minister Kishore Chandra Deo's criticism of the "fake encounter". While Deo went public with his dismay at the massacre, which he described as "completely unacceptable", Chidambaram remained defiant and stuck to his position. "I share the anguish of my cabinet colleague," was all he was prepared to concede even as he ruled out ordering an inquiry. Law and order being a state subject, it was for the Chhattisgarh government to decide if an inquiry was indeed required. For the home ministry, the case was closed.
"When security forces return fire and inflict casualties, I'm surprised you call it a fake encounter."
On his part, CRPF director-general K. Vijay Kumar was even more aggressive in defending the botched operation and the unconsciously high collateral damage. The CRPF, he said in an interview, was not "a rag-tag and irresponsible militia" even while reluctantly conceding the possibility that some innocent lives could have been lost. Bullets, he philosophised, were blind and did not discriminate on grounds of gender or age. It was a dark night, he claimed, and the CRPF contingent, led by a dig, was merely following standard operating procedure in firing to kill when they came under fire. The contrast could not be sharper. In the summer of 2010, in Srinagar, the CRPF bore the brunt of several hundred stone-pelting youth day after day, but mostly held their fire. Excessive collateral damage in Srinagar would have brought the government down, but in Bastar, the massacre was a blip that robbed nobody of sleep.
In both Raipur and in New Delhi, officials shrugged gravely and wondered what else could have been done "in the dead and dark of the night". It was not possible for them to see in the dark, they argued. But had they checked the almanac, they would have found that it was a moonlit night, not pitch dark. Moreover, the CRPF is now equipped with night vision devices and it's unlikely they'd have been on a night operation without night vision binoculars. The excuse just does not wash.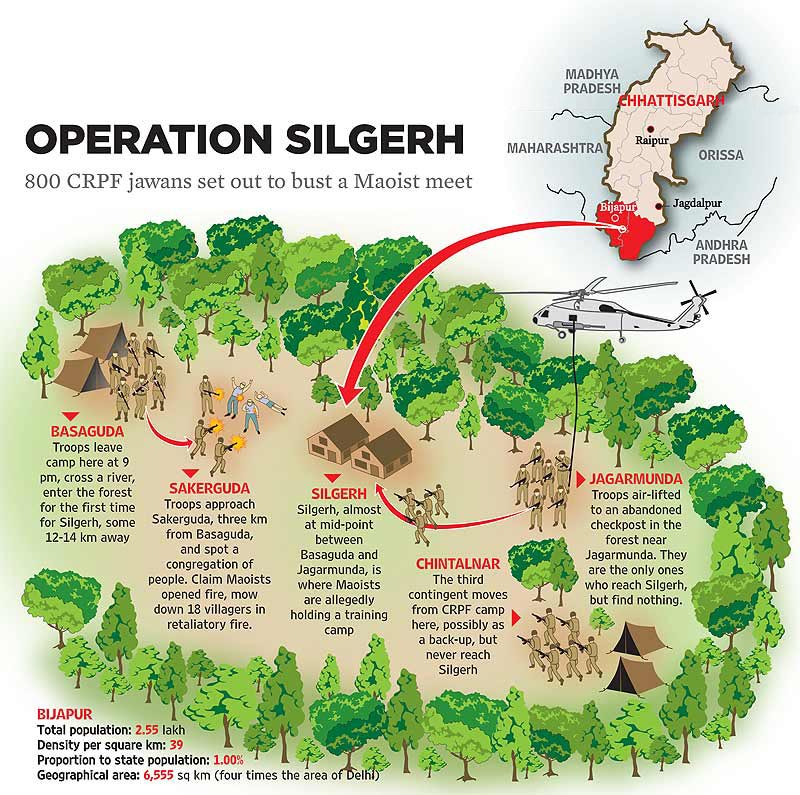 Whatever its top brass may say, there is overwhelming evidence that Op Silgerh ended up as an exercise gone horribly wrong. Not only did it fail in its objective, it also ended up with too many loose ends. It had been in planning for 10 days, relying both on intelligence input and technology to track Maoist movements. The CRPF identified Silgerh, between Basaguda and Jagarmunda, as the place where the Maoists would be meeting. Then 800 armed men set out from three different camps at Basaguda, Jagarmunda and Chintalnar (see graphic) at night. The troops from Jagarmunda were ferried by chopper to an abandoned checkpost in the forest, from where they were to move on foot toward Silgerh.
By the CRPF's own admission, the jawans from Basaguda and Chintalnar did not even reach Silgerh, or reached after daybreak. And when they did, they did not find the training camp they'd set out to bust. Despite all their tracking, the Maoists seemed to have given them the slip. Worse, the troops from Basaguda opened fire on a group of villagers at Sakerguda, barely three km from their camp. The two other encounters that night took place elsewhere and did not involve Op Silgerh men.
There were certainly no Maoists in Sakerguda that night, claims a survivor, Class 10 student Kaka Sarika. Talking to the BBC, she said, "Villagers were sitting in the open, finalising details of an impending festival and discussing who could till the land, when the security forces surrounded us and started firing." Sarika herself tried to run for cover and claims that one of the jawans pinned her to the ground to protect her from the bullets flying overhead. But another jawan, she alleges, tried to misbehave with her. There were several young men and teens, she recalls, who lay writhing on the ground while jawans hurled obscenities at them and grilled them for information.
Village sarpanch Markam Lakshman was away on an errand and escaped the massacre. His absence from the village raises doubts about the "midnight meeting", which the Chhattisgarh government insists was being held to plan a "big attack" on the CRPF. The sarpanch also claims the villagers' meeting was already scheduled and there was no question of Maoist presence.
"Let there be an independent investigation, either a judicial inquiry or an SIT investigation."
The BBC correspondent at Raipur, Salman Ravi, told Outlook, "When I visited the place, villagers complained that two of the dead bodies were dressed up in uniform and weapons before being photographed, to make them look like members of the Maoist armed squads." Ravi also found used cartridges fired from Insas rifles and AK-47 assault rifles strewn in the area.
That it was a plan gone awfully wrong was also evident in the photograph of the dead bodies laid on the ground. The still photo shows the dead as rather young, many of them clad in just vests and shorts, frail and poor—a far cry from dreaded "enemies of the state" waging war on the nation.
Civil rights activist Swami Agnivesh recalls that he began getting calls on his phone early on Friday morning, informing him of the massacre of the innocents. "Let there be an independent investigation; either a judicial inquiry or an investigation by an sit," he demanded. But while neither New Delhi nor Raipur seemed in favour of an inquiry saying it would only demoralise the forces, former solicitor-general Soli Sorabjee said an independent inquiry could well vindicate the CRPF's story.
If you see it in a larger context, the encounter could not have come at a worse time. Villagers at Sakerguda, Rajpet and Korseguda—a cluster of hamlets, collectively the Korseguda panchayat—were first evacuated by security forces in 2008, in the wake of the Salwa Judum 'experiment', and allowed to return a year later. The situation was improving gradually and a proactive district magistrate had succeeded in instilling confidence in the people. The unnecessary encounter appears to have set the clock back. It would now take several years before their confidence is restored, say villagers in the area. A newspaper headline summed up the growing public scepticism—'Top Naxals are two 15-yr-old toppers'. Two of the boys, Nagesh and Ramvilas, were among the three students selected by their school to visit Visakhapatnam in January this year. Here, they got their first glimpse of the sea and ships, inspiring the awed duo to dream of becoming mariners. India's "biggest Maoist encounter" brought that dream to a brutal end.
Twenty-year-old Sarita, the first woman from the village to be pursuing a professional course in BSc (Nursing) in Jagdalpur, 220 km away, lost her brother, Kaka Samaiya, in the encounter. "First they kill us," she says, "then tell us we are Naxals. Search the entire village and see if you can find even a single weapon. Can't they at least say sorry?"
"What option did we have? We'd have been dying and you'd be saying we're incompetent."
Other goof-ups added to the mess. For instance, the district police admitted to have cremated one of the dead while handing over the remaining bodies to the villagers. The official explanation as offered by SP Prashant Agarwal was that the deceased was an outsider, identified as one Kirpa Somlu. It did nothing to redeem the battered image of the authorities.
And even as truth became a casualty, an aggressive BJP government in Chhattisgarh accused jholawalas and the Congress state unit of "demoralising" security forces by describing the encounter as "fake". Contradictions within the Congress, said BJP spokesman Prakash Javadekar, were adversely affecting the fight against Maoists.
With assembly elections in the state due next year, politics has inevitably dogged the controversy. The Chhattisgarh unit of the Congress, which has already condemned the "fake encounter", is not amused with Chidambaram's public support for the CRPF operation. With 32 per cent of the state's population being tribals, says Congress MLA Kawasi Lakhma, the Congress stands isolated in the state, partly due to the home minister's public endorsement of security forces. This is not the only instance of innocent tribals in the state getting killed, arrested, detained and tortured or harassed, they say. To make matters worse, New Delhi has been singularly unsympathetic.
What does appear plausible is that the CRPF company made a genuine mistake at Sakerguda. It had information of a Maoist meeting and once it came across a congregation close to midnight, it used its overwhelming firepower to shoot its way through. But admitting mistakes is not in the DNA of our security forces or the government. And when it involves the lives of some poor and innocent tribals, why bother?
---

Maoists? Bodies of the minors killed in Korseguda. (Photograph by Suresh Rawal)
Grain, Chaff & The Truth
A few unanswered questions...
Police claim: The encounter took place past midnight. CRPF sources claim to have started off on foot from their camp at Basaguda, barely three km away from the encounter spot, at 9 pm on June 28.
Counterclaim: Villagers ask if very fit CRPF men require three hours or more to traverse 3 km. They say some of the villagers were killed at 6 am.
Police claim: Maoists, who had managed to escape after firing at troops, were holding a midnight meeting
Counterclaim: The troops from Basaguda were headed for Silgerh, 12 km away, where the Maoists were allegedly meeting. Would the Maoists have relocated to Sakerguda, three km from the CRPF camp, and invited an encounter? Villagers claim they were meeting to finalise details of an impending festival and decide who'd till the plots abandoned by people who had moved away from the village.
Police claim: It was a dark night; it was difficult to see
Counterclaim: June 28 was a moonlit night, according to the almanac. The CRPF forces are also armed with night vision binoculars. The excuse doesn't wash.
Police claim: Seven of the dead were Maoists
Counterclaim: As many as 22 people were killed that night, 18 of them at Sakerguda. The rest were killed in two other encounters elsewhere in the district. Officials claim seven of them had 'police or criminal records'. The majority, by implication, were innocent. Villagers say all were innocent, lived in the village and had BPL, ration cards or voter ID cards.
Police claim: We too sustained injuries. Six CRPF jawans were injured.
Counterclaim: Two of the jawans were injured when they slipped and fell to the ground. Two others wounded by pellets. The remaining two sustained bullet injuries. Villagers claim they were shot by troops which had surrounded the villagers.
Police claim: A proper post-mortem was conducted
Counterclaim: A team of three doctors—an orthopaedist, a child specialist and an MBBS doctor—conducted post-mortem in the open. They identified the entry and exit points of bullets, most of them above the waist, photographed the bodies and allowed them to be cremated.
---
By Yashwant Dhote in Raipur with Uttam Sengupta in New Delhi