This World Cup has gone more or less to plan. It has produced some exciting matches and a number of extraordinary individual performances, mostly with the bat, but nothing so far that can be characterised as a genuine upset. Why? Geoffrey Boycott has a simple answer: "This World Cup is a batsman's World Cup. It's easier than ever for batting." Playing conditions in New Zealand have offered more help to high-quality fast bowlers, and to some extent India's disciplined bowling attack, led by Mohammed Shami and Ravichandran Ashwin, has bucked the trend in the Australian venues. But there have been just too many flat, drop-in pitches in this tournament.
There is no Kenya on its way to the semi-finals, as in 2003, no shocks in store for heavyweight teams ahead of the knockout stage, as in 2007. Reflecting the shift in the balance of forces in international cricket, four of the quarter-finalists will be teams from South Asia, with at least one of them, India, assured of a semi-final berth. Bangladesh knocking England out at the pool stage was a small surprise, the size of a white cricket ball, but then nobody expected England to survive the quarter-final round.
Going by the Reliance ICC ODI rankings and current form, the semi-final line-up looks like South Africa vs New Zealand in Auckland on March 24, and India vs Australia in Sydney on March 26. But how sure can we be about this?
With a formidable pace attack and a now-settled batting order, Australia are favourites to win the World Cup.
I asked my friend, a London-based aficionado, for his views on what might lie ahead. His response was counter-intuitive and most interesting: "Here are my views and they are quite subjective. Sri Lanka v South Africa: Given it's in Sydney and the wicket is more ssc (Sinhalese Sports Club) than SCG (Sydney Cricket Ground), I would almost argue that SL are favourites. It's very hard to call for me. I would make SL 55-45 favourites, maybe 50-50 and too close to call; SL need to play two spinners. India v Bangladesh: Don't think there's a surprise here; Australia v Pakistan: On paper, Australia are favourites but the toss is very crucial. I actually think Pakistan's best chance to win is to bat first and get 265 plus. Their batting is a problem, but if they don't lose wickets for 35 overs, they can get here. Adelaide also has the least conventional swing and most reverse. And Pakistan's bowling under lights, with runs on the board, has a good chance. I still think it's 65-35 Australia, but if the toss goes Pakistan's way and they get runs, it's their best chance. Players like Maxwell won't be able to play all those fancy shots against Pakistan like he did vs Lanka. New Zealand vs West Indies: Given Wellington, I would say NZ. But if the conditions are flat, then a big one from Gayle could always disrupt predictions. But I'd say NZ firm favourites."
A less counter-intuitive apprai­sal may run as follows: In this World Cup, Sri Lanka has depended far too heavily on the great Kumar Sangakkara and the aggressive and brilliantly innovative Tillakaratne Dilshan, who was adjudged the most valuable player in the 2011 World Cup. Sri Lanka is an unsettled side with ordinary spinners. There have been too many injuries to its players. As a team, South Afr­ica has underperformed but its batting, bowling, and fielding riches and especially its big guns give it a clear edge over Sri Lanka.
Oh, for a couple of big upsets in the quarter-final round. Limited-overs cricket, especially in a World Cup, will be no fun if teams played to ICC rankings.
***
Captaincy is one variable that is acknowledged in cricket literature to make a difference. But how much of a difference? "In cricket," observes Mike Brearley in The Art of Captaincy (1985), "the role of the captain has been consistently underrated in recent years. This should hardly surprise us. We have been living in an era in which the measurable has increasingly become the predominant mode of valuation." The influence of a leader, while continuous, is "elusive", and what Brearley means by this is that, besides tangible factors such as selection, field placing, the organisation of practice, and the handling of dressing room situations, there are "the less tangible effects which arise from the personality and attitude of captain and coach". It is these intangible effects that represent the creative side of leadership in cricket.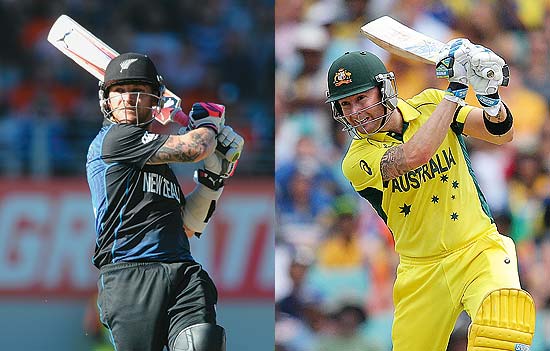 Of ODI captaincy McCullum is great; Clarke not so
Today, with data-driven analysis and planning at work for every game, and expert chatter on television on 'good' and 'bad' captaincy even for a short passage of play, it can hardly be said that the role of captains is underestimated. 'Respect for your own captain and team' is part of 'The Spirit of Cricket', introduced in 2000, at the initiative of Ted Dexter and Colin Cowdrey, as a preamble to the laws of cricket. Michael Clarke's Test captaincy, M.S. Dhoni's ODI leadership—everybody recognises these as the best in the business and the competitive advantage they give their teams. But no captaincy quotient has yet been discovered by cricket's data analysts and statisticians, so assessing the difference good, mediocre, and bad captains make to the fortunes of their teams must remain, largely, a subjective exercise.
***
It has been the long-held view of Ian Chappell and Michael Holding that it is easier to captain in the shorter forms of the game than in Test cricket. They judge captaincy mainly on the basis of purposeful and creative leadership in Tests. In recent years, Indian cricket's priorities have been skewed, with Tests still important but getting nothing like the top priority it continues to get in Australia, South Africa, and England.
One of the more interesting features of this World Cup is the contrast presented by captains M.S. Dhoni and Michael Clarke—in their priorities, approach, and style of leadership. Dhoni has been a good captain in ODIs, where it is not always necessary to take 10 wickets. The constraints of this format, as opposed to the relatively unconstrained nature of Test cricket, have helped Dhoni. In recent Test series abroad, he gave the impression that he was not rea­lly engaged in the game, but that may have been the function of a resigned, 'yogic' acceptance of an open secret, that India did not have bowlers who could consistently take 20 wickets in Tests outside the sub-continent. But after his retirement from Tests, Dhoni seems to be at the top of the shorter game. The best expert appraisal I have read on the difference Dhoni's 'calm as light air' captaincy has made in this World Cup is Ian Chappell's wise piece, 'India blossom under Dhoni the ODI captain', (http://www.espncricinfo.com/magazine/content/story/845223.html). Do read it, if you haven't.
Michael Clarke is the opposite of Dhoni, a very good Test captain, but opinion is divided on his ODI leadership. He has missed too many games and is not an automatic selection, on the basis of current form and fitness, in Australia's ODI eleven. His coming in and out has certainly affected the balance of the team and he may even be a bit of a liability, at No. 4, in this power era. And since Clarke has not played regularly, ODI captaincy doesn't come as intuitively to him as it does to someone like Dhoni. His great predecessor, Ricky Pon­ting, has suggested that he should retire from ODI cricket after the World Cup and concentrate on lea­­ding Australia in Tests. Still Australia, which has a formidable pace attack and now seems to have got its batting order right, with Steven Smith at 3 and Shane Wat­son at 6, is the clear favourite to win the cup, whether you take the obje­ctive or subjective route to forecasting. Clarke is a good eno­ugh captain to lead it to that goal.
Brendon McCullum will challe­nge Dhoni for the unofficial award of best ODI captain. He took over as New Zealand's leader under controversial circumstances and has brilliantly turned the team around in Tests and in the shorter format. With limited resources but far-sighted planning, New Zealand Cricket, captain, and coach have worked together to stitch a settled combination—and McCu­llum, with his batting, fielding, charisma, and the strong belief he inspires in his players, leads the ODI world in playing fearless and aggressive cricket. So much so that the great Richard Hadlee has gone on record to say he wished he had played under a captain "as aggressive as Brendon". Good luck to McCullum and New Zealand.
---
(N. Ram is chairman and publisher of The Hindu group of publications. He's played first class cricket for Madras.)