When journalist P. Sainath met him, Jain saab, 45, was the 'head of departments' cum sports officer and principal of the Government P.G College, Alirajpur, Madhya Pradesh. The meeting was recorded in Sainath's magnum opus, Everybody Loves a Good Drought, in 1995. As Sainath wrote then: "The schooling system, despite many stupid experime­nts, is not designed to retain tribal children...it's not the funds. It's the lack of commitment." He however ends optimistically with, "Many teachers agree that if primary schooling were universal, comfortable and affordable for tribals, things could improve dramatically."
Twenty years later, Outlook visited Alirajpur. The tribal-dominated district has the lowest literacy rate (37 per cent) in the entire country. Since 2010, the Right to Education Act has made education free and compulsory for all. How­e­ver, the number of students enrolled in primary schools in the district has dec­re­ased in 2,100 schools. "This is because most schools are functioning in the most pathetic manner," says a senior IAS off­i­cer. "While rte has ensured that schools are built every few kilometres, we have miserably failed in ensuring that there is sufficient human resource to benefit students." There are 2,400 schools in the district—there are as many vacancies (2,352) in teacher positions.
S.C. Jain doesn't remember the conversation he had with Sainath 20 years ago. What he does is that for at least 15 years he was head of five departments cum sports officer until his retirement in 2009. "That was a time when this region didn't have buses to move around, or even milk to drink. While certain changes have come about, the quality of education has remained abysmal, maybe it's even worsened," says Jain. "The status quo over 15 years actually helps with the recollection," he laughs.
***
Global Rage Against The Machine
India's shocking rural poverty numbers come at a time wh en there's a growing global consensus against inequality and austerity
Pope Francis His speech in Bolivia made waves by comparing the excesses of capitalism to the "dung of the devil". "Working for a just distribution of the fruits of the earth and human labour isn't mere philanthropy—it is a moral obligation."
Thomas Piketty The French economist has been leading the argument that rising wealth inequality is a natural result of capitalism. Now, even the IMF, World Bank have changed the adage that economic inequalities shrink over time.

---

Yanis Varoufakis The former finance minister symbolises the rise of left-wing populism in Greece—which is still stuck in a debilitating debt crisis—and its peoples' unequivocal vote against the austerity measures imposed on them.
Narendra Modi In the name of federalism, his government is ruthlessly cutting social sector spending. But is the 'Gujarat model' the answer to abysmal standards in health and education? Land bill debate symbolises the development divide.
***
Unfortunately, despite delusions of grandeur, India's story doesn't look like it is changing. The recently released rural poverty numbers in the 'Socio-Economic and Caste Census' report are so stark that it is a slap in the face of the 'emerging superpower'. While the BJP government focuses on infrastructure, industry and international relations, India lags far beh­ind in social indicators like nutrition, health, education and sanitation. Many experts are asking, and with some urg­e­ncy: why are India's policymakers in den­ial that their so-called model of gro­wth has failed to translate into improved living standards in the rural heartlands?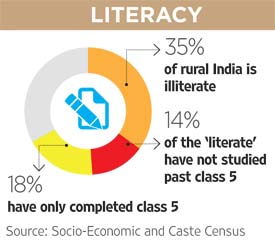 In the global context, India has the dubious distinction of having one-third of all extremely poor and around 37 per cent of all adult illiterates. We may not have had an Arab Spring-like situation (hopefully, it will never need one!) and we also haven't witnes­sed any shareholder activism like in Europe and the US over the inflated salaries and perks of executives. Indeed, elsewhere the world is debating Pope Francis's and French economist Tho­mas Piketty's str­ong stand aga­inst the inequalities spaw­ned by capitalism, and there is growing pressure in various countries to protect the interests of the not-so-well-to-do.
Can we afford to ignore these global voices? There is a consensus that high inequality is bad for growth. Why, in the US, workers have even taken to the stre­ets demanding minimum wages of $15/hour. US president Barack Obama too has lent support to this with his successful push for affordable healthcare and a higher minimum wage. There are also efforts afoot by Obama to ensure better pension protection, social security and healthcare for the elderly.
"Worldwide, the government is the primary provider of social services such as health and education. In India, though the dominant rhetoric is that there is too much government, the numbers do not corroborate that," says IIT economist Ree­tika Khera. Indian government exp­enditure on the social sector remains at shockingly low levels, around 1 per cent of GDP on health through the past decade which has been further cut this year. In contrast, even Nepal has allocated 2.2 per cent of GDP for healthcare; the average for sub-Saharan Africa is 3 per cent!
There are growing concerns both wit­hin and outside government that having followed up the 14th Finance Comm­is­s­ion's recommendations for tra­nsferring a larger share of central revenue to the sta­tes, the Narendra Modi government has washed its hands of most social dev­elopment commitments. It has curta­iled many ongoing federal-funded sch­e­mes. Rural development ministry sou­­­r­ces say the way ahead largely dep­ends on the willingness of states to invest in human resources and people-centric development models. Currently, many states treat these schemes as 'liabilities', opting to invest in capital-intens­ive initiatives like infrastructure building.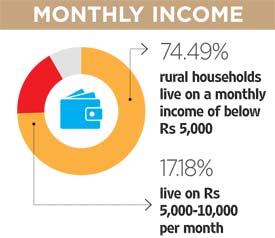 This potential vacuum is worrying. Particularly when the situation is dire—over 74 per cent of rural households earn less than Rs 5,000 a month as against the national per capita income of Rs 8,500. A direct consequence of this—along with a badly implemented government nutrition supplement scheme—is that over 41 per cent of rural children have stunted growth. Voicing concern on the high levels of child malnutrition in the country, political scientist Balveer Arora asks, "What is the demographic dividend if all your children grow up malnourished and stunted? The state—central, state and local government—cannot abdicate its res­ponsibility without irreparable damage to the future of the country."
The 'growth vs development' debate has been going on for a few years now. Nobel laureate Amartya Sen and globalisation guru Jagdish Bhagwati had an acrimonious sparring match over the issue last year. Bhagwati's protege, Arvind Panagariya, now sporting a cab­inet minister's rank at NITI Aayog, has been advising the government to push for rapid growth to spread benefits quickly. It hasn't escaped anyone's att­ention meanwhile that the Intern­atio­nal Monetary Fund has had a surprising U-turn on the same, admitting that the 'trickledown' benefit of development does not work. After the Asian crisis and later the financial meltdown in '08, the IMF too had pushed the high infrastructure investment model for growth and social development.

G for growth Niti Aayog's Arvind Panagariya with FM Arun Jaitley. (Photograph by Tribhuvan Tiwari)
It's amusing to see the likes of former FM P. Chidambaram and Montek S. Ahluwalia of the erstwhile Planning Commission take gentle U-turns after the IMF's volte-face. In their defence, former commerce minister Anand Sharma draws attention to a World Bank report which states that during the UPA tenure (2004-14) India was able to lift 140 million people out of poverty. "That means we were very much on track...but after that there has been a huge cut in the allocation for social sector spending," he says.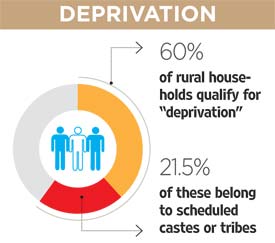 The BJP's economic philosophy draws heavily on the so-called Gujarat model, which is now being defended at all cost. Recently, when economist Bibek Debroy, also a member of the NITI Aayog, slammed UNICEF's millennium development goals, calling them complicated and unreliable, development experts were left scratching their heads. The government's 10th Five Year Plan included exactly the same goals as that of the mdg's. "I don't understand then why the government has suddenly become allergic to these goals," says development expert N.C. Saxena, adding that he was quite disappointed with Debroy's statement.
The government's decision to withhold the release of state data on the Rapid Survey on Children quite evidently has something to do with how Gujarat fared on that front. Thankfully, the survey res­ults have been reported by the Eco­nomist. From the magazine, we learn that Modi's Gujarat model has only increased the gap between the haves and the have-nots. The last decade under Modi's leadership saw Guj­arat falling in the list of human development indices from 16th best in 2001 to 21st out of 29 states in 2014.
Economists who have studied the model are not surprised. This is primarily due to the state government's focus on growth instead of social indicators as well as the Gujarati ideology of "more the money the better". Sagar Rabari, a farm activist in Gujarat, was arrested in 2013 for protesting against land acquisition in the Becharaji special investment region (SIR) in Gujarat. "This NDA government runs the country in a way that was first tested in Gujarat. Modi keeps people spellbound with 'vibrant' something or the other. Neither the bureaucracy nor the people were allowed a moment to reflect. The moment one event finished, preparations began for the next. This is how India will be governed," he says.
***
Perhaps it's time we took some lessons from what faraway Greece is facing today. As the embattled country gets down to preparing itself for stringent austerity measures to avail the hard-fought bailout package, the question on everyone's mind is about the social security of Greek nationals that the government had long sought to protect. Will it take a similar crisis to remind India of its responsibilities in tackling social and economic inequalities?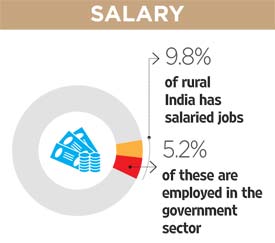 India as yet has not seen any real, sustained activism (apart from the Maoists, whose insurgency cannot be said to be a straightforward fight for a better social-political order) by the common man or the political class focu­ssed on ensuring better living conditions for the not-so-well-to-do. Meanwhile, the number of ultra high net worth ind­ividuals in India has risen 166 per cent in the last decade to reach 7,850.
According to a new analysis by the US-based Pew Research Center, from 2001 to 2011 the share of Chinese who are middle income (earning $10-20 per day) jumped from three per cent to 18 per cent. But the share of Indians who fall in the middle income group was almost unchanged, barely inching up from one per cent in 2001 to three per cent in 2011, the latest year for which data are available. "India's historic blunder is its neglect of the 'poor and vulnerable', the ones we call aam aadmi. This is where India should have learnt some lessons from China or, as recent statistics show, from Bangladesh for a change," points out K.P. Kannan, honorary fellow and former director of the Thiruvananth­apuram-based Cen­tre for Development Studies.
The SECC reports that almost 45 per cent of rural families live in kuccha or mud houses; 56 per cent are dependent on farm labour or alternate employment as they are landless. Yet India's middle class mindset—or more tellingly that of the rich—is far from showing any kind of uneasiness about such basic deprivations that crush the self-respect and dig­nity of over half the country's people.
Of course, as many experts point out, the whole debate about growth and development is flawed as you cannot have one without the other. Professor Arjun Bedi of the International Ins­titute of Social Studies, Erasmus Uni­versity, Rotterdam, says, "As a country develops, there is urbanisation. There is nothing wrong with a planned city. But the notion that you can forget the village is wrong. Instead, you have to take technology to rural areas, which too need infrastructure like power, water and sanitation."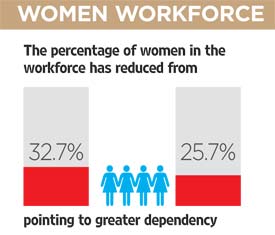 Supporting the stand taken by Amartya Sen, Prof Bedi contends that for sustainable and higher growth, and for a country like India to capitalise on its demographic dividend of a young population, it is essential that the government invest in the "early years" (primary and secondary education) and provide access to primary healthcare as that is one core area where the private sector is mostly loath to entering.
Social development expert G.K. Karanth feels the whole debate, while being centred on poverty, fails to recognise that the character of poverty in India is no longer hunger-driven "but is the deprivation of a consumer economy". "In the last two decades, we have seen a return to the 'trickledown' without admitting it to be so," says Karanth pointing to the PPP model of development besides the emphasis on corporate social responsibility. These have enabled the state to gradually and systematically transform from welfare orientation to a hands-off growth-will-take-care-of-it mindset. This was true of the previous UPA government as it is now.
As the government prepares for the monsoon season of Parliament, there are signs that it is not going to be easy. The Opposition is quite unwilling to give in to the government plans to push through the new land acquisition legislation, deeming it unfair to India's tribal and agricultural communities in particular. Perhaps that has also got something to do with the skewed social nature of poverty in India (see box on caste census). "In every indicator of deprivation or welfare, what one finds is the face of entrenched social inequality—the SCs and the STs at the bottom, Muslims and the OBCs in the middle, and the rest on top," says Kannan.
Despite all this information, inexplicably we are pushing towards greater and quicker wealth creation. But reme­mber: a delay in wealth creation can be made up. But what happens to the generations lost to malnutrition, illiteracy, crus­hed spirits? Surely, India deserves better.
***
What Sort Of Development Does India Need?
"The Modi regime is far ahead of the previous one in unleashing policies for a more strident variety of predatory capitalism." K.P. Kannan, Former Director, Centre for Development Studies

"Definition of 'development' includes social justice, equality and growth...but here it's got mangled to equal growth alone." Reetika Khera, Development Economist, IIT Delhi


---

"In India, opportunity is being stifled by policy environment. The trickledown won't happen if our policies favour the cronies." Barun Mitra, Managing Trustee, Liberty Institute

"Giving subsidy is a politically correct move...preparing people via education is long-drawn but a more sustainable process." D.K. Joshi, Director and Chief Economist, CRISIL


---

"More balanced growth would directly benefit the poor, and then the need for additional support gets reduced." Narendar Pani, Economist, National Institute of Advanced Studies
"The govt policy today is 100 new smart cities, bullet trains etc. But in a society, needs of the poor too must be looked at." Sachin Pilot, Congress Leader and Former Union Minister


---

"Better livelihood opportunities in rural areas isn't an inferior idea vis-a-vis the urbanisation thesis and explosion of urban slums." Prof Raghav Gaiha, Visiting Scientist, Harvard School of Public Health


"I don't understand why this government has suddenly become allergic to millennium development goals." N.C. Saxena, Former Secretary of the now defunct Planning Commission


---

"The character of poverty has undergone a huge change. Earlier, it was about hunger, now it is material deprivation." G.K. Karanth, Former Prof., Institute for Social and Economic Change

"Money is not the issue, it's what works or does not work— we must evaluate on time, and not after the scheme is over." Prof Arjun Bedi, International Institute of Social Studies, Erasmus University


---

"We have achieved development, but it is for the urban lot; 65% of the people in the country got little gains from development." Gurudas Dasgupta, National General Secretary, AITUC

"The anti-corruption movement, the Naxal movement, the farm crisis, big corporations, they are all now symbols of inequality." Dr Himanshu, Asst. Prof., Centre for Economic Studies and Planning, JNU
---
By Lola Nayar with Arindam Mukherjee, Arushi Bedi, Pragya Singh and Pavithra S. Rangan in Alirajpur