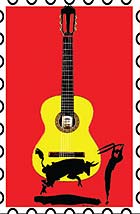 Kingdom of Nod
Everyone knows how 'lazy' Bengalis love their bhaat-ghoom—the proverbial afternoon snooze following a meal of rice and fish. Many have lamented that the habit makes Bengalis bad businessmen. But Bengalis can very well deflect the criticism they face to the Spanish siesta: a serious religion, it means that not just shopkeepers in small towns across Spain but even those in Madrid down shutters in the afternoon for three good hours of sleep. Can you imagine all shops with shutters downed from 1 to 4 pm at Delhi's Connaught Place market? No, it does not happen, not in Delhi nor in Calcutta, nor in any major city of the world.
I succumbed to the siesta too, lunch having been a three-course meal—an entree, the main course, then either dessert or coffee, not to forget a half-pint of beer to wash down the meal. All of this for €10. With the Greek economic crisis hitting the euro badly, there could not have been a better time for someone like me, from the global 'South', to be in Spain. €10 presently exchanges for about Rs 670. Even in Delhi, a visit to a comfy coffee shop can set you back by Rs 600 at least. So my Madrid three-courser with beer was indeed a bargain, which I topped off with slumber in the air-conditioned comfort of my hotel room. Temperature outside: 40 degrees Celsius, same as midsummer Delhi.
---
Garbage out
When one thinks of a European capital, the image that comes to mind is that of a neat, clean and orderly city. But on visiting Madrid, I realised it did not match up to that image. Lutyens' Delhi is undoubtedly cleaner than much of downtown Madrid. I first thought the economic downturn that made Spain go nearly bankrupt a few years ago is taking its toll on its town and city councils. I imagined that the austerity measures undertaken by the councils had resulted in sanitation departments having to undertake big job cuts. But my half-Egyptian, half-Mexican friend Karim, who has made Madrid his home for the last few years, corrected me. Apparently Madrid has always been like that!
---
Chancing it!
Having lived in London for nearly 15 years, I was aware that old British pensioners, low-income workers and even middle-class folks love to buy their lottery tickets. But people bought their tickets from the corner shops and newsagents from where I bought my copy of The Guardian. I had never seen vendors selling lottery tickets at streetcorners. I knew that Spain's La Primitiva was the world's oldest established lottery and it offered one of the biggest prizes, but I did not expect to see tickets being sold by unemployed middle-aged men and women at streetcorners, like the lottery-peddlers do in Calcutta. They had pinned bunches of tickets on their shirts and approached every passer-by, even an outsider like me.
In Jerez, the second biggest city of the Andalucia region, there were long queues in front of some shops. From a distance, they looked like small post offices or booze joints, but nearing them, I realised they were specialised lottery ticket counters. I vaguely remembered that in February 2014, there were no winners for 39 consecutive draws and the rollover of prize money stacked up to €79 million—the biggest-ever lottery prize in history. That explained the queue.
---
Brick & mortar
Even before I settled down on my seat on the Iberia Airlines flight from London to Madrid, the passenger sitting next to me received a phone call, which I could not help overhearing. He was apparently travelling to Calcutta in two days and then to Pune and finally to Delhi. So I had to start a conversation with the man—a Finn with a Spanish wife, so he lived in Madrid. He heads a business in cattle-feed with a good operation in India. So he travels to India almost every month. Our conversation veered tow­ards the health of southern Europe's economy, particularly that of Spain. The gentleman passed on a friendly tip. Apparently real estate prices in Spain are at rock bottom. So his advice to me was that I should do wisely to invest in Spanish real estate, in case I was interested. Alas, I have an income of a journalist!
---
Open sesame
Madrid has this beautiful system of free entries in any museums for the last two hours of the day. You have to queue up about 30 minutes ahead of the free entry time. So I saved €22 at the Prado and Reina Sofia museums. Reina Sofia houses Picasso's most watched work, Guernica. It is beyond my ability to describe the massive work in black, white and grey but I am ready to go and see the work again and again.
---
High doze!
Even Madrid's Centro building, which houses a number of exhibition galleries and has a rooftop offering a superb bird's eye view of the city, was shut from 1.30 pm to 4 pm.
---
Formerly with the BBC, Nazes Afroz has been a journalist for the last four decades; E-mail your diarist: nazesafroz [AT] gmail [DOT] com