Shye Ben Tzur
US-born and Israel-bred, he composes qawwalis in Hebrew, which are sung by Rajasthani Muslims
Lived among the Sufis of Ajmer, and learnt their philosophy and music
Married to Sajida, adopted daughter of a Sufi scholar
New album Shoshan has Shubha Mudgal and others performing
***
One look and my soul was imprisoned,
I do not pretend to be the master of my life.
My religion is lost, and I have no country,
My heart beats to the face of my Beloved.
(Written and translated from Hebrew by Shye Ben Tzur)
I catch Shye Ben Tzur on the phone, late at night, just as he is about to board a flight from Delhi to Tel Aviv with wife Sajida and their little daughter, Uriya. We speak about his new CD, Shoshan, to be released next month, and to which I have just been listening. I tell him that at first the music sounded beautiful but quite simple, but when I played and replayed it, I became increasingly aware of its richness and depth. "That's what I like best," says Ben Tzur, 34, perhaps the world's first-ever Jewish Israeli qawwal, "when something very complex seems to be completely simple." It's not an obvious quality, it doesn't announce itself in words. But it's there in his haunting melodies and lyrics, written in Hebrew, and sung by Rajasthani Muslim qawwals; also in his life journey and his quiet, elegant and modest bearing.
Ben Tzur, who has been living and making music in India for over a decade now, has a small but devoted following here. In Israel, however, he is something of a legend, at least among an eastward-looking (and boisterous and increasingly influential) fringe. "Usually, when Israelis leave Israel to develop their creativity elsewhere, people grumble," says Jacque Mizrahi, a music critic in Tel Aviv, "but in Shye's case, everyone is very supportive, because what he does in India he could only do in India, and he is bringing it back to us, enriching us and letting us live this incredible fantasy, vicariously."
At 19, he attended a concert in Jerusalem with Chaurasia, Zakir Hussain playing. "It felt like I'd found an ocean."

Listening to his qawwalis, it's hard to imagine that the US-born, Israel-bred Ben Tzur started his musical career singing hard rock. This was with the band he founded, the edgily named Sword of Damocles. It was at the age of 19, when he attended a concert in Jerusalem featuring Hariprasad Chaurasia and Zakir Hussain, that he had, he says, his real musical awakening. "My life was changed, immediately," he recalls, "it felt like I had found an ocean, and that I needed to jump in." A few months later, he did just that by landing in India.
After a period spent searching, Ben Tzur found his guru, dhrupad master Ustad Zia Fariduddin Dagar, and stayed in his house for a year training in that austere genre. "It was amazing," he remembers, "but extremely difficult. Dagar sahib has changed not only my music but my entire life."
During his first days in India, Ben Tzur read and loved a book on Sufi music. This took him to Ajmer, where he was befriended by Gudri Shah Baba V, the head of the Gudri Sufi order. Over the years, he spent increasingly more time among the Sufis of Ajmer, living in their homes, soaking in their music, and eventually trying his hand at creating qawwalis of his own. Though he learnt Urdu, he chose to write his lyrics in Hebrew. "Hebrew is a language geared towards holiness," he explains, "and since these prayers come from my heart, it is natural that I would use my own language, which I love."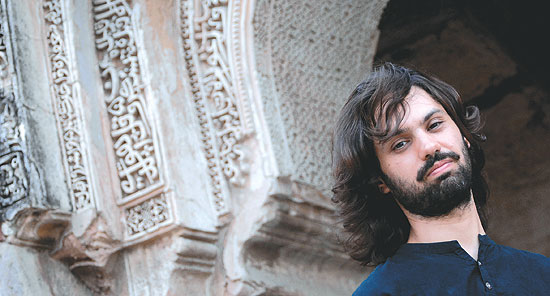 Shye at the Lodhi Gardens in Delhi
One of the homes he began to frequent was that of the late Dr Zahurul Hassan Sharib, "a great Sufi scholar and leader" and that is how he met and married Sajida, Sharib's adopted daughter. In an extension of the spirit of tolerance and mutual discovery that has marked this Indo-Israeli encounter, both families attended their wedding, three years ago. "His parents have accepted me with open arms," says Sajida graciously, "they treat me like a princess."
"Most Muslims here treat Judaism with respect. Hebrew is the language of our shared, beloved prophet Musa."

Over the years, Ben Tzur has sung his qawwalis at many prestigious musical and literary events, like Delhi's Jahan-e-Khusrau Sufi music festival, the Kala Ghoda festival in Mumbai and the Jaipur litfest. At an Earthsync festival in Chennai, he remembers, "By the end, everyone was on their feet dancing, even the distinguished ladies in their saris. No one had expected that!" His first CD, Heeyam ('Supreme Love'), was self-produced but for Shoshan ('Rose')—a mix of qawwali and other devotional music—Ben Tzur teamed up with the Chennai-based world music label Earthsync (which he praises fulsomely for being "deeply committed to the music they publish"). He has composed and arranged all the music on the album and written all but two songs—poems by Gudri Shah Baba III and Mirabai.
What's more, he has brought together the talents of an eclectic, talented group of international musicians, including classical vocalist Shubha Mudgal, flamenco guitarist Fernando Perez, qawwals Zaki Ali and Zakir Ali, and bassist Yossi Fine from Israel. The eclecticism extends to the range of musical instruments used in the album too—traditional Rajasthani instruments meld with violins, cellos, sarods and sarangis.
Mudgal can't seem to praise Shye enough. "I had heard his work in Heeyam and it had a beautiful feeling about it. It is very hard to get together people of so many cultures and musical backgrounds and he does it so well, letting it all ripen," she says. "In this day and age, with so many communities hating and killing each other, Shye making qawwali, in Hebrew, is a statement of peace and love and tolerance that I really believe in," she asserts.
Despite his close association with Sufism, Ben Tzur has not changed his religion. And he has an explanation for it. "Sufism is a mystical path," he says. "And mystics are very different people from what I am. Let's say that I am one who knocks on the door of the saints, and I thank them if they answer me."
But there are some who wonder why he doesn't take inspiration from his own deeply mystical Jewish tradition, I tell him. "I read the Jewish holy texts, the words of the Jewish mystics, and I feel deeply connected to them. But really, the name of the specific path to the divine—Sufi, Hindu, Jewish—doesn't matter to me," is his response.
How did the Indian Sufi community react to him as an Israeli Jew, and to his using Hebrew to compose qawwalis? "I have found that the conflict in the Middle East is irrelevant here," is his illuminating reply. "Most Indian Muslims treat Judaism and Hebrew with a lot of respect. Hebrew is the language of our shared, beloved prophet, Musa-Moses, and of King David's Song Of Songs, holy to all Jews and Muslims."
When asked about any anti-Israeli/Jewish sentiments he might have encountered, Ben Tzur is dismissive: "Sure, there were all kinds of small incidents but I hardly remember them." The answer is the same when I ask about the reaction in Israel to his growing closeness to the Muslim world. "If you look for problems, you will have problems," he says, "Better to concentrate on all this beauty that surrounds us."
For Ben Tzur, rapt in his live art, India has gradually become home. "It has become very important for me to say I am an Israeli, that I too carry the immense baggage of an Israeli, for better or for worse. And I miss Israel a lot," he clarifies. "At the same time," he adds, "I feel more than ever before that I really belong here; my life is in India...my friends, my music. And my wife is Indian, as is my daughter. I belong to both places now...and I am not sure how it will all work out."
While much is made of the fact that Ben Tzur's music—merging Hebrew with Islamic-Sufi traditions—speaks of peace and reconciliation, this is not a point he himself likes to dwell on. He would rather emphasise the fact that his music has no agenda. "I am not making any political statements," he says, choosing his words carefully, and rephrasing them until he is sure he has been properly understood.
"If someone says that my music bridges these two cultures, my answer would be that I don't see much need for a bridge because I don't see much of a difference between them. Maybe I am blind, but nothing feels foreign. Whatever differences there are, they are part of the divine harmony, no?" he asks.