It's an alarming fact that has made the Union health ministry sit up and take notice: data from across the country is showing a rise in the number of paediatric HIV cases. Of the 2.5 million people with HIV in India today, four per cent are below 15 years. Recently, Union health minister Ghulam Nabi Azad said in Parliament that more than 64,500 children had tested positive, while some 19,000 children in whom the virus had turned active were receiving anti-retroviral drugs at treatment centres across the country.
Maharashtra, at 24,614, has the highest number of HIV-infected children, followed by Andhra Pradesh at 23,621. Arunachal Pradesh, Sikkim and Tripura, as is to be expected in small or sparsely populated states, have the fewest—six cases each. The government figure for children with the virus detected during the period 2002-03 to March 2010 is 1.01 lakh but UNICEF pegs it higher, at 2.2 lakh.
"A policy for dealing with paediatric HIV cases needs to be formulated, especially in those states where the figures are alarming," says a senior researcher at theIndian Council of Medical Research (ICMR). "To begin with, we are focusing on helping infected mothers. Information about immunisation for pregnant women with HIV needs to be disseminated widely. It should also be made widely known that HIV-positive women can have healthy babies."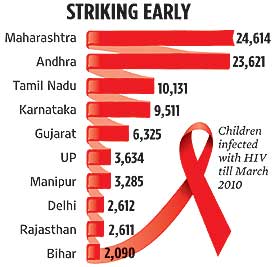 The primary cause of infection in children is mother-to-child transmission, which can easily happen during pregnancy, labour, delivery and even breast-feeding. If pregnant HIV-positive women aren't treated during pregnancy, the risk of having babies with the infection is 30 per cent. And the risk of babies being infected through breast-feeding is 20 per cent. The proportion of women among the HIV-infected in India is as high as 38 per cent—and rising. So the number of children's cases, experts say, can only go up. A grim prospect indeed.
"This is an area long ignored. The government needs to act now and formulate a policy to care for children born with HIV infection," says Anjali Gopalan, founder of Naz, a voluntary group that works with the HIV-infected. "What's encouraging is that there are drugs that can be given to infected women during pregnancy to curb transmission to the child and that the government is taking a relook at its policy on such treatment."
ICMR plans a multi-centre study on HIV infection in children to assess the relative potency of the causes and create a database. It will form the basis of a system for identifying cases and locating them in context, say in urban, rural or slum populations, and so on. Key research areas have also been identified: the social impact of paediatric HIV, vaccines for mothers, nutrition for infected mothers and children. Operational guidelines are already being worked out by the government for providing nutritional supplements for malnourished HIV-positive children this year onwards.
"As it is, these children have to live with stigma. Once they are orphaned it gets worse: even government homes and schools are likely to ignore them," says Gopalan. "But there are models using which civil society, institutions and the community can care for them." The alarming figures are pressing on India to choose or create one soon.