Brand IIT versus GoI. It's only the latest battle in this summer of seemingly endless discontent. Union minister for human resource development Kapil Sibal continues his on-off battle to snap away at the heels of the IIT-combine in his quest to rewrite the statute books. Sibal's goal of a single engineering examination for the centres par excellence and all engineering colleges has caused consternation and heartburn. But, more importantly, it has led to plenty of confusion (and even fear) among the hundreds of thousands of students lining up to enter the portals of the country's premier engineering institutes.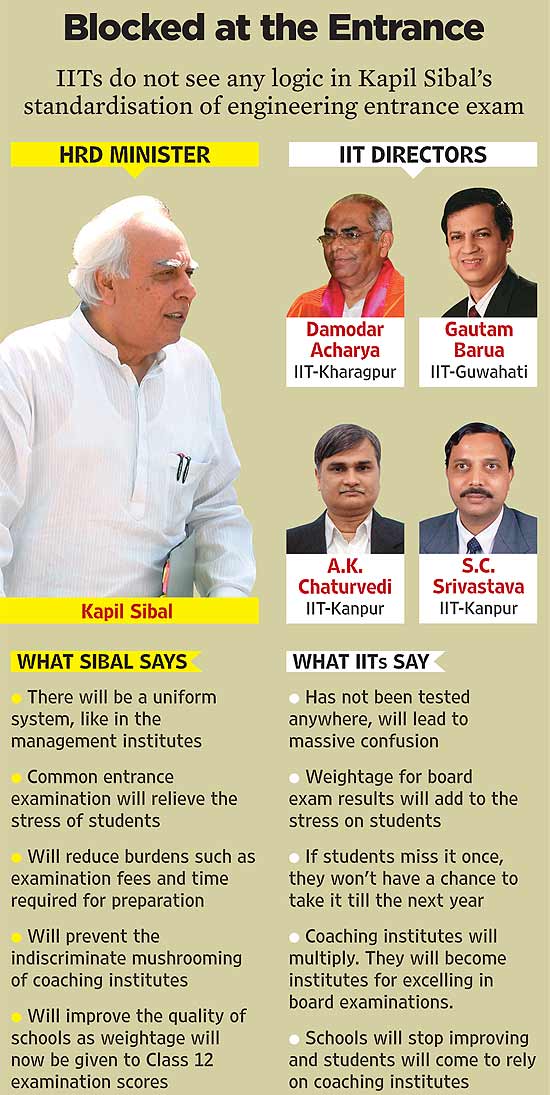 Sources in the HRD ministry insist the entire exercise was conducted democratically. But when Sibal found very few takers for his proposal, which he wanted to introduce by 2013, he decided to ram them home. The result—a mutiny by the IITs.
The media has reported extensively on how the IIT combine shot down Sibal's proposal back in 2010 when he had constituted a committee under Damodar Acharya, director, IIT-Kharagpur, to propose a common engineering examination with adequate weightage to Class 12 examinations. When this was rejected, another committee recommended a two-tier exam—one for screening, and the second, an advanced one, with Class 12 exam scores having 40 per cent weightage. This, too, the IITs rejected. And now, yet again, they're raising the banner of revolt, citing that IITs are autonomous institutes governed by an act of Parliament and whose affairs the GoI should stay out of.