In the first 10 minutes of the 'historic' one-to-one meeting between Prime Minister Modi and President Obama, the conversation would probably go somewhat on these lines...
Obama: Prime Minister Modi, thank you for inviting me to be the chief guest at your Republic Day parade. This is a great honour given to the American people, and me, by India to celebrate its 65th Republic Day in your country with you. It is the coming together of two great democracies and two great republics. Were it to be any other day, it would be an occasion for a big party but since it is your Republic Day I am mindful of the fact that we must acknowledge the values of the republic, renew our pledge to promote and protect equal citizenship which is at the heart of the republican idea. Do you agree?
Modi: I agree. We in India call such commitment to these principles raj dharma. Thank you Mr President, for accepting our invitation. Your coming here has brought our two republics closer together. We are a young republic and have much to learn from you as well as much to share with you.
Obama: I am glad you say that. I spent many hours thinking about how we can take forward the conversation we began when you visited me in Washin­gton last September. I vividly remember the mee­ting and cherish the book you gave me, Gandhi's interpretation of the Bhagvad Gita. That was very thoughtful.
Modi: Thank you. The French Revolution of 1789 gave us the great ideals of Liberty, Equality and Fraternity which stand at the core of the Republican idea. Since our regimes too will also pass, it is important to remember that history will judge us by whether we promoted or subverted these core values. Excuse me for sounding so passionately committed to the values of the Republic, but since your forefathers exited slavery and mine colonialism we must be equally passionate in defending these values.
Obama: In the Gita, I read somewhere that Gandhi regarded it as an 'infallible guide to conduct'. He writes very movi­ngly about this in An Autobiography, (1966, p198). Please allow me to read it to you. Let us not discuss trade and commerce or strategic relations, since John (Kerry) has already done that in Gujarat and our business delegations will work out ways to align our two eco­nomies. Unbridled capitalism in the US and India is in safe hands. It is rep­u­b­licanism that needs our attention. Lea­ders of two large democracies must show the way. We have to speak to history. So let's instead exchange ideas about democracy and republicanism.
Modi: You had said that you wanted to read a passage from Gandhi to me. Please go ahead. I am so glad that you have looked so closely at the Mahatma. They say that we have put him on our currency notes and forgotten him. With these Black killings in the US, do they say the same thing about Martin Luther King? I am sure the passage you read will set me thinking.
Obama: Thank you Mr PM, not just for your courtesy but for your agreeing to discuss the values of republicanism and for your awkward questions. As I was saying, Gandhi wrote..."To me the Gita became an infallible guide of conduct. It became my dictionary of daily reference. Just as I turned to the English dictionary for the meanings of English words that I did not understand, I turned to this dictionary of conduct for a ready solution to all my troubles and travails." Do you do the same, Mr Prime Minister? Is it the source of your raj dharma?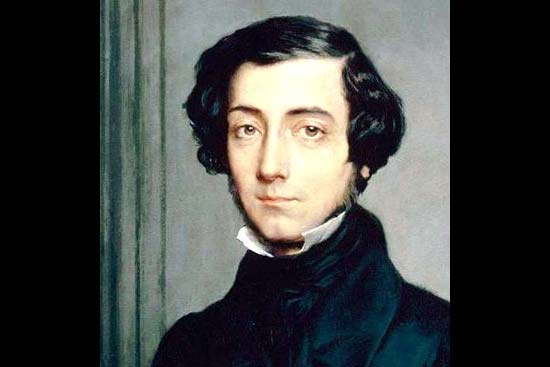 Can Modi and Obama pass the Tocqueville 'agni pariksha'?
Modi: Yes, yes, I do. Yes, yes, it is.
Obama: So then you are on the same page as Gandhi. The Gita is your guide to conduct?
Modi: Yes. As God is my witness.
Obama: In the passage, Gandhi writes, "Words like aparigraha (non-possession) and samabhava (equability) grip­ped me. How to cultivate and preserve that equability was the question? How was one to treat alike insulting, insolent and corrupt officials, co-workers of yesterday raising meaningless opposition, and men who had always been good to none?.... I understood the Gita teaching of non-possession to mean that those who desired salvation should act like the trustee who though having control over great possessions regards not an iota of them as his own. It became clear to me as daylight that non-possession and equability presupposed a change of heart".
Would you consider that the principle of aparigraha also applies to political power in a republic? Does it require people in positions of power like us to see ourselves as 'trustees' and not as overlords? I suppose that is the message of the Gita? Do you practise it?
Modi: Yes to the first question. Yes to the second and the third questions.
Obama: And the fourth question?
Modi: I'll defer an answer.
Obama: But isn't that the core issue of good governance, being a trustee and not an overlord?
Modi: Tough question. Do you practise trusteeship?
Obama: I too will defer an answer.
Modi: But for how long can we defer an answer in a republic?
Obama: Not for long. Though if you man­age the media, you can delay criticism.
Modi: Good advice from one wordsmith to another.
Obama: I began discussing Gandhi because of the Gita that you gave me. Do you recall the book I gave you, The World's Congress: Religions at the World's Columbian Exposition on the 1893 Summit of World Religions where Swami Vivekananda delivered his revolutionary address? Do you also recall the note I wrote accompanying the book? Let me refresh your memory because I want our conversation today to continue where that note left off. "This gift celebrates Swami Vivekananda's valuable contribution as a bridge between India and US and honours our two nations's shared tradition of pluralism and diversity".
Modi: Yes, that was very thoughtful.
Obama: Thinking about 'pluralism and diversity', I thought it would be a good idea if on your Republic day we celebrate your 'pluralism and diversity'.
Modi: We gifted to the world the idea of unity in diversity. As our great Kannada writer U.R. Ananthamurthy said, the moment you push too hard for unity, diversity begins to assert itself; and the moment you privilege diversity, unity manifests itself.
Obama: How interesting, India's diversity. That is why this time, after much cogitation, I thought I would give you another book. The easiest would have been to give you the US Constitution to mark the moment when India gave itself a Constitution. That Dr Ambedkar was the chairman of the constitution drafting committee is a great tribute to India. But I have not brought you the US Constitution since Dr Ambedkar knew it so well and drew from it for your chapter on 'Fundamental Rights'.
Modi: That we are sworn to protect and promote.
Obama: And that places limits on government as I have heard is being done by certain decisions of your Supreme Court.
Modi: You are well briefed, Mr President!
Obama: My NSA does a good job (ha ha). In fact, I was told that you would benefit from reading another book.
Modi: (Laughs) Intelligence intercepts of my conversations, is it? Should I be even more careful in what I say?
Obama: It's not our practice to acknowledge our sources of information (laughs).
Modi: I must learn that line. Is it consistent with republican values?
Obama: (Hasn't heard the question...continues) I thought I would surprise you with another book, Democracy in America by French philosopher Alexis de Tocqueville. I am sure if he did a seq­uel to the book today it would be titled 'Democracy in India'. May I gift it to you?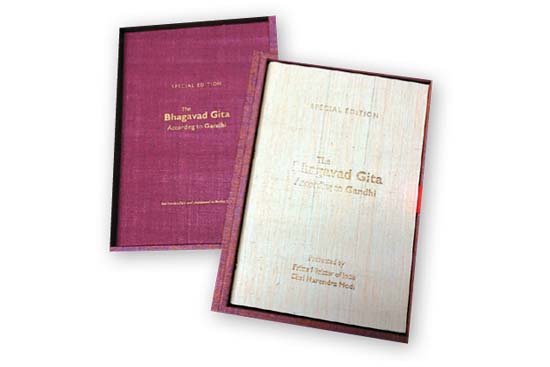 The Gita books which Modi gifted Obama
Modi: Let me surprise you too with a book, Nehru's Discovery of India, a key to understanding India.
Obama: This tradition of exchanging books makes us brothers of the books.
Modi: Brothers of the books. Only in the plural, yes?
Obama: (Nodding. Not wanting to get into grammar and linguistics since the sha­dow of Chomsky was looming large, he continued.) I want you to particularly read Chapter 15, 'Unlimited Power of the Majority in the United States and its Consequences', and chapter 16, 'Cau­ses Which Mitigate the Tyranny of the Maj­ority in the United States', in Vol­ume 1. These are chapters that speak to both our republics, we must study them carefully. Let me read some passages I think are central to the insights in the chapters.
Modi: Mr President, you are making this conversation into a tutorial on republicanism.
Obama: A dialogue, not a tutorial.
Modi: (Laughing) I will listen since as a second-term president you are my elder brother. In India, we value the advice of the big brother.
Obama: Bada bhai, not Big Brother. There is a big difference between the two, according to Umberto Eco...as heads of government, we must think about this power of the majority. I face it vis-a-vis the Christian majority in my country and I suppose so do you. While we should read both chapters, there are two statements that I want us to particularly reflect upon.
Modi: Let us both subject ourselves to Tocqueville's agnipariksha.
Obama: The first passage, "The omnipotence of the majority and the rapid as well as absolute manner in which its dec­isions are executed in the United Sta­tes not only render the law unstable, but exercise the same influence upon the administration. As the majority is the only power that it is important to court, all its projects are taken up with the greatest ardour...." There are the seeds of tyranny here. Majority opinion is the easier position to accept but not necessarily the right thing to do. We must do the right thing.
Modi: You are right, bada brother.
Obama: The second passage is even more alarming. It is a bit longer. "When an individual or a party is wronged in the US, to whom can he apply for redress? If to public opinion, public opinion constitutes the majority; if to the legislature, it represents the majority and implicitly obeys it; if to the executive power, it is appointed by the majority and serves as a passive tool in its hands...." Mr Prime Minister, authoritarianism is a danger. It is in conflict with the values of the republic since it devalues minorities. Our Supreme Court is going to give its opinion on same-sex marriages soon. We must protect minority voices whe­t­her they belong to religious groups, artistic viewpoints or sexual minorities. On your R-Day, can we take a pledge to protect and defend the minority view?
Modi: Be my brother's keeper.
Obama: Elegantly put. Humsafar.
Modi: Mere saathi.
Obama: In conclusion, Mr PM, I was bri­efed to ask you two things. May I?
Modi: Of course.
Obama: The world appreciated the speed with which you tweeted your sympathies after the Sydney cafe siege and the Charlie Hebdo massacre. It was so important that you took a public stand and stood up for principles.
Modi: I was concerned with the violence and disregard for the lives of ordinary citizens the two incidents showed.
Obama: ...but I seem to have missed your tweets when churches in Delhi were atta­cked. Can you send them to me? We like to keep a record so that we can learn from both your speeches and your silences.
Modi: Actually there were no tweets.
Obama: Why?
Modi: Well....
Obama: Perhaps then a statement in your Parliament?
Modi: My support team reported technical failure.
Obama: Send me the tweet, I'll re-tweet it. Now coming to the other issue on which I need some clarity is your ghar wapasi initiative. Are you, as part of this initiative, inviting all the Indian Americans to return to India? That would be a huge loss for the US. Would I lose attorney Preet Bharara, judge Sri Srinivasan, and surgeon general Vivek Murthy? I am proud of my republic where Indians irrespective of religion occupy some of the highest offices.
Modi: No Mr President, we do not want them back. For those of Indian origin in the US we are, in fact, making things easier by merging our OCI/PIO cards. Ghar wapasi is only for those who have converted from Indic religions.
Obama: Converted? So I would lose governors Bobby Jindal who became a Roman Catholic from Hinduism and governor Nikki Haley who became a Christian from Sikhism. I must protest strongly, Mr PM, at such a policy since it goes against America's core principles.
Modi: Please relax, Mr President, don't overreact. Ghar wapasi is not a state policy. It is only a statement of principle. It argues that those who have left the religion of their forefathers must return to that religion because that is where they truly belong.
Obama: This is even more complicated...where does that put me? My grandfather was a Roman Catholic who converted to Islam. My father was a Muslim. And I am a Christian. What should I do?
Modi: Let us go out, Mr President. The people are waiting.
Obama: But isn't that the core issue of good governance, being a trustee, not an overlord? Though I too will defer an answer on this one....
Modi: It's a tough question. Do you practise trusteeship? And how long can we defer an answer in a republic?
Obama: Converted? So I'd lose governors Bobby Jindal who became a Catholic from Hinduism and Nikki Haley too...
Modi: Mr President, don't overreact. Ghar wapasi is not a state policy, only everyone must return to the religion they belong to....
---
(Peter Ronald deSouza is professor at the Centre for the Study of Developing Societies. Views are personal.)