Only A Polymath?
Why did Nirad C. Chaudhuri, who was secretary to Sarat Chandra Bose from 1937 to 1941 quit exactly a day before Sarat Chandra Bose was arrested by the British?
Instead of being interrogated as a close associate of Sarat Bose, Chaudhuri was given a top position in the All India Radio in New Delhi by the British. Why?
In the year 1967, Chandra Kumar Bose's father, Amiya Nath Bose, who was friendly with Indira Gandhi, asked her to make public files about Nirad C. Chaudhuri's involvement with British intelligence. Why did the then CBI director D.P. Kohli refuse, citing Nirad Chaudhuri's personal safety as the reason for declining the request?
***
At the funeral of Nirad C. Chaudhuri in Britain, where the scholar, historian and polymath spent the greater part of his life and died at 101, one of Netaji Subhash Chandra Bose's descendants, who was an invitee, spotted a top British intelligence officer known to have served the empire in India before independence. Surprised to see him at what he thought was a memorial service attended only by those close to Chaudhuri, the Bose family-member went up and asked him, "What are YOU doing here?" The gentleman smiled, lowered his voice and said, "Don't you know? He was our man."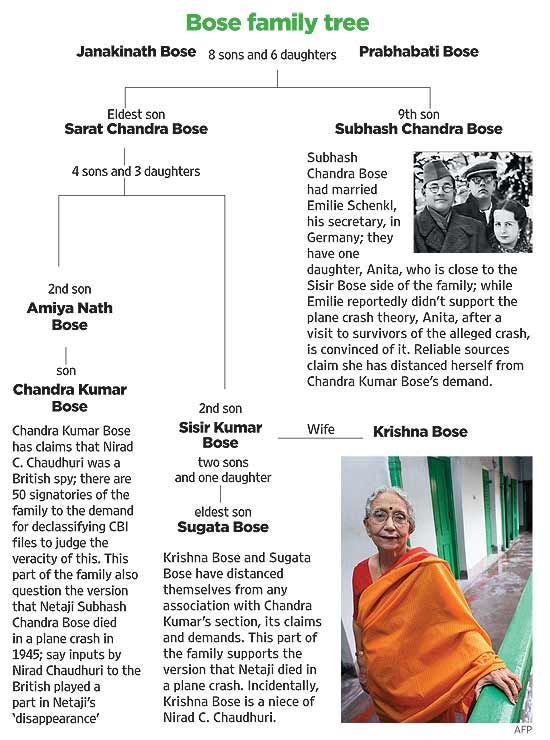 Relating the encounter to Outlook, Chandra Kumar Bose, grand-nephew of Netaji Subhash Chandra Bose, said in a tone where indignation was never far from the surface: "Nirad C. Chaudhuri was a British spy. He used his close proximity to my grandfather Sarat Chandra Bose as his private secretary (from 1937-41) to leak vital information about Subhash Chandra Bose and about nationalist activities taking place in our house. My grandfather was a barrister; many people visited the house. But many were revolutionaries and came in disguise. It was Subhash Bose who first suspected that someone was leaking inf­ormation to the British police."
The '30s were a time of nationalistic ferment, and especially so in politically volatile Bengal and Calcutta, with the Indian National Congress sharing its expanding influence with revolutionary extremism. The Boses' residence on Elgin Road in Calcutta was a favoured meeting place of nationalists of all shades. Often in disguise, they met and dispersed in the dark. But however elaborate their cover, many were arrested soon thereafter. Chandra recounts with some authority: "Secret meetings that were planned would get cancelled bec­ause the police would get drift of it. The only outsider in the house who was in the know was Nirad C. Chaudhuri. Subhash, who was very close to his nephew, my father Amiya, confided in him. He asked my father to convince his father (Sarat Bose) to sack Niradbabu. But he didn't listen. It was the biggest mistake my grandfather ever made."
For many years, the family of Subhash Chandra Bose has been a deeply div­ided house on the subject of Netaji's final 'disappearance', with one faction raising serious questions about the 'official' version—that the leader of the ina, who galvanised Indians with his dramatic call to arms and sacrifice, had died in a plane crash in 1945.
The same part of the Bose family has now made the explosive claim that Sarat Bose's one-time private secretary Nirad C. Chaudhuri, who went on to become an acclaimed writer and polemicist, knew all about Netaji's and Sarat Bose's secret progra­mmes and let them on to the British. In fact, they claim it was ultimately information supplied by Nirad Chaudhuri which not only led to his employer's arrest in 1941, but played a crucial role in the mystery surrounding Netaji's death or disappearance.
So sanguine are they that they have been pursuing every lead to uncover Niradbabu's covert activities—the kind of information he had passed on to the British—in a bid to solve once and for all the mystery related to Netaji.
There are loopholes in Chandra Kumar's story. Why would the CBI chief be so concerned about Niradbabu's safety?

The search has led the enquirers to the doors of the Indian government and its chief investigating agency, the Central Bureau of Investigation. Chandra Kumar Bose explains, "After independence, the CBI had investigated the role of Chau­dhuri, but for some reason kept the report secret." It was in 1967 that Cha­ndra Kumar's father Amiya Nath first made an attempt—an unsuccessful one—to ext­ract details from his friend Indira Gandhi during her initial stint as prime minister about the alleged information Nirad C. Chaudhuri provided the British about his (Amiya's) father and uncle.
Chandra Kumar recalls his father telling him the details of that appointment. "My father told me Indira Gandhi had called him to her office and said that she had instructed the then CBI chief D.P. Kohli to bring the file containing the information. Finally D.P. Kohli came in but without the file."
Based on his father's account of the meeting, Chandra Kumar says that when Indira Gandhi asked Kohli why he hadn't brought the file, he is said to have replied, "No madam, I cannot give this file. The contents are extremely volatile and if the information is made public, Nirad C. Chaudhuri's life would be in danger."
One can point at probable loopholes in the story. First of all, why would the CBI chief be so concerned about the personal safety of Niradbabu, who had by 1967 become a permanent resident of another country, to the extent of wanting to withhold vital information related to Indian history? Secondly, what were the chances of Indira Gandhi's request to see the files being turned down flatly?

Bose family members who want CBI files on Netaji and Chaudhuri to be declassified
Chandra Kumar says this screening-out was precisely what makes him suspicious of the government's motives. "The Indian government was not oblivious to the espionage activities of Chaudhuri. Indeed, we who believe that he was a British spy also believe that it served the leaders of that time—including Nehru—to ensure that Subhash, whose political views differed with theirs but who was immensely popular, was removed. And if Chaudhuri's espionage work helped in that, it was very convenient."
Indeed, this second charge by Chandra Kumar, if true, makes the Indian government (read the Congress) an accomplice in the suppression of inf­­o­rmation about the alleged espionage—and more.
For, finally, Chandra Kumar's allegation throws light on the possible link between Niradbabu's alleged spying, and the fate of Netaji. He elaborated further: "We the family-members who want to see the file (50 members of the Bose family are signatories to a letter to the government) have reason to believe that Netaji did not die in a plane crash (he cites the Mukherjee Commission report of 1997, which concluded that there was no plane crash on August 18, 1945, in Formosa, now Taiwan). His plan was to go to the USSR via Manchuria. We believe he did, but was captured and imprisoned by Stalin. We think Nehru and other leaders did not want Netaji to return."
Unfortunately for Chandra Kumar, a recent reply from the PMO has denied permission to declassify the files sought —other than those on Chaudhuri, 33 files on Netaji—on the grounds that it could affect relations with foreign countries.
The fate of Chandra Kumar's quest might be doomed for now, but his section's version of Netaji's end has no takers amongst influential members of the Bose family. Krishna Bose, wife of late Sisir Kumar Bose (Sarat Bose's third son, who had driven Netaji on the first leg of his famous escape from house arrest in January 1941), her son Prof Sugata Bose and Netaji's daughter Anita Pfaff have accepted that Netaji died in the air crash.
Krishna Bose clarifies: "Netaji's companion General Habibur Rehman was with him at the plane crash and narrated the painful details of seeing his beloved leader die before his eyes. What reason would he have to lie?" While requesting Outlook not to involve her in the dem­ands/claims made by Chandra Kumar Bose and his associates, she does point out one crucial, credible detail that discredits the whole espionage theory. "The historical facts that led to the arrest of Sarat Chandra Bose in 1941 are in the public domain. In those days of WWII, every nation was trying to decode the secret wire messages of enemy nations. At this time Subhash Bose, having esc­aped from India, was in Berlin and Sarat Bose was communicating with him with the help of the Japanese consulate in Bengal. When the British broke the Japanese secret code, they intercepted the messages of Sarat Bose to Subhash. They were waiting for an opportunity to arrest him for anti-national activities. Nirad Chaudhuri was small fry."
Krishna Bose's detractors point out that Niradbabu was her uncle (her father's brother); they also point out that he had resigned exactly a day before Sarat Bose's arrest and was seemingly awarded by the British. (see box).
However, editor Suman Chattopadhyay, who had interviewed Niradbabu, points out, "His admiration for the British was well-known. You don't need CBI files for that. And as for Krishna Bose being his niece, Chandra Kumar is also Sisir Bose's nephew. So what?" For the moment, any­way, there can be no way of telling if one of modern India's most enduring mysteries is locked in some CBI files. And if one of India's most controversially brilliant writers had a perfidious role befitting his beloved Albion.
---
By Dola Mitra in Calcutta