To some they are heroes, but in the eyes of the Gujarat government, they are villains. Satish Verma and Rajnish Rai, both IPS officers, were each assigned a police encounter case. They concluded from their investigations that policemen had killed persons in their custody in cold blood. They filed cases against policemen involved and arrested them. For their efforts, the Gujarat government has banished them to Meghalaya and Jharkhand as chief vigilance officers (CVOs) at PSUs. This is designed to make it difficult for them to follow up and depose in the cases investigated by them.
Can senior IPS officers of the rank of IG and DIGs be posted as CVOs without their consent and without seeking applications from others? The Central Admin­istrative Tribunal (CAT), Delhi, is yet to resolve that question. Arguments are to be heard in November. However, it has refused to grant an interim stay on the Gujarat government's deputation orders, so Verma and Rai have reported for duty in Shillong and Jaduguda. Could this be an indication of the way the case might go? The two officers will in all likelihood spend years running from court to court.
The Gujarat administration has acted petulant at times. On one occasion, it tried to implicate Rai in a strange case: he was accused of cheating while appearing in an LLB examination. He moved the Gujarat High Court, which gave the government a stunning rebuke by quashing proceedings against him. Verma and Rai say they are being punished for doing their job. The say the deputation to PSUs was vindictive and against regulations.
Rahul Sharma is another IPS officer locked in a tedious battle with the Guja­rat government. His travails began when he acted decisively against a rampaging mob during the 2002 riots in Bhavnagar, of which he was then police chief. He was promptly transferred to the control room in Ahmedabad. In 2004, Sharma had submitted sensational CDs before the Nanavati-Shah commission probing the 2002 riots. They contained details of cellphone calls made in Ahmedabad during the crucial periods of rioting. Through location and other details, it established interlinks between rioters, top cops, politicians and administrative officials. Sharma was subjected to harassment and served with six showcause notices, some on frivolous grounds: making spelling mistakes in official documents or correspondence; sanctioning cash awards of Rs 100 to his subordinates for efficient performance, and so on. A day before his promotion was due, the government slapped a chargesheet on him. He moved the CAT, seeking that the tribunal quash the chargesheet and the showcause notices. Initially, CAT granted a stay on the government action, but later vacated it, saying Sharma had moved the tribunal prematurely. He then moved the high court, which restrained the government from taking any action against him until the CAT concluded its hearing on his plea.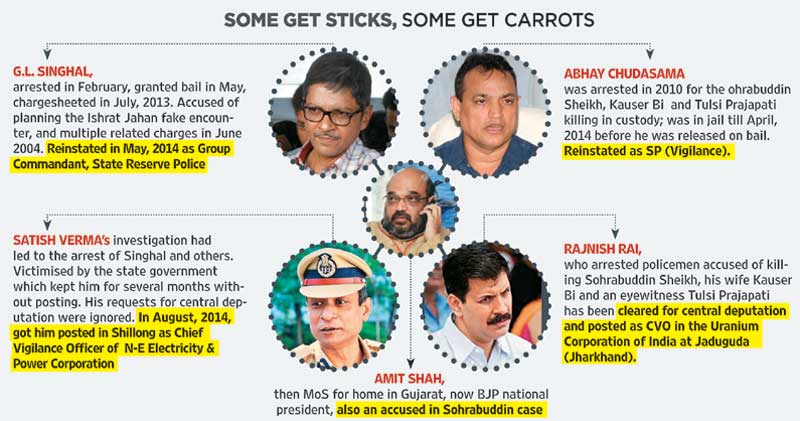 IPS officer Sanjiv Bhatt and IAS officer Pradeep Sharma (now under suspension) have similar stories of government harassment. Bhatt has been facing the state government's ire since his statement that he was present at a meeting at which chief minister Narendra Modi had asked police and officials to go easy on rioters in the 2002 communal riots. He has been under suspension since 2011. In 2013, the state government had written to the Union home ministry, seeking Bhatt's dismissal. The home ministry has proposed that the UPSC take strict disciplinary action against Bhatt. He had also been arrested in 2011: a constable had complained that Bhatt had forced him to file an affidavit stating that Bhatt was present at the meeting called by the CM.
Officers who do the bidding of their political bosses will be rewarded—that's the signal from the Gujarat government.
There is another side to the story. The Gujarat government has also rewarded some IPS officers. And these are officers who have spent time in jail—the infamous Abhay Chudasama and G.L. Singhal. Chudasama was one of the main accused in the Sohrabuddin Sheikh fake encounter case; Singhal was an accused in the Ishrat Jahan fake encounter case. Chudasama had spent four years in jail; Singhal, a little more than one year. Both had been granted regular bail this year. The government was quick to withdraw their suspension and reinstate them. This could give them the leeway to influence the prosecution of the charges they face. It was for this very reason the SC had shifted the Sohrabuddin case out of Gujarat and debarred home minister Amit Shah from Gujarat. Probed by the CBI, the Ishrat Jahan case is on in Ahme­dabad, the Sohrabuddin case in Mumbai.
Singhal has reportedly confessed to have recorded the proceedings of an important meeting. Also of telephone conversations between him and his superiors. He apparently handed over a pendrive with the recordings to the CBI, which has filed a chargesheet against him in the Ishrat Jahan case. Singhal even sent a letter of resignation. But the government overlooked all this, ended his suspension and reinstated him. Chudasama and Singhal were considered close to Amit Shah. Considerable backroom manoeuvring is reported to have taken place before Chudasama agreed to the post he would be assigned to. He had been keen to occupy a high-profile post, and seems to have had his way: he has been made an SP in the state top cop's vigilance squad. It works directly under the director-general of police and enjoys overarching powers to conduct raids and make arrests without the usual jurisdictional restrictions.
News has also come of another set of officers from Gujarat being rewarded for working to the needs of their political bosses when Narendra Modi was chief minister. After Modi's taking charge as prime minister, they are being brought to Delhi to do duty at the Centre. Among them are Rakesh Asthana, an IPS officer of the 1984 batch, presently posted as police commissioner of Surat; and A.K. Sharma, a joint comissioner (crime branch) in the Ahmedabad city police. Asthana has been cleared by the Union home ministry for the post of joint director in the CBI. Sharma is said to be in the reckoning for another key position.
Perhaps the Gujarat government is reacting to the lamentations of D.G. Vanzara, another IPS officer incarcerated in the Sohrabuddin case. Vanzara had written a bitter letter, widely reproduced by the media, that said that he and other some others officers had been left to the hounds after having done the bidding of political bosses and senior officers. By getting people like Chu­dasama and Singhal out of tight spots, the signal being sent out is that police officers and bureaucrats who are loyal to their political bosses will be taken care of; and officers like Verma, Rai, Bhat, Rahul Sharma and Pradeep Sharma will be punished.
The bad cops are back in business; the good cops are in the boondocks.
---
By R.K. Misra in Gandhinagar