The only thing unchanged at general headquarters in Rawalpindi is the haze of smoke coiling upwards. With former chief of army staff General Ashfaq Parvez Kayani no longer around to puff away even at the corps commanders' conferences, the new chief General Raheel Sharif is a worthy successor, drawing incessantly on imported cigars. Besides that, the changes in Pakistan are momentous.
As the day breaks on 2014, Pakistan will have not only a newish parliament, a democratically elected prime minister and a nominated president, but also a new Chief Justice (Tassaduq Jillani), joint chiefs of staff committee chairman (Lt Gen Rashid Mahmood) and Sharif, the new Army chief. The only constants in this era of shifting power are the civil society and the media.
"Our government will really start functioning from January 1, 2014," says Daniyal Aziz of the PML(N), cautiously hopeful of reduced friction between the military and the judiciary, and the Nawaz Sharif government.
Pakistan has never been spearheaded by such a fresh top brass, but the challenges facing the civil and military leadership remain the same. The moot question being raised: Will the new team tackle them differently?
"Which army backs proxy militias?...the era of jehad is over. Many militias are rabid sectarian outfits fighting the state."
The main man among them, army chief Gen Sharif, who was chosen last week over more senior officers, is no stranger to challenges. In fact, he has been in the thick of them, some of which his predecessor was in no mood to tackle. Gen Sharif has worked closely with Gen Kayani on the military's new doctrine, which finally recognised that the real threat to the state lay inside Pakistan, in the unending bloodletting born of religious fundamentalism, not across the borders. But can he break out of Kayani's strategic influence?
"He is as straight as they come in the military, untainted by coup ambitions or commando duties of 'state within a state' intel manipulations. As a previous head of the army's training and evaluation, he helped fashion the doctrine of the internal 'existential' (terrorist) rather than external 'perennial' (India) threat to Pakistan, of which the failed theory of strategic depth (Afghanistan) was an integral element. This new military doctrine is the need of the hour," notes Najam Sethi in The Friday Times.
Since his appointment, many experts have drawn attention to the fact that Gen Sharif, who earlier served as Gen Kayani's principal staff officer, has had no experience with the intelligence agencies or in the Military Operations Directorate, two areas of extreme imp­ortance. But, as the army's Inter Services Public Relations (ISPR) put out, the general has impeccable 'martial' antecedents.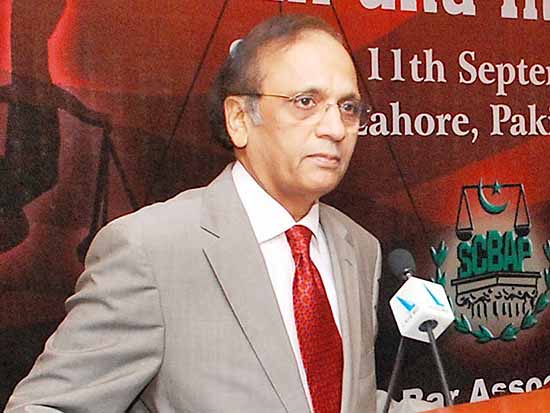 Not only the Army chief, Pakistan will soon get a new chief justice, Tassaduq Jillani, who'll replace Justice Chaudhry.
Indeed, Gen Sharif's brother, Major Shabbir Sharif, lost his life in the 1971 Indo-Pak war at the Sulemanki sector in Pakistani Punjab. He was awarded Pakistan's highest military honour, Nishan-e-Haider, and is a national hero. The general is also closely related to ano­ther (similarly honoured) war hero, Maj Aziz Bhatti, who was killed in the 1965 war with India.
Gen Sharif, who was general officer commanding at Pakistan's military academy, commanded infantry briga­des and the 6 Frontier Force regiment along the LoC. "Under Gen Raheel Sharif's leadership the Pakistan army would continue to enhance its professional capability," Gen Kay­ani told an audience of 40,000 as he handed over the ceremonial baton of command to Gen Sharif. Soon after he took over as COAS, Gen Sharif appointed Gen Ishfaq Nadeem as his chief of general staff.
The new chief has a platter of problems left over from the Zardari-Kayani era. The litany of issues at hand is long: tackling Pakistani and Afghan militants holed in North Waziristan, deciding on the government's proposed dialogue with the Pakistani Taliban, refusing the US permission to operate drones and withdrawing support to Punjabi jehadis, who are well-known army assets. Iss­ues such as the Nawaz Sharif government's plan to improve ties with India and Afg­h­anistan, allowing reforms in the ISI and bringing it under civilian con­trol, getting back the confidence of ordinary people in strife-torn Balochistan, also depend on Gen Sharif in varying degrees. To give the army its due, unlike their usual practice, in recent times they have somewhat loosened their stranglehold over the country's foreign and security policy.
Political analysts like Ayaz Amir have hit out strongly at the military's continued dabbling in commercialism and real estate and granting itself housing colonies and agricultural land. He also wonders whether Gen Sharif will abjure all links with jehadis. "Which army backs and nurtures proxy militias?.... The era of 'jehad' such as it was, is over. The army in this crucial respect needs to turn over a new leaf. Many militias are rabid sectarian outfits and they have already turned against the army and the state," says Amir.
"Under Gen Raheel Sharif's leadership, the Pakistan army would continue to enhance its profesional capability."
Meanwhile, as Chief Justice Iftikhar Muhammad Chaudhry readies to step down, the Supreme Court wants to have Gen Sharif's ear and ensure that the army responds positively to the hundreds of missing persons in its custody, many from Balochistan. "The prime minister and army chief are bound to follow this court's orders, we are not sitting idle here...if you are wondering what this court can do if orders are not followed, then people will see what it can do," warned Justice Chaudhry.
PM Nawaz Sharif has been blamed for treading carefully in areas seen as the army's 'domain', and being ineffectual in others, like the economy and the power crisis. All that, and cronyism—in a House full of PML(N) MPs, Sharif han­ded the important ministries of Defence (Khawaja Muhammad Asif) and Law (Pervaiz Rasheed) to men who already head other ministries. With what seems to be an irremediably weak economy, crumbling law and order, sectarian killings rife and talks with the Pakistani Taliban on slippery ground, Pakistanis need things to improve fast.
Though 'Team Sharif' still retains its cachet of newness, no one is being fooled that the past won't stage a comeback. Ambassador Zafar Hilaly, writes in the daily The News: "Anyone who feels history will not repeat itself in Pakistan, because somehow the people, parliament and the judges won't permit that, and that the army now is also aware of its rightful place in the scheme of things, should also know that about the only thing history does in Pakistan, is repeat itself".
---
By Mariana Baabar in Rawalpindi