As well as watching matches, foreign reporters covering the cricket in India have an opportunity to sample the fare provided by their brethren in the local media and to observe developments as this country confronts its caricature and changes its reality. By and large, it has been an invigorating experience. However, the media hasn't emerged unscathed from the liberation. Plain as day, it faces the formidable task of combining the trashiness of celebrity culture and the deification of the individual with its traditional role as the eyes and ears of the nation. As far as cricket is concerned, the strain is showing.
Advertisement opens in new window
It is hard to think of a single past Indian player who works primarily for newspapers. Most of them are like brands.

Even the best journalists seem to be fighting back a tidal wave of chit-chat. This country has produced as many fine scribes as cricketers. It is not discreet to mention names. Over the decades, respect for elders and a love of words and cricket have underpinned the coverage. Spare us from the cold hand of cynicism. Of late, though, a new breed of talented young writers has emerged as India ditches deadening hierarchies and embraces the gift of youth. But they are finding it hard to sustain seriousness as the shallow run riot. India has a lot of heavyweight thinkers called upon to do lightweight things.
Alas, ignoble nationalism finds an outlet in every country. England's yellow press is pockmarked with prurience and prejudice disguised as patriotism. Australia's shock jocks serve the same purpose, endlessly banging the drum. Likewise, India's 24-hour TV stations rely on outrage. All of them are dangerous not because they disturb liberal complacency but because they scrape the surface and inflame sentiment.
Advertisement opens in new window
As much could be told from the coverage of the spat between Zaheer Khan and Ricky Ponting in the Mohali Test. All present agreed that Zaheer made some pointed remarks as the visiting captain (mark you) made his disconsolate way back to the pavilion. Everyone present accepted that Ponting heard the remarks and strode back to the Indian huddle to give them the benefit of his opinion. At such times, even the mildest of batsmen is vulnerable.
BCCI's Srinivasan and co resented Cricinfo's critique so much they denied them Test passes. So petty, also a warning....

In the wider scheme of things, it did not amount to a hill of beans. At least the facts were not in dispute. Zaheer was the provocateur, Ponting the indiscreet respondent. Or so it seemed until the story was rewritten by apparently intelligent and supposedly objective TV presenters. Suddenly Ponting was up to his old tricks and the Australians were hypocrites. The facts were twisted to fit the agenda. Hour upon hour of the nonsense was dished out to umpteen viewers. Presumably, the public lapped it up. How could they know any better? They had not seen the match. Happily, India's newspapers were not so easily swayed but a picture is worth a thousand words and television is worth a million. No wonder, the government urged the TV stations to respond responsibly when the Ayodhya verdict was handed down. For once, the rabble-rousers did not command the stage.
Advertisement opens in new window
During the saga of the SCG Test of early 2008, too, the stations pushed the line hard. Reason took a back seat to rage. The possibility that India might have been partly to blame was swept aside. It became impossible to provide a balanced view. Competition is not always healthy. Left to its own devices, it can fuel paranoia, substitute hot opinion for calm analysis.
Of course, the cricket commentators do not stoop to conquer. Their voices are familiar and respected wherever the game is played. But they are compromised in a different way, not by the demand for extremity but conflicts of interest. Until the recent ructions, Ravi Shastri and Sunil Gavaskar served on the IPL governing council and also as commentators at the matches. In other words, they were both the bowler and the umpire. Viewers could not expect to hear any criticism of the IPL or Lalit Modi from these quarters. Moreover, IPL is a BCCI operation. Directly or indirectly, the commentators were on the BCCI payroll. And they were not alone. Harsha Bhogle was associated with the Mumbai Indians. Accordingly, he was poorly placed to cover any story about them, except the fluffiest. Perhaps they thought nothing could go wrong. If so, they had not spent much time studying Modi's career or customs.

Inescapably, TV is part of the media. It is also part of the entertainment industry. It is the crossover that causes complications. Credibility demands that the senior voices retain their distance from authority to observe its ways better. Cricket corruption has in part been due to the greed of players, especially captains. Nor has illegal book-making helped. But it also revealed a failure by the media to do its job properly (less so this magazine). Significantly, the latest instance of corruption was exposed by investigative journos working for a well-resourced newspaper. Cricket is considerably in their debt. But aren't all media people also investigators?
Advertisement opens in new window
Already journalism is under threat from blogs where gossip can be presented as fact and rumour pose as truth. Authors of blogs need not concern themselves with trifles such as accountability, need not seek second sources. Instead, they feed the frenzy.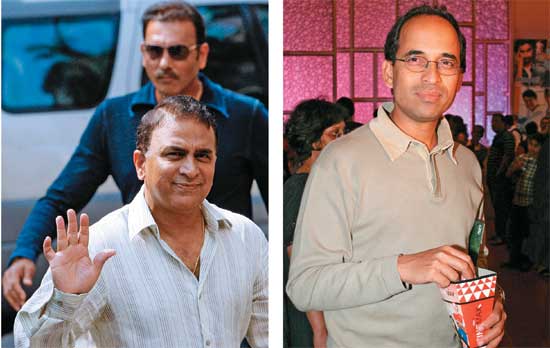 Crony club: Gavaskar, Shastri served on IPL council; Bhogle was with Mumbai Indians. That's itself a commentary.(Photograph by AFP, FOTOCORP, From Outlook, November 01, 2010)
At such times, the only hope lies with the newspapers. As far as cricket is concerned, though, they too are rapidly losing ground. Capable and intrepid reporters continue to uncover stories and publish hard truths. That is the stuff of journalism. Left to their own devices, they could provide a sound critique of Indian cricket. But, unfortunately, they are not. Instead, they are undermined by a board that doesn't feel the need to hire a media manager, disdained by a captain who didn't feel obliged to attend a press conference after the Mohali Test, overwhelmed by the sound and fury and hemmed in by experts.
Advertisement opens in new window
In other nations, expert columns offer knowledge and writing skills. Here it's opening para, summation. Such a waste.

You can see why it isn't easy for reporters to keep the BCCI on its toes. N. Srinivasan and company resent the critique provided by Cricinfo so much that they refuse to give them passes to Test matches. It is pettiness on the grand scale. It is also a warning to other scribes. Cricinfo has one million readers and is the second most important institution in cricket behind the BCCI. And still it can be ostracised. A journalist of Pradeep Magazine's stature can stand his ground but it's harder for newcomers. At such times, Mandela's remark to the African National Congress comes to mind. "Sometimes I too get angry about what they say in the papers," he said, "but only when it is true."
As far as the experts are concerned, the principle seems to be: the more the merrier and the shorter the better. Some of the columns contain an opening paragraph followed by the summation. It is a waste. In these circumstances, it's impossible to establish an identity or develop an argument. Numerous past players contribute. Many of them are deep thinkers with interesting things to say. Instead they contribute a few words and move along. Perhaps the only exception is Sanjay Manjrekar, who has retained his independence and isn't afraid to challenge the status quo. His contributions are crucial.
Advertisement opens in new window
In other countries, experts become genuine journalists and offer both knowledge and writing skills. Like the rest of us, they scratch away at their copy till it is serviceable. Richie Benaud, Ian Chappell, Nasser Hussein, Vic Marks, Mike Selvey, Derek Pringle, Mike Atherton and several Kiwis are respected not only as past players but as current professionals. Moreover, they understand the importance of the written word. The pen is not only mightier than the sword. The printed word has a permanence missing in the airwaves. Newspapers can cut to the quick. That is the reason tyrants close them down.
It's hard to think of a single Indian past player working primarily for newspapers. Most of them seem to be brands. Better to have one columnist than five, one considered argument than 10 safe opinions. Otherwise, newspapers cannot provide the oversight that every nation and every game requires.