In 2012, the Election Commission introduces a third category—'other'—for voter registration to be more inclusive
For the 2014 general election, 84,304 voters registered under 'other' category
New SC ruling a gamechanger: ensures legal rights, reservation in education, employment. Recognises community as OBC, speaks out against discrimination.
Members admit low voter turnout due to lack of political engagement, incentives
***
"This is our year of independence." That's the unanimous verdict from the transgender community post the Supreme Court ruling early this week on the long-standing question mark over the status of the 'third gender'. Having now secured a basic legal status and inclusion in mainstream society, it is no doubt their biggest moment ever in India. Some say the signs for a historic judgement were already there, with the Election Com­mission opening up the gender category to include transgenders as 'other' two years ago. Since this was the first general election in which members of the community could vote without having to describe themselves as 'male' or 'female', it was assumed that the move would bring them out to vote in large numbers.
The response, however, has been pat­chy at best. "Most of us are registered as male or female on the voter card and haven't got it changed to 'others'. The lack of understanding among authorities with regard to who actually qualifies as a transgender has kept voters away," bel­ieves Auroville-based transgender acti­vist Kalki Subramaniam, who tried to get a ticket to contest elections this year, but couldn't secure one. The Supreme Court judgement may change all that. For one, there will be less confusion over who actually falls under the umbrella term of 'transgender'. The SC ruling categorically notes: "The term 'transgender', in contemporary usage, has become an umbrella term that is used to describe a wide range of identities and experiences, including but not limited to pre-operative, post-operative and non-operative transsexual people, who strongly identify with the gender opposite to their biological sex; male and female." This basically means the state recognises the right to gender-based self-identity regardless of whether the person has undergone sex-reassignment surgery.
Compared to being identified in the vague category that is 'other', as the new voter card rule did, this is obviously a huge boost. "The ruling gives us a proper identity," says Anjan Joshi of Society for People's Awareness, Care and Empo­werment, which runs the exclusive Zee­nat Club for transgenders in Delhi. "Voting this year didn't signify much to us," he says, since no one party has anything spe­cial to offer them in their manifestos. "Though there are no definite statistics, my estimation is that only about five per cent of the community voted in Delhi. Also, most members I know boycotted the 'other' category because it only reinforces the stigma of transgenders being non-identifiable, fac­e­less peo­­ple." Gopi Shankar, who runs a gender minority rights group, Srishti Mad­urai, will use the NOTA option to mark his pro­­­test when he votes on April 24 in Tamil Nadu. "No party or candidate is coming forward to understand the definition of transgender. The community may be getting vis­ibility, but that doesn't equal upliftment of our social status. So why waste my vote on them?"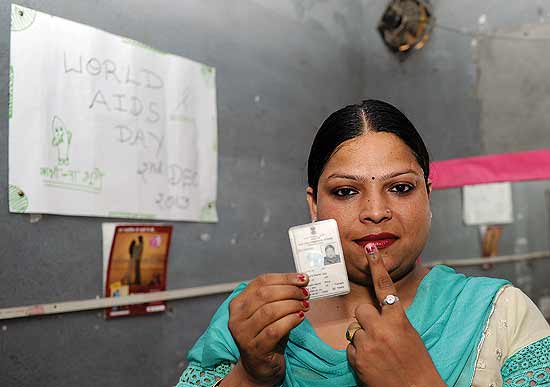 According to the Election Commission, the number of voters who enrolled under the 'other' category stands at 84,304. Noted transgender activist A. Revathi, who recounted her life story in an acclaimed book, The Truth About Me, isn't one of them. "I don't identify myself as 'other'. I identify myself as a transgender female. Thankfully, the new SC judgment has rightfully addressed these nuances. But the truth is, I don't consider elections and voting paramount to my cause. There is no consensus within the community regarding any one political party. We go with whatever the current wave seems to be," says Revathi, who is currently touring Karnataka with a play based on her book. In Delhi, Sita Bharadwaj, who runs Kinnar Bharati for the welfare of the community, feels there is not enough incentive to vote. "We held an awareness drive last month to make the members aware of their voting rights. But many didn't want to register as 'other' because they thought after the Section 377 ruling last year, they would be harassed if they identified themselves as transgender. So many of them stayed away. But now, with us being recognised legally as the third gender, I feel like a true citizen of the country. Our year of independence is 2014, not 1947."
As far as politics goes, the transgender community has had its share of highs and lows. Shabnam 'Mausi' Bano, who was elected a member of the Madhya Pradesh Assembly in 1998, marked the commun­ity's formal foray into politics. Since then, there have been quite a few transgender candidates across the country. Recently, transgender TV star Rose Venkatesan even spoke of floating a political party called Sexual Liberation Party of India. But these stray, mostly symbolic gestures haven't taken the cause where they should have. Could that change? This year, an independent transgender candidate, Kamla, is pitted against no less than Narendra Modi and Arvind Kejriwal in battleground Varanasi. "We definitely need more transgender candidates. There has been an absence of cohesive politics on our part, and a severe trust deficit even within the community, which is probably why we don't do well in national politics or come out to vote in large numbers," muses Revathi.
In an election season when voters with specific interests are making their dem­ands heard not just through inked fing­ers, transgenders may finally have got a chance to step out of the sha­dows. Kalki speaks for her entire fraternity when she says: "Our needs are much more basic than that of a regular voter. The 'other' category was a tiny step in that direction. Hopefully, now we can begin at the beg­inning, with more gusto, with the right to marriage, adoption, literacy, emp­loyment. I'm hoping this means there will be less of us on the streets, or in dingy rooms, being sexually exploited."