At the southernmost tip of Mumbai, the Nariman Point precinct has for decades been India's symbol of corporate power. A large but nondescript building, also in the area, is the seat of government of Maharashtra. The top three floors of this secured building, the Mantralaya, were gutted in an inferno last week; the blaze claimed five lives, turned thousands of precious documents to ashes and rendered unusable half-a-dozen offices, including those of the chief minister and his deputy. A precious half hour passed before the first fire engine reached the spot; it was another 15-20 minutes before a fire engine with a snorkel arrived.
"The city is not dead yet, but it's a few steps from the ICU. It doesn't build on its residents' vibrancy."
It's a telling story of the crumbling state of affairs in the metropolis that aspires to be India's—and Asia's—financial hub, a city that's often tallied with global cities such as New York, Paris and Tokyo. Hundreds of thousands of buildings in the city do not even have a provision for access by a fire engine. There are other depressing parameters. Mumbai now ranks below a few other Indian cities in both economic growth as well as livability or quality of life index. Consider these: its economic growth of an encouraging seven per cent per annum in the mid-'90s slumped to barely 2.5 per cent per annum last decade and settled somewhere in between in the last few years; affordable housing is a joke, middle-class apartments are not available for less than Rs 1 crore, slum tenements command anywhere from Rs 20-50 lakh a room; commutes from suburbs to business districts take close to two hours one way, the city still largely moves on its traditional north-south axis on public transport systems that were put in place over 150 years ago; its open spaces, forest cover and protective mangroves are being devoured by the land lobby at an alarming rate; its streets are littered with either potholes or garbage; its premier academic/cultural institutions are the same that were there in the '70s-80s or even earlier, that nothing of note has been added lately speaks of a loss of vitality. Terrorists can wreak havoc at will. But an overstretched police spends more energy curbing the city's night life.

Two stories The Mumbai cityscape is a cliche of contrasts
Mumbai should not have been on the brink of a collapse, considering its future has occupied the time and energies of successive state and central governments for over two decades. Yet, it is. It's a mess of unplanned, haphazard, real estate-led growth, its physical infrastructure at variance with the dynamism, innovations and entrepreneurship of Mumbaikars.
"The city has been disturbingly fragmented into pieces with exclusive and competing spaces."
You could say Mumbai is booming as easily as Mumbai is coming apart; the city is caught in a schizophrenic growth-and-decline character. "I have no doubt that we are looking at the decline of a great city; Mumbai has largely lost its clout," remarks Darryl D'Monte, former editor and author of The Decline of Mumbai and its Mills. Census 2011 showed a reversal of the ratio of migrants to the natural population, and that's a sure sign of deceleration, he says. It still remains the densest city in the country, with 21,880 persons to a sq km. Sudhir Badami, an IITian, transport analyst and member of several state government initiatives, says, "The city is not dead yet, but it's a few steps away from being in the icu. There's vibrancy in its people and their enterprise but the city does not enable it or build upon it."
These sentiments were empirically confirmed in a report prepared for Bombay First—a corporate initiative responsible for the Vision Mumbai document which laid the foundation for several infrastructure investments. The report spoke of "visible evidence of poor quality of life, both in absolute terms and in comparison with other cities" and "transactional experiences" of its citizens and administrators. The Vision Mumbai document, prepared by McKinsey, was rightly rubbished for its elitist approach to the city's growth but it had spoken of Mumbai's possible collapse if certain steps were not taken in the decade ending 2013. Union cabinet minister Sharad Pawar too referred to such a "collapse" last month but quite opportunistically, blamed it all on Congress ministers in the alliance government.
From a diligently planned city during the British era, Mumbai's growth in the last decade and half has been rather accidental and ad hoc; it happened despite, rather than because of, planning authorities. The municipal corporation's planning department was rendered useless as the state government—under its urban development department—set up semi-autonomous institutions that concentrated on project-planning instead of holistic city-planning.
"The need of the hour is to view real estate and infrastructure cohesively, not in isolation."
Here are three: the Maharashtra State Road Development Corporation gave Mumbai its network of 40-odd flyovers in the 1990s but was not responsible for the road network. The Maharashtra Housing Area Development Corporation (MHADA) constructs only a few thousand low-cost houses every year, its mandate nixed by ad-hoc clearances that incentivise private builders to create high-end housing. The Mumbai Metropolitan Region Development Authority (MMRDA) built the tony Bandra-Kurla complex but did not factor in transport connections. Planning, when it happened, was piecemeal, sectoral and driven by vested interests.
"The city has been, disturbingly, fragmented into pieces with exclusive and competing spaces," says P.K. Das, well-known architect and prime mover behind the city's open space conservation. "Mumbai is an expanding city with diminishing space. In spite of 'growth', democratic space has declined and it's manifested in the adverse effect on our lives, experiences and relationships." Housing activists like Simpreet Singh are more acerbic: "There is indeed a plan: it's to drive away the middle and poor classes outside the city. The government-babu-builder nexus has determined how this city would look and who it's meant for."

Space crunch At a typical Mumbai chawl home. (Photograph by Atul Loke)
It's not that investments haven't been made into Mumbai, but there has been an unhealthy division of labour: mostly private money goes into developing land, while spending on infrastructure is largely from the government or public-private partnerships. The results have been predictably lopsided. With billions chasing scarce land, private investors and real estate lobby have made a killing while funding for infrastructure has been tardy and inconsistent. "The need of the hour is to view real estate and infrastructure development cohesively, not as isolated phenomena," noted Subhankar Mitra, head (strategic consulting), Jones Lang LaSalle, in his recent paper, The Anatomy of Urban Investments in Mumbai.
Besides, 'infrastructure' has so far meant physical infrastructure—roads, metros, sealinks—and attention has been lavished on these. Other factors that go into the making of a city—open spaces, healthcare/emergency services, a variety of commons—have been ignored. So too cultural and academic institutions, which act as a city's internal source of self-directing life-energy by studying and understanding it along social/human parameters, auditing urban development on these bases, and crucially, generating ideas. "I've no hesitation in saying we live in a de-intellectualised Bombay," remarks Dr Aroon Tikekar, president of The Asiatic Society and historian-author. "This de-intellectualisation is across media, academia, literature, culture; not a single institute of repute has been set up here for liberal arts, nor a credible think-tank, it has hardly any scholars. All that's now in Delhi".
"I have no hesitation in saying that we live in a de-intellectualised Bombay."
Mumbai can still be saved if all stakeholders are serious about ensuring an equitable growth, a reasonable quality of life. It can't simply aim to be another Singapore or Shanghai. Ajit Ranade, chief economist at Aditya Birla Group, says, "Globally and historically, there are no role models of how to plan and run large cities with 20 million people. Some five Asian cities will have about 40 million people; they'll have to work their own models." Also, global cities, irrespective of models, have a well-entrenched public housing system in place, point out urban planners; a key factor lacking in Mumbai plans. "It's the elephant in the room," says Ranade. "Public housing sounds socialist, yet there's no getting away from it. Singapore has 60 per cent people in public housing, Chinese cities all have it, our authorities allowed speculation and profits to overwhelm this."
There are parallels for transport; multi-crore, long-gestation transport projects—delayed by years—cater to private transport while the average Mumbaikar still struggles with overcrowded local trains and buses. "It's shameful that nearly 4,000 people lose their lives every year simply travelling by local trains, this isn't how global cities manage transport," argues Badami. "We need investment into low-cost options such as pavements, cycling tracks, Bus Rapid Transit System."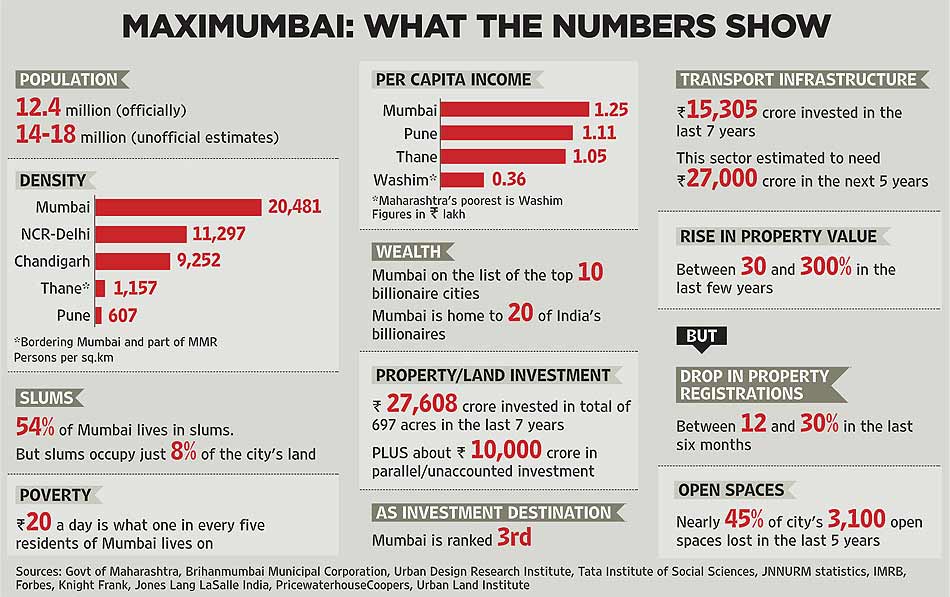 Besides, any planning for Mumbai will have to place the city in the larger context of the Mumbai Metropolitan Region (MMR) which includes Thane, Navi Mumbai and far-flung suburbs; a region that's ten times the size of Mumbai and among the fastest growing urban agglomerations in the world.
"Public housing sounds socialist, yet Singapore has 60 per cent people in public housing."
It's the political class that must lead the new thought, new approach, to forestalling "the icu moment" for Mumbai. Politicians respond to where the votes are; Mumbai and other urban centres in Maharashtra for the first time constitute nearly 100 of the 288 assembly seats. "Also, there's a need to urgently implement the Nagar Raj provisions because citizens get empowered," remarks Ranade. Adds D'Monte, "The political class should lead new and inclusive initiatives with citizen bodies pushing and goading it; corporates should not be at this table."
Sadly, the political class offers little hope: it's either the Congress or the NCP back-biting and blaming each other for the mess that's Mumbai, or it's Uddhav and Raj Thackeray playing out family politics in the guise of their parties, the Shiv Sena and Maharashtra Navnirman Sena. In fact, Uddhav believes his party, which has been in control of the municipal corporation for nearly 20 years, has done "a good job" and Mumbai's crises are the handiwork of "a corrupt Congress-NCP government". Such belief is a refusal to accept the city's downslide.
Perhaps the city requires, as Tikekar suggests, a minister in the Maharashtra cabinet. It's a politically volatile idea but it may just help the city pull back from the brink.