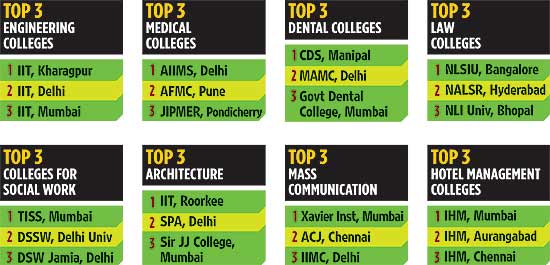 55% of the engineering colleges ranked are in the South; and private colleges make up 60% of the ranking
Average tuition fee (excluding hostel) for the entire BE/BTech programme of the Top 25 engineering colleges is Rs 1.93 lakh.
The top returns on investment for private colleges are given by PSGC, Coimbatore, and PES Institute, Bangalore
The average salary offered to students of the Top 25 engineering colleges in India is Rs 4.83 lakh per annum.
***
Nothing in life prepares us for cataclysmic bursts of fate. But there are times when we know, in a blink, that the changes couldn't have come a moment sooner. We should be celebrating 20 years of economic reforms—and yes, there has been enormous, life-changing progress for millions of Indians during this period. But there's also another side to the story. Which is why it's important to sustain the anger on corruption in public life, the alarming rise of crony capitalism and the disproportionate distribution of wealth.
When a society—or at least part of it—decides on a course correction, it shows that it is leading, and not simply willing to be led (down the garden path). What does all this have to do with professional education? Well, everything. This overall rant against corrupt practices will spread to one of the biggest and most lucrative businesses in India today—education. We expect more focus on regulatory compliance and sterner action against those colleges that don't deliver on quality.
On that note, we are happy to report that the Outlook-MDRA ranking of the top professional colleges—in its sixth avatar—has become more thorough. Last year, in a first for any survey of the top professional colleges, we decided to use objective data as the basis for ranking all nine professional streams. But we could only rank three streams using that data; this year, we have taken it up to six streams. In only three streams—architecture, fashion and mass communications—have we used purely perceptual data to rank the top institutes. Next year, we're going to work on these holdout streams too.
Unlike last year, the engineering rankings revealed some changes. Not in the first 20 slots; those remain the same, displaying the enormous hold the iits and pedigree colleges have on our collective psyche. The changes lie in the rankings beyond: tier-two colleges are marking their presence. Is it because they score better on infrastructure and perception? Perhaps. Is the quality of education they offer better than government-run institutes? And does it matter to potential employers? Here's the good news: there's plenty of life beyond the top institutes. Companies are happiest dealing with colleges that are innovating, through tie-ups that nurture new, in-demand streams. As always, choose wisely.
---
By Sunit Arora and Arindam Mukherjee