Up, up, away and through the roof. In the old days, the Indian citizen would have hit the streets in protest against galloping food prices. Right up to the turn of the century, there were successful movements for bringing down prices, both among farmers and the middle classes. In the '60s, Bombay housewives came out onto the streets banging their utensils against price rise; a decade earlier, Calcuttans successfully protested against a one-paisa increase in tram fares. The trams are still there but the Communists and trade unionists who led great hartals on economic issues are in danger of being phased out. And in this century we don't have farmer protests but farmer suicides. D. Raja, the CPI leader who was recently described as the "poorest member" of the Rajya Sabha with zero assets, admits "there is a problem in getting people out on bread-and-butter issues as the middle class that once led the protests no longer does so".
Today, opposition politicians announce bandhs and strikes against price hikes, but they are a pantomime, caricatures of a protest. The public is inconvenienced for a day as a scraggly band of political workers disrupts life but you will not find the commoner joining in spontaneously. There is no expectation from netas across the political spectrum, no hope of relief. Instead, there is a weary cynicism and a tight squeeze on household budgets of the middle class while the unorganised poor continue to fall off the map with their already inferior diet getting even more diminished.
---
"The middle classes are beneficiaries of economic reforms and so indifferent. The poor lose a day's wages if they join protests." -- D. Raja, CPI leader
"Earlier, all agitation was led by the middle class. Now it's part of the credit card culture. Have no money, pay by credit card."
-- Ram Madhav, RSS spokesperson

---

"Unless MSP is kept very high for farmers during sowing and procurement prices match fuel costs, farmers will be in distress." --M.S. Swaminathan, Agriculture scientist
"People wait for elections to let the government know what they think. JP-type movements are no longer possible today."
--Ravi Shankar, Prasad BJP spokesperson

---
| | | |
| --- | --- | --- |
| | "We are not suicidal. As in the past, decisions which have been unpopular, unpalatable have been understood by the people." --Manish Tewari, Congress spokesman | |
---
It's really quite a hopeless situation, going from bad to worse after the government announced a hike in fuel prices last week. Although there is no immediate political threat to UPA-II, there is worry that three years of galloping prices will eventually lead to great anti-incumbency. The BJP lost elections in Delhi and Rajasthan in 1998 over the issue of onion prices that hit Rs 40 (the prices dropped to Rs 10 the day the results came out). Price rise was seen as the cause of the defeat of Congress governments in Chhattisgarh, Rajasthan and Madhya Pradesh in 2003. And, in 2004, price rise (not as steep as today's) was a factor in the unexpected defeat of the NDA that had projected India as shining.
Why then are the middle classes apathetic this time around? Raja says that a large section consists of government employees who get dearness allowance-linked salaries and who have also got pay increases. "Besides, they are beneficiaries of economic reforms and have developed a greater indifference, while the poor lose a day's wages if they start joining protests called by political parties." Ironically, the RSS has similar views. Spokesman Ram Madhav told Outlook: "In the past, all agitations were led by middle classes. But they are now part of the credit card culture. Earlier, if the bank balance dipped and prices rose, you could not make ends meet and you joined a protest. Now, you start using your credit card. But it is those who are out of the credit net who are really suffering."
Food expert M.S. Swaminathan points out that there were food riots in 2008 in 70 countries across the world when fuel costs made it impossible for the poor to get access to food. "In India too," he adds, "foodgrains will become more expensive and out of reach for the poor. Unless the minimum support price is very high at the time of sowing and procurement price matches fuel costs, farmers will face high levels of distress. The flip side of this is distress sale by farmers that may keep food inflation down, but it is not good economics." He also says that if rainfall is not good like last year, Punjab and Haryana, which produce more grains by pumping more water, will find it difficult to do so as diesel prices have gone up. He, therefore, warns that "the next National Family Health Survey could show a rise in levels of malnourishment".
The Congress is aware of the risks, but says it had no choice. Leaders say this is the best time (politically) to raise prices as the party does not have big stakes in the forthcoming assembly elections, although UPA allies like the DMK and the Trinamool Congress do. Besides, partymen say that the proposed Food Security Act, which will deliver subsidised grains to the poorest, would be a palliative. Critics would argue that Congress politics now consists of handing out doles but not restructuring economic policy. But it is not as if leaders in the party are not worried. Anil Shastri, editor of Congress mouthpiece Sandesh, publicly issued "an appeal to Sonia Gandhi to intervene and force a rollback as the common man and aam aadmi for whom the party works will be badly hit." Spokesman Manish Tewari says, "We are not suicidal. As in the past, decisions which may be unpopular, unpalatable have been understood by the people." There is also the belief that social legislation like NREGA has softened the blow for the poor and that people credit the Congress for this.
But do they? Certainly, there is no great protest, just tokenisms. BJP spokesman Ravi Shankar Prasad says that there is now a qualitative shift in India's politics. "People wait for elections to let the government know what they think," he says. "JP-type movements are no longer possible in this age. But people are asking whether the health of the oil sector is more important than the pain of the common man." He argues that whenever the Congress is in power, prices are at the highest. "The onion price hike during Vajpayee's regime was managed. Prices were also low during the V.P. Singh and Morarji Desai regime. Why can't the economist prime minister manage the economy better? Could it be because the Congress is a party where middlemen make hay? And please don't forget that private players are now in the petroleum sector."

The BJP will keep the issue alive in Parliament and has announced a bandh on July 5, as have the Left and entire opposition. But the party has never really been known for any agitation on livelihood issues. Indeed, as things stand today, the Congress only mobilises mass campaigns around Rahul and Sonia Gandhi, the BJP on identity issues while the Left which really took the lead on economic issues is in crisis in its bastions and its leadership seen as autocratic and out-of-touch with people's issues after Nandigram and Singur. Nilotpal Basu of the CPI(M), however, denies this and says that the "media is full of triumphalism at the setback for the Left". He also argues that the "neo-liberal paradigm" is aimed at winning over the organised sector. In other words, the really poor do not even come into the frame. But there is also a genuine problem within Left bastions. In Thiruvananthapuram, Manikantam, once an active CPI(M) worker, now says he was against the recent Left-sponsored hartal against the price rise. "Protests are mere politics now. Why have the comrades not protested against the Kerala government raising milk prices by Rs 3?"
The real problem, therefore, is a complete loss of credibility that all political formations have suffered. Says Dr Padmini Swaminathan, economist at the Madras Institute of Development Studies: "There is no coherence in strategy adopted by parties. In Parliament, they are more taken up by issues like the nuclear bill, women's bill and so on. Even the media is to blame, as it is busy chasing more sensational news. It is a very peculiar decline in the reaction to something that affects all of us. It's like we are all to be blamed. We are waiting for someone else to do something. Where are the trade unions that used to take up such issues? The articulate sections of society are perhaps not affected so much. They are insulated, so they don't protest so much."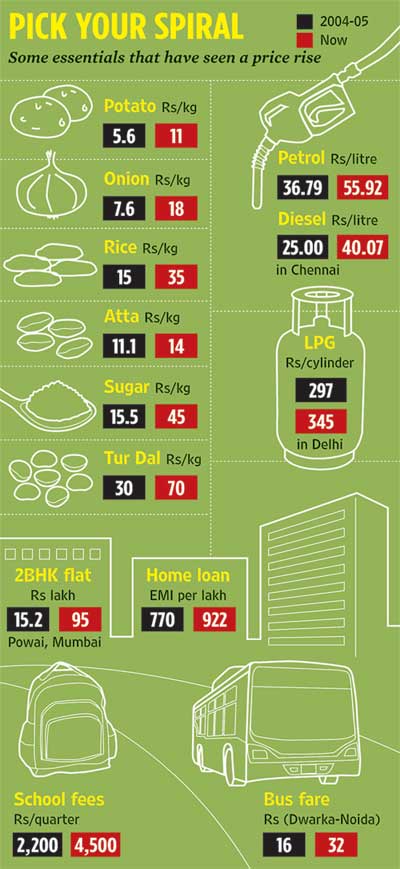 With protest now not considered worth one's time, there is a greater invisibility of need, hunger, malnourishment. Yet as the middle classes get more disconnected than before, they do not see the poor of India who are falling off the map, in a country which claims to be a great power but has one of the largest concentrations of the malnourished in the world. This is probably the greatest factor leading to India's schizoid reality. The middle classes traditionally played a crucial role in bringing attention to people's distress. The media too once highlighted such issues. Alas, they have retreated.
---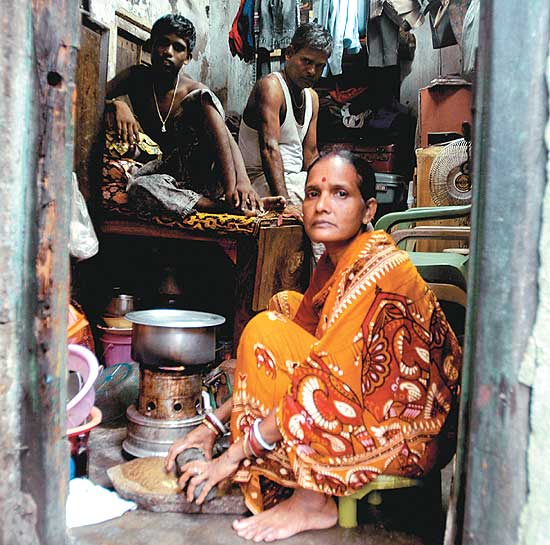 Photograph By Sandipan Chatteerjee
The Shinghs
Calcutta, West Bengal

Ever since the petrol price hike, Bachchu Shingh is a worried man. Living in south Calcutta, he works as a diver and earns Rs 4,500 per month. His wife works as a cook and earns Rs 1,000 per month. Bachchu says he doesn't know how he will makes ends meet. They can't afford LPG, so they cook with kerosene oil, the price of which too has been hiked. What is worrying Bachchu's wife Lata more is the price rise of other essential commodities. "I went to the market to buy rice and the shopkeeper warned me that prices will soon rise," she says. "I don't know how much it will go up by. I know that fish and meat will definitely go out of our reach. I fear we will soon have to stop eating."
---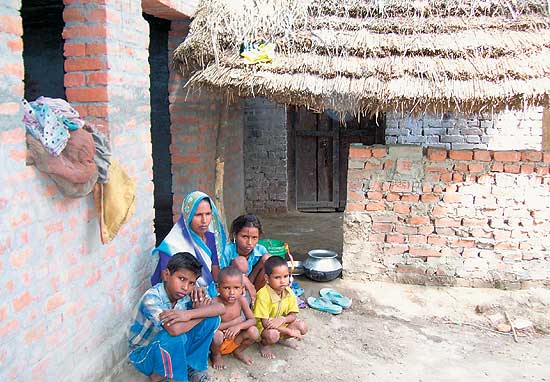 Photograph By Sharat Pradhan
Shiv Kumari with her children
Amethi, Uttar Pradesh

Shiv Kumari, the poor widow who briefly shot to fame for providing a temporary home to then British foreign secretary David Miliband and Rahul Gandhi, wonders if she will ever be able to make ends meet after the recent fuel hike. "All I have got after Rahul bhaiya's visit," she says, "was a brick house, without doors and windows or a proper roof. I never got the job promised by Rahul bhaiya. I am barely able to make Rs 45-50 a day working in the fields. Purchasing a litre of kerosene for me is a luxury." With prices of essentials shooting up, Shiv Kumari is bracing herself for the tough times ahead.
---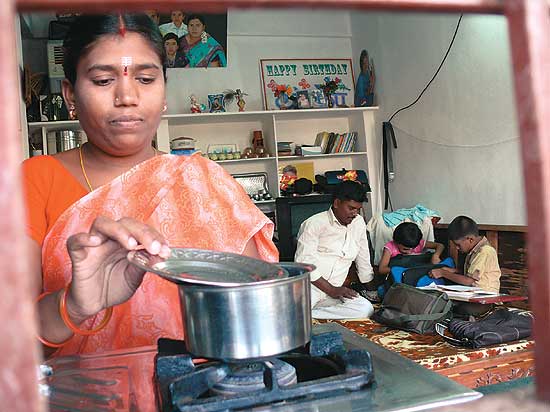 Photograph By P. Anil Kumar
The Balanarsimhacharies
Hyderabad, Andhra Pradesh
Living in a Hyderabad suburb, Siramoju Balanarsimhachary paints number-plates for vehicles and does art work for lorries, earning Rs 8,000-9,000 a month. His wife Jayalakshmi, 28, is a homemaker; the couple have two children. The couple spends Rs 1,500 a month on their fees and limit food expenses to a frugal Rs 2,500-3,000. Every food item, be it veggies or eggs or rice or dal, says Jayalakshmi, seems like a necessity now due to the price. "I have to put at least one litre of petrol in my bike every day as I need to collect material for my job and to get payments," says Balanarsimhachary.
---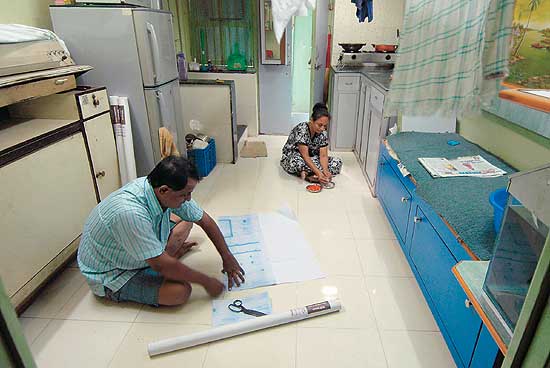 Photograph By Apoorva Salkade
The Shiralkars
Mumbai, Maharashtra

Sandeep Shiralkar does Charlie Chaplin shows and other entertainment programmes at birthday parties. His wife Sneha supplies tiffins to office-goers. Their son Sohan is in school. Says Sandeep: "We once earned Rs 30,000-40,000 a month and ran the house and had savings. Today, our income is Rs 20,000 a month. With inflation, our income is spent on daily expenses." Adds Sneha: "The grocery for the tiffins takes Rs 7,000-8,000. We need two cylinders which costs Rs 700 now. Our son's schooling is Rs 3,500 a month. Add, water, power and house rent. The profit I earn today is Rs 2,000 a month."
---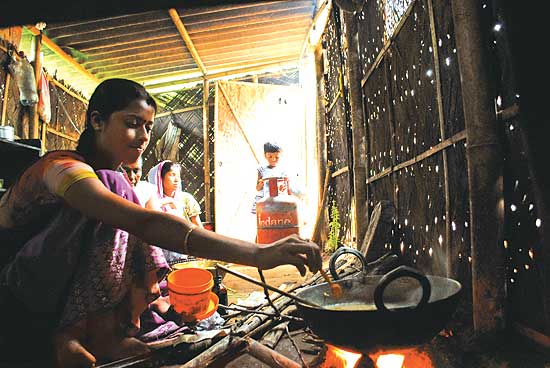 Photograph By Subhamoy Bhattacharjee
Pratima Das
Guwahati, Assam

Pratima Das, wife of Mantu, has switched to cooking on firewood due to the hike in LPG prices. She lives in the Barahagiri Hills near Guwahati, where, she says, "the supply of gas is irregular. And sometimes we have to buy it in the black market, which jacks up the cost of the cylinder to around Rs 550 to Rs 600. Not just that, the carrying cost in the hill ranges is more or less Rs 50. During festivals, cylinder prices go up to Rs 700 or more." The rise in the LPG prices is just one front in the battle that Pratima has to wage. She's also readying herself for the all-round rise in the prices of essentials.
---
By Saba Naqvi with Anuradha Raman in Delhi, Snigdha Hasan in Mumbai, Pushpa Iyengar in Chennai, Dola Mitra in Calcutta, John Mary in Thiruvananthapuram, Sharat Pradhan in Lucknow and Madhavi Tata in Hyderabad