Justice With Brakes
The gas leak on Dec 2, 1984, kills about 4,000 instantly
Some estimate the toll rose to 25,000 dead, several incapacitated
Union Carbide deposits $470 m for relief in 1989. Only part of it (Rs 1,151 cr) is handed out.
In 2004, SC orders the handing out of the remaining Rs 1,503 cr
***
"Bhopals will happen, but the country has to progress." Hard to believe, and enraging too. According to Sathyu Sarangi, a member of the Bhopal Group for Information & Action, a voluntary body, this is what Prime Minister Manmohan Singh told him and six of his colleagues when they met him on April 17, 2006, to press for action against Union Carbide Corporation (UCC), a wholly owned subsidiary of the American firm Dow Chemical Company since 2001. "Yes, I remember that clearly. This is what the prime minister said," Sarangi tells Outlook.
Over quarter of a century after the gas tragedy in Bhopal, doubts linger that it is US pressure that may have enabled Warren Anderson, the then CEO of UCC, to go scot-free—being released from arrest in Bhopal and flying back home—and forced the government to rein its authorities from acting against UCC. Now, a set of new correspondence accessed by activists using the RTI, copies of which are with Outlook, reveals how the current CEO of Dow, Andrew Liveris, has been trying to lobby the prime minister and his office, along with senior ministers of the UPA government, to support the firm's business interests in India despite continuing public opposition over its unwillingess to accept responsibility for Bhopal.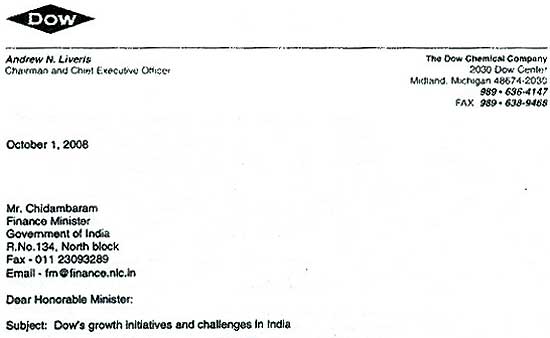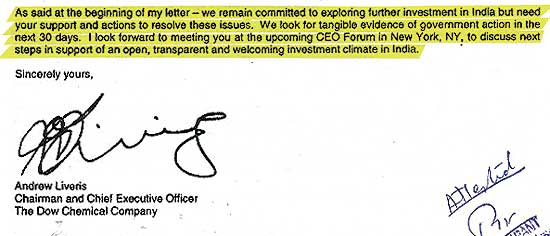 Turn of the screw? CEO Liveris's letter to P. Chidambaram
Liveris met the prime minister in 2008, when the latter visited the US, and discussed the "challenges" faced by Dow in India. He then wrote to P. Chidambaram, Kamal Nath and Montek Singh Ahluwalia in October that year, asking the government to speak in "one voice" on FDI after the Maharashtra government put on hold one of its projects in India because of public opposition. Liveris also urges "tangible evidence of government action in the next 30 days". Dow has two major projects lined up—an R&D facility in Pune and a chloromethane unit in collaboration with Gujarat Alkalies & Chemicals Ltd in Dahej, south Gujarat.
This revelation comes after another set of documents that were made public in 2007, showing how Liveris had written to Ronen Sen, then the Indian ambassador to the US, asking the government to drop its demand for Rs 100 crore for "environment remediation" in Bhopal. It was also revealed that Ratan Tata had been lobbying with various senior government officials for Dow, trying to break the impasse, and had even volunteered to clear the site, a move that was severely criticised by many.
Attempting a backdoor entry in 2005, Dow even misrepresented details it submitted for a contract with Indian Oil Corporation by concealing a crucial detail—that a technology involved in the deal was actually developed by UCC. The contract was annulled after that detail was revealed. Another corporate misdeed involving Dow came to light recently when it emerged that De-Nocil, its Indian subsidiary (now Dow AgroSciences India Private Ltd), had paid over $200,000 to officials of the Central Insecticide Registration Board to facilitate the approval of its pesticides between 1996 and 2000. The US Securities and Exchange Commission imposed a penalty of $350,000 million on Dow in 2007 for bribery, an amount duly paid by Dow. The CBI initiated an inquiry but details of the investigation have still not been made public. "We have tried getting information out using RTI but the CBI has replied saying it has nothing to do with them," says Sarangi. It's the CBI again that finds itself at the centre of another controversy after B.R. Lall, a former CBI officer who investigated December 2, 1984, alleged that he had been asked by the Union ministry of external affairs to "slow down". Now, the Madhya Pradesh government of that time, too, is under fire, what with Moti Singh, then district collector of Bhopal, saying the chief secretary, Brahm Swaroop, had called him and the SP asking them to release Anderson, who was held at the company's guest house after the gas leak. Anderson is said to have taken a state plane to Delhi and flew abroad from there.
UCC, treated as a separate entity from its Indian arm, UCIL, is one of the four accused in the criminal case, but has avoided trial. In 2005, after a PIL from activists, a local court ordered Dow to produce UCC to face criminal charges. The case is still on. Why the reluctance to act against UCC? Sarangi says a large part of it is because of American pressure. Dow maintains it has nothing to do with the tragedy and that UCC may be pursued legally, if necessary. "All that is a cat and mouse game. Sheltering a criminal is a crime and Dow owns UCC today," says Nityanand Jayaraman, an environmental activist based in Chennai.

Meanwhile, the local court's verdict, delivered on June 7, sentencing seven accused Indians to two years in jail and fining them Rs 1 lakh, has come as a shocker for the victims, who think it's atrociously easy on the seven UCIL officials. Shakuntala Devi, 45, who lost her husband because of the disaster, says, "We had no faith in the government. Now even our faith in the judiciary has diminished." This is the second blow from the judiciary. In 1996, the then chief justice of India A.M. Ahmadi diluted the charges against the Indians accused in the tragedy. It was Ahmadi again in 1994 who allowed the sale of UCC's shares in UCIL, freeing the American firm of its interests in India. The shares, in a way, were an assurance that UCC would be present along with UCIL in the court proceedings. Coincidentally, Ahmadi went on to become the chairman of the Bhopal Memorial Hospital Trust, set up by UCC.
Even after the June 7 verdict, the struggle of Bhopal's victims is far from over. "We will appeal against this decision in the high court," adds Khatun Bi, who lost her husband and two children. Contrary to a "closure" of the case that the American government hopes for now, the clamour for justice is still strong. "We will fight until our last breath," says Abida Bi, a 55-year-old who lost four of her children. So far it seems that instead of the well-being of the victims, it is the facilitation of a conducive business environment for Dow that has got more priority from the government. Is it any surprise then that memories of the world's worst industrial disaster still continue to singe?
---
By Debarshi Dasgupta with K.S. Shaini in Bhopal